Baked Goat Cheese with Cranberries and Pistachios
Let's take a quick break from all the sweet desserts (and breakfast) dishes I've shared with you lately and instead talk about an easy appetizer for all those upcoming holiday parties and gatherings.  Say hello to this baked goat cheese.  It has become one of my new favorite appetizers because it is so so simple and can be thrown together in a flash.  And the best part?  It is delicious.  I made this for Thanksgiving and three of us completely devoured the whole thing in no time.  Yes, just three of us because there were others who refused to try it because it was goat cheese.  Their loss… and more for me!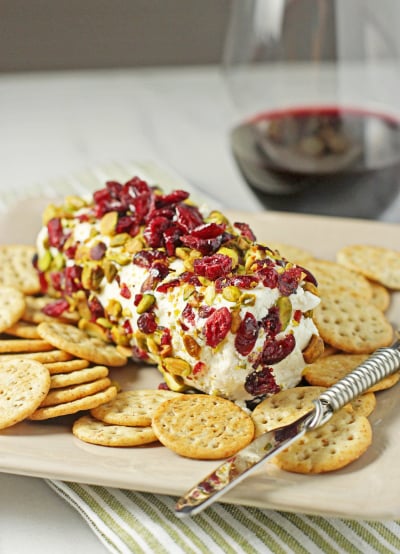 I decided to make this again so I could grab a few photos and share it here with you.  This appetizer requires only four ingredients.  Four.  Well five, if you count the crackers for serving.  But still.  You roll a goat cheese log in chopped cranberries and pistachios, drizzle with a touch of honey and then bake for a few minutes.  Done and done.  And it's delicious…. can I mention that again?  Warm and easy to spread goat cheese packed with a little sweetness and crunch.  Do it people.  You won't be sorry.
Baked Goat Cheese with Cranberries and Pistachios
Recipe for baked goat cheese with cranberries and pistachios. With only 4 ingredients, a simple yet delicious appetizer. Sweet, creamy and a little crunch.
Ingredients:
3 tablespoons pistachios, chopped
3 tablespoons dried cranberries, chopped
1 (8 ounce) log goat cheese
1 tablespoon honey
crackers, for serving
Directions:
Preheat the oven to 350 degrees. Line a baking sheet with parchment paper and set aside.
In a shallow dish, combine the pistachios and cranberries. Roll the goat cheese log in the mixture, using your fingers to gently press the pistachios and cranberries into the cheese (so they stick to the log). Transfer the log to the prepared baking sheet. Drizzle with the honey.
Bake for about 7 to 9 minutes, until the cheese is soft. Watch the cheese carefully while baking – if you bake it for too long it will be a melted gooey mess (although it will still taste good!).
Transfer the baked log to a serving dish. Serve immediately with crackers.