Spinach and Artichoke Sweet Potato Skins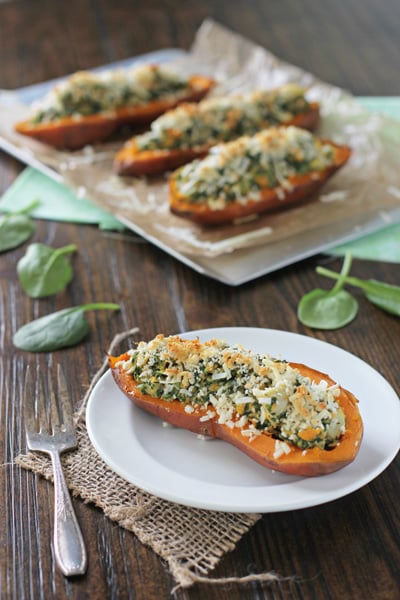 Oh hi.  It's Monday.  And I'm not really ready for it to be Monday.  Let's just jump into a time machine and head back to Friday.  Yes, that will do just fine.  Because this weekend was glorious.
Couch time in the nest.  Homemade fancy (and by fancy I mean more than peanut butter on toast) brunch.  Getting invited to our sweet neighbor's house for dinner and playing board games with their kids.  And then brunching with friends and going for a nice long walk in absolutely gorgeous weather.
And then bam.  Back to reality.  I need to burrow in at my desk and do a ton of not-so-fun work.  The big push at the end of busy season for my day job is upon us and all I want to do is crawl back in bed.  But instead I have to put on my big girl pants and power through.
So I'll choose to console myself with a classic dip in totally acceptable dinnertime form.  Sweet potatoes are already the heat and then we can go ahead and stuff them with a spinach and artichoke filling – that's lighter than eating the actual dip straight up so you can definitely go ahead and call these dinner.  At least we sure did.
I also think these would be super fun for game day food … buttt we have a long time before football returns.  So you can just file that idea away for next year.  You can thank me later.
Yield: 3 to 4 servings as a main dish
Spinach and Artichoke Sweet Potato Skins
Recipe for spinach and artichoke sweet potato skins. Twice baked sweet potatoes stuffed with spinach and artichoke filling. Finished with a crunchy topping.
Ingredients:
3 medium sweet potatoes
olive oil, for drizzling
1 (10 ounce) package frozen chopped spinach, thawed, drained and squeezed dry
½ cup chopped artichoke hearts from a can*
½ teaspoon salt
pinch of red pepper flakes (or more to taste)
dash of worcestershire sauce
¼ cup ricotta cheese
¼ cup cream cheese, softened
¼ cup panko breadcrumbs
¼ cup freshly grated parmesan cheese
Directions:
Preheat the oven to 375 degrees. Cut out three squares of aluminum foil and place a sweet potato on each. Drizzle each potato lightly with olive oil and use your fingers to rub into the potato. Use a fork to prick each potato several times then wrap each lightly with the foil. Place in the oven and bake for about 1 hour to 1 hour and 20 minutes. You can check for doneness by carefully inserting a knife into the potato – it should glide easily into the potato (and not feel resistance). When done, remove from the oven, unwrap the foil and let cool slightly.
When the potatoes are cool enough to handle, cut each in half and place on a baking sheet. Use a small spoon to scrape out the flesh, leaving a thin layer of potato inside each skin. Add the flesh to a large bowl and mash with a fork or potato masher. Add in the spinach, artichokes, salt, red pepper flakes, worcestershire sauce, ricotta and cream cheese. Mix until well combined.
Preheat the broiler. Scoop some the filling into each of the skins – so it's slightly heaping. In a small bowl, mix together the panko and parmesan. Top each potato skin with a little of the mixture.
Broil for about 3 to 5 minutes, until the topping is lightly toasted (watch closely so it doesn't burn!).
*I used about ½ of a 14 ounce can of artichoke hearts to get this amount. Drain and then chop!