Buffalo Chickpea Stuffed Sweet Potatoes
Let's spice things up this morning, shall we?? With these deliciously spicy buffalo chickpea stuffed sweet potatoes! <— Like what I did there? I'm just oh-so-clever, huh?
Um, not so much. But seriously. These stuffed sweet potatoes are definitely on the spicy side of things. So if you don't like some heat, well, then you may want to go make this vegetable & black bean taco skillet instead. Capeesh? Capeesh!
So, now that we have that little tidbit out of the way, let's talk game day food! Or really, regular dinner food because that's when I've been making these potatoes.
Although! I did make them once on a random sunday night while we were watching football … so that counts, right?? I'll just tell myself that.
ANYWAY. Whether for game day or a regular day, these potatoes have become a fast favorite at our house.
And how could they not. We start with a baked sweet potato base. We stuff that baby up with a spicy buffalo chickpea and vegetable filling. And finally, we drizzle on a creamy tahini ranch dressing.
It's the ultimate trifecta. A little sweet from the potato. Plenty spicy from the filling. And perfectly cooling from that dreamy dressing. ♡♡♡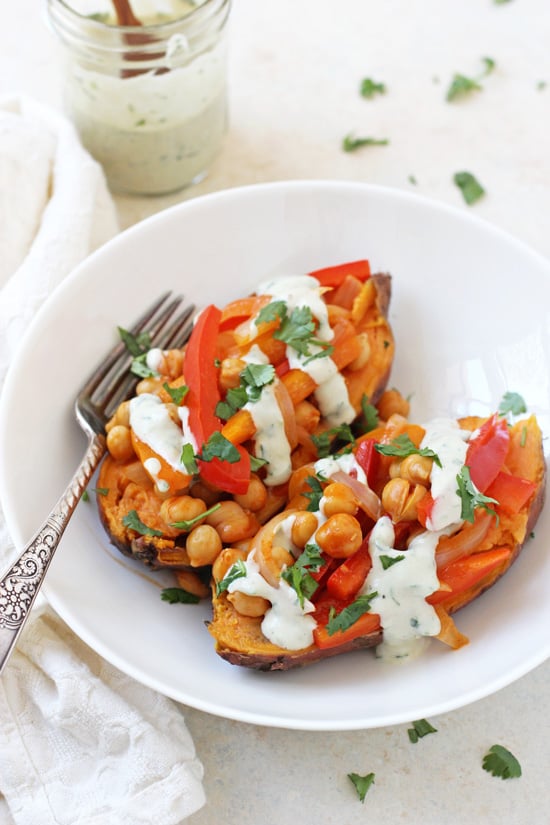 Tips & Tricks For These Buffalo Chickpea Stuffed Sweet Potatoes
First things first. Hot sauce is not the same thing as buffalo sauce!! So please be sure to buy and use buffalo sauce in this recipe!!
As written, the recipe is definitely spicy. To tone it down a bit, you can try adding less of the buffalo sauce to the skillet. And then add more slowly to taste (or just drizzle on extra as desired when serving). If you do this, I'd suggest mixing together the buffalo sauce, vinegar and worcestershire in a small measuring cup first (before adding to the skillet), so that you don't alter the ratio of those ingredients.
Not feeling the tahini ranch? You can absolutely use your favorite ranch dressing instead! Just use something – it really helps to cool things down and balance out the flavors.
As far as the recipe time, I'm listing it below as having 20 minutes of prep. But! Get the sweet potatoes going in the oven and THEN prep / cook everything else. You'll have more than enough time while the potatoes bake (so the actual total recipe time is less than listed if you do this).
This is a great make-ahead dish. All the components store well in the fridge for several days. You can make it all in advance or even just the sweet potatoes!
And finally! If you do use the tahini dressing, keep in mind that it thickens as it sits in the fridge (i.e. for leftovers or if making totally in advance). So just stir in a little more milk when you go to serve!
Anddd I'm finally done talking for today. You should totally go celebrate with some spicy stuffed sweet potatoes!!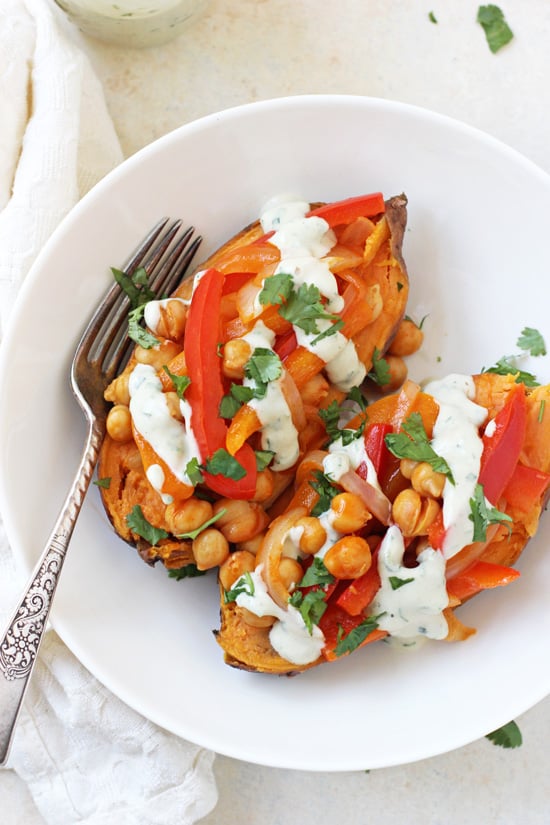 Did you make this recipe? Rate and review it down below! I'd love to hear from you.
Buffalo Chickpea Stuffed Sweet Potatoes
Yield:
about 4 to 6 servings
Total Time:
1 hour
20 minutes
Hearty & healthy buffalo chickpea stuffed sweet potatoes! With a spicy chickpea and veggie filling, and a creamy, cooling ranch drizzle!
Ingredients
For the sweet potatoes:
4 medium sweet potatoes, pierced with a fork
olive oil, for rubbing
For the filling:
2 tablespoons olive oil
1 medium onion, sliced
1 medium-large red bell pepper, sliced
1 medium-large orange bell pepper, sliced
¼ teaspoon salt
2 cloves garlic, minced
1 (15 ounce) can chickpeas, drained and rinsed
¼ cup red hot buffalo sauce
1 teaspoon apple cider vinegar
½ teaspoon vegan worcestershire sauce
For the tahini ranch dressing:
⅓ cup tahini
4 tablespoons unsweetened plain almond milk
2 tablespoons lemon juice
½ teaspoon onion powder
½ teaspoon garlic powder
2 tablespoons chopped fresh parsley
2 tablespoons thinly sliced green onion
¼ teaspoon salt
pinch of pepper
chopped cilantro, for garnish
Instructions
For the sweet potatoes:
Preheat the oven to 400ºF.
Rub the sweet potatoes lightly with olive oil, then wrap each individually in aluminum foil. Bake for about 1 hour to 1 hour and 20 minutes, or until tender (a knife should glide easily into the center without resistance). Carefully unwrap from the foil and let cool for a few minutes.
For the filling:
After the sweet potatoes have been baking for about 45 minutes, set a large skillet over medium heat. Add in the olive oil. When hot, add in the onion, both peppers and the salt. Cook for about 6 to 8 minutes, until tender. Add in the garlic and cook for 30 seconds, until fragrant. Stir in the chickpeas, buffalo sauce, vinegar and worcestershire. Continue to cook for about 1 to 2 minutes, stirring frequently, until heated through. Remove from the heat.
For the dressing:
Add all of the ingredients for the dressing (everything but the cilantro!) to the bowl of a food processor or a blender. Process until smooth. Taste and season with additional salt / pepper as needed.
To serve:
Slice the sweet potatoes in half lengthwise, then top each with an equal amount of the filling. Drizzle with the desired amount of the dressing and sprinkle with some cilantro!
Notes
There are a number of tips & tricks for this recipe up in the post itself! So be sure to check those out!
Tahini ranch lightly adapted from Kitchen Treaty
Nutrition Information:
Yield:

6
Serving Size:

1
Amount Per Serving:
Calories:

319
Total Fat:

15g
Saturated Fat:

2g
Trans Fat:

0g
Unsaturated Fat:

12g
Cholesterol:

0mg
Sodium:

669mg
Carbohydrates:

40g
Fiber:

8g
Sugar:

11g
Protein:

9g
Nutrition data shown is an estimate provided by an online calculator and is for informational purposes only. It should not be considered a substitute for a medical professional's advice.