Pear Bread with Oatmeal Streusel
This recipe has been in the works for a long time.  We're talking all the way back in September.  My best friend from college was getting married and all the girls were getting ready with the bride.  Her mom picked up a loaf of pear bread from the local farmers' market and we pretty much demolished the thing – it was that good.  I vowed then that I needed to recreate this delicious hunk of bread as soon as possible and filed it away in my brain as a must-make for the blog.
And here we are at the end of February.  This is one of those times that I kind of want to kick myself for not doing it sooner.  Or writing down the idea in the first place.  That would have been smart.  But I was a bridesmaid and had more important duties that day.  I'll give myself a pass for this one.
So better late than never?  We're talking a quick and easy bread here – filled with lots of fresh chopped pear and plenty of cinnamon.  Now the bread we had at the wedding didn't have a streusel but I couldn't help myself.  Streusel, nay oatmeal streusel, makes everything better.  Am I right or am I right?
No mixer needed, just a super moist and easy bread that I guarantee you'll demolish in no time as well.  Or burn your finger when you try to pull off a piece of streusel the second it comes out of the oven.  Not my finest decision.
Yield: 1 (8 ½ by 4 ½ inch) loaf
Pear Bread with Oatmeal Streusel
Recipe for pear bread with oatmeal streusel. No mixer required. Filled with plenty of fresh pear and cinnamon. Topped with a thick oatmeal streusel.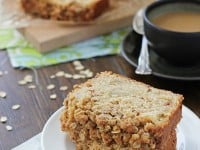 Ingredients:
For the streusel:
¼ cup all-purpose flour
¼ cup rolled oats
¼ cup packed light brown sugar
¼ cup walnuts, finely chopped
pinch of cinnamon
pinch of salt
3 tablespoons unsalted butter, melted
For the bread:
2 cups all-purpose flour
2 teaspoons baking powder
½ teaspoon ground cinnamon
½ teaspoon salt
½ cup packed light brown sugar
¼ cup granulated sugar
1 large egg
1 teaspoon vanilla extract
⅓ cup melted coconut oil
⅔ cup whole milk
¼ cup cinnamon chips
1 pear, chopped
Directions:
Preheat the oven to 350 degrees. Spray an 8 ½ by 4 ½ inch loaf pan with nonstick cooking spray and set aside.
To make the streusel – in a small bowl, mix together the flour, oats, brown sugar, walnuts, cinnamon and salt until well combined (breaking up any clumps). Add in the melted butter and mix until combined and evenly moistened. Set aside.
To make the bread – in a large bowl, whisk together the flour, baking powder, cinnamon and salt. In a medium bowl, whisk together the brown sugar, granulated sugar and egg until well combined (it will clump together at first but just keep whisking and it will smooth out). Add in the vanilla, coconut oil and milk and whisk again to combine. Pour the wet ingredients into the dry and mix until just combined. Gently fold in the cinnamon chips and chopped pear. It will be a nice and thick batter.
Transfer the batter into the prepared pan and use a spatula to smooth the top. Sprinkle the crumb topping evenly over the top.
Bake for about 50 to 60 minutes, until a tester inserted into the middle of the bread comes out clean. If the top starts to brown too quickly, tent loosely with aluminum foil. Once the bread is cool enough to handle, gently run a butter knife around the edges of the pan to loosen (a few crumbs on the edges may fall away but that's okay!). Remove to a wire rack to cool.
Make sure that you melt the coconut oil first and then measure out the ⅓ cup (otherwise you may use too much). Alternatively, you can also substitute in canola or vegetable oil – they should both work fine here.
If you only have a 9×5 inch loaf pan, you can go ahead and use it. However, be sure to check the loaf while baking about 5 minutes earlier than noted in the recipe above.