Greek Pita Pockets with Hummus
It's Friday.  It's Friday.  It's Friday!!  Someone is excited huh?  I have a hot date with my couch tonight and frankly it's never looked better.  My husband has been home for the last week recovering from surgery and he's built this "nest" as we've been calling it on the couch.  And honestly it's sort of the best thing ever – tons of blankets and pillows – like an awesome cocoon of soft fluffy goodness.
I may have plans to steal it for a bit this evening.  Would that make me a bad wife??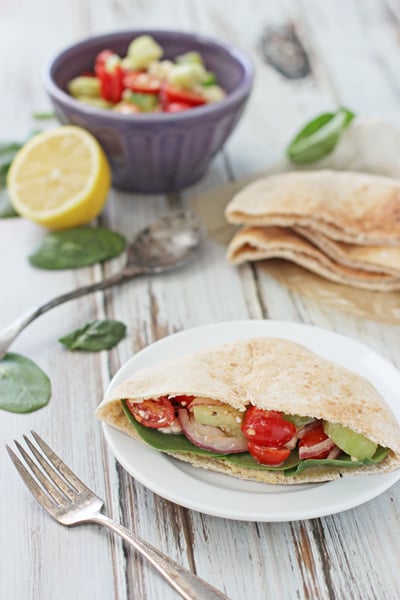 But before I park myself in the pile of blankets that is calling my name, we must do dinner.  A quick and easy dinner to be exact.  Like that transition?  I'm so smooth.
Because we need to talk about food for at least a few minutes.  It's meals like this that have been getting me through the last few days.  Simple, delicious and plenty of leftovers for lunch.
Chop up a few greek salad-esq veggies, add in a light dressing and then spoon it into a pita pocket with some hummus and fresh spinach.  You can't go wrong with that.
And then take your plate and go sit inside your fort made of blankets.  I'm seriously considering making the "nest" a permanent fixture on our couch.  No judging until you've tried it!
Greek Pita Pockets with Hummus
Recipe for greek pita pockets with hummus. A filling made of greek salad veggies topped with a light dressing. Add in some hummus and spinach to assemble.
Ingredients:
For the filling:
½ small red onion, thinly sliced
1 cucumber, peeled and chopped
1 small green pepper, chopped
1 pint cherry tomatoes, halved
½ cup crumbled feta
¼ teaspoon oregano
¼ teaspoon salt
pinch of red pepper flakes
1 tablespoon olive oil
1 teaspoon red wine vinegar
juice of half of a lemon
For assembling:
4 to 6 whole wheat pitas, cut in half
baby spinach leaves
Directions:
To make the filling – add the red onion, cucumber, pepper, tomatoes, feta, oregano, salt and red pepper to a medium bowl. Drizzle in the olive oil, vinegar and lemon juice. Toss until well combined.
To assemble – smear the desired amount of hummus on the inside of a pita. Place a handful of spinach on top of the hummus. Using a slotted spoon to get rid of any excess liquid, spoon in some of the filling. Serve immediately.
I personally don't like olives – they are just not my thing. At all. But if you like them, add them into the filling!