Vegetarian Farro Sloppy Joes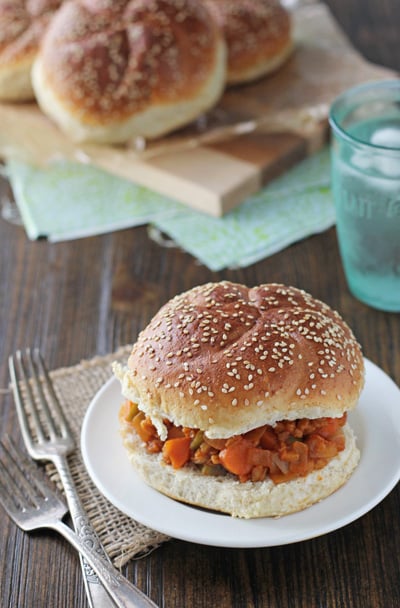 You didn't think we were done talking about farro, now did you?  You know my obsessions don't go away that quickly.  They like to stick around for a while.  To the point where my husband complains that I need to stop making so many meals with whatever it is at a given time.  Hmpf.  Uncool I tell you.  But I just retort with my standard, well I'm cooking so I get to pick what we eat.  I can be so lovely huh?
So this brings me back to farro.  I've really been loving playing around with it in the kitchen.  My husband mentioned some time ago that I never make sloppy joes … so I decided to fix that.  Although I replaced the meat with farro.  I don't think it's exactly what he had in mind…
But!  We actually BOTH enjoyed these.  And they have gone into regular rotation at our house.  Although I should probably ease off them for a bit.  My husband currently has one arm in a sling … sloppy joes are messy to begin with but virtually impossible to eat one handed.  We may have discovered that when I made these not even thinking about the fact that even regular sandwiches are difficult for him to eat at the moment.  Whoops.
Now obviously these are not exactly like regular full-of-meat sloppy joes but the base flavors are there … and quite frankly they are delicious.  The farro is tender but nice and chewy.  And personally I think makes a great substitute to create a nice and "meaty" dish.
And we all know that burgers, sloppy joes and the like make a great friday night meal.  What are you waiting for??
Vegetarian Farro Sloppy Joes
Recipe for vegetarian farro sloppy joes. A vegetarian spin on this classic favorite. Full of chewy farro for a nice meaty texture and packed with flavor.
Ingredients:
1 ½ tablespoons olive oil
1 onion, chopped
1 large carrot, peeled and chopped
1 green pepper, chopped
2 cloves garlic, minced
1 tablespoon tomato paste
1 teaspoon chili powder
½ teaspoon mustard powder
pinch of cayenne, or more to taste
1 cup pearled farro
2 cups low-sodium vegetable broth
1 (8 ounce) can tomato sauce
1 tablespoon worcestershire sauce
1 tablespoon apple cider vinegar
1 tablespoon brown sugar
½ teaspoon salt
burger buns or rolls, for serving
sliced cheese, for serving
Directions:
Set a large stockpot over medium heat. Add in the olive oil. When hot, add in the onion, carrot and pepper. Cook for about 5 to 7 minutes, until the veggies are tender. Add in the garlic, tomato paste, chili powder, mustard powder and cayenne. Cook for about 30 seconds, until fragrant. Add in the farro. Cook for about 1 minute, stirring frequently. Add in the broth, tomato sauce, worcestershire, vinegar and brown sugar.
Increase the heat and bring the mixture to a boil. Once boiling, cover, turn down the heat to medium / medium-low and let simmer for about 30 minutes, stirring occasionally, until almost all of the liquid is absorbed. The farro should be tender and a little chewy. Remove from the heat, stir in the salt and let stand for about 5 minutes before serving.
To serve, spoon on a burger bun (we like to toast the buns first!). You can also top with cheese, if desired.
A lot of brands of worcestershire sauce are not vegetarian – so be sure to read the label / ingredients to check!
I used pearled farro since that's the kind I can find at my local stores. If you use semi-pearled or whole farro, you'll have to increase the cooking time. Just keep simmering until the liquid is almost all absorbed and the farro is nice and tender but still a little chewy.