Greek Farro Salad
It's my mission to get you to like farro as much as I do.  Well, I'd be okay if you're even half as obsessed as I am, considering I have a slight love affair going on with this whole grain.  Nutty, slightly chewy, it's the bomb.  Does anyone say that anymore?  Major flash back to my middle or high school days.  I think that's when it was big although I honestly don't even really remember.
So my mom called last week to ask if I remembered somebody that I apparently went to school with back in the day (she was chatting with a lady who claimed they knew someone who knew me).  Is it terrible that I didn't even recognize the name?  Ummm who?
Either my memory is really bad or they are full of it.  But considering I grew up in a small town where everyone knew everyone's business, my guess is that it's me.  Although I have no problem remembering things like Legends of the Hidden Temple (blue barracudas anyone?), plastering posters from one of those ridiculous teen magazines on the INSIDE of my closet (because heaven forbid my dad saw them – mortifying) or hanging out at the movie theater with my friends because there was never anything to do.  Selective memory?  I'll go with that instead.
But I'm getting majorly sidetracked and am not even sure how to get this discussion back to farro.  So we're just going to go for it.  This recipe came about when I was trying to think of fun ways to make pasta salad without the pasta – and use a whole grain instead.  With summer right around the corner and Memorial Day upon us (how did that happen??), I wanted to make sure I had you covered.
And we all love greek salad.  At least I think most people love greek salad, me included.  Greek salad + farro = an awesome make-ahead dish that you can bring to potlucks, barbecues or just have for lunches during the week.
Farro.  You're gonna love it.  Please love it.
Greek Farro Salad
Recipe for greek farro salad. A greek salad inspired "pasta salad" that uses the whole grain farro in place of the pasta.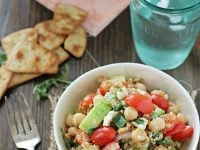 Ingredients:
For the salad:
1 tablespoon olive oil
1 ½ cups pearled farro*
1 ¼ cups water
2 ½ cups low-sodium vegetable broth
2 cups roughly chopped baby spinach leaves
½ small red onion, thinly sliced
1 cucumber, peeled and chopped
1 small green pepper, chopped
1 pint cherry tomatoes, halved
¾ cup crumbled feta
1 can chickpeas, drained and rinsed
For the dressing:
2 tablespoons freshly squeezed lemon juice
1 tablespoon red wine vinegar
1 tablespoon honey
¼ teaspoon oregano
¼ teaspoon salt
pinch of red pepper flakes
¼ cup olive oil
Directions:
To make the salad – set a medium saucepan over medium heat. Add in the olive oil. When hot, add in the farro and cook for 1 minute, stirring frequently. Add in the water and broth. Turn up the heat and bring to a boil. Cover, reduce the heat to medium-low and let simmer for about 30 to 35 minutes, until the farro is tender but still slightly chewy. Drain off any excess liquid (if there is any) and then transfer to a large bowl.
Immediately add the spinach to the bowl and toss to combine, so the heat will wilt the spinach a bit. Let cool for about 15 to 20 minutes.
Add in the red onion, cucumber, pepper, tomatoes, feta and chickpeas. Toss to combine.
To make the dressing – add the lemon juice, vinegar, honey, oregano, salt and red pepper to a small bowl. Whisk to combine. Add in the olive oil and whisk vigorously until smooth. Start by pouring some of the dressing into the bowl with the farro. Toss to combine and then taste. Slowly add in more of the dressing to your taste (I usually add all of it). Season with additional salt / red pepper if needed. Serve at room temperature or cold.
*I use pearled farro since that's the kind I can find at my local stores. If you use semi-pearled or whole farro, you'll likely have to increase the cooking time. You want the farro to be nice and tender but still a little chewy.
Olives would also be a great addition. I just don't like them … so I left them out!