Southwest Sweet Potato Breakfast Skillet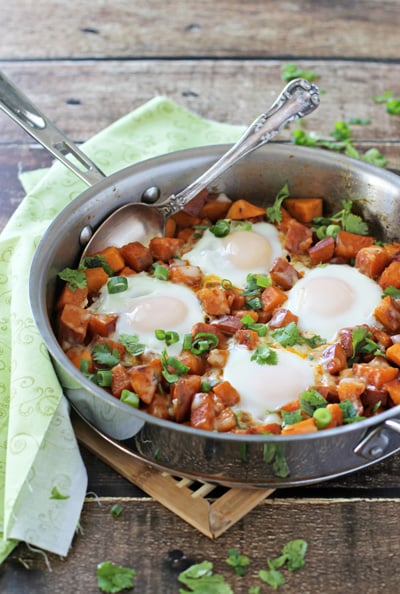 Let me introduce you to my new favorite weekend breakfast.  I made this on a whim one morning when I was trying to use up some leftover sweet potatoes I had laying around.  We loved it so much that I made it for the next several weeks straight.  And then I clearly had to make it again to grab photos and share here with you.  Twist my arm.
But one try and I bet that you'll be hooked too.  And … and … it's really easy.  Like maybe a little too easy to be sharing but whatevs.  We all love simple recipes right?
Plus there are eggs involved.  I would probably put eggs on just about everything if I could … runny yolks, I mean come on.  How can you resist?
And then combine them with sweet potatoes spiced up with my other favs (hello cumin and smoked paprika … are you sick of me talking about them yet?) and you have one heck of a breakfast.  Or breakfast for dinner?  I would totally go there except my husband likes to throw a bit of a hissy fit when I try to pull the breakfast for dinner thing.  Correction – a super manly hissy fit since I know he's not going to like that term.
Awesomeness that only dirties one skillet.  That's a win right there friends.
Southwest Sweet Potato Breakfast Skillet
Recipe for easy southwest sweet potato breakfast skillet. With sweet potatoes spiced with cumin and paprika, eggs, cilantro and salsa for serving.
Ingredients:
1 ½ tablespoons olive oil
3 medium sweet potatoes, cut into ½ inch chunks
1 teaspoon cumin
1 teaspoon smoked paprika
½ teaspoon salt
¼ teaspoon cayenne
⅓ cup low-sodium vegetable broth, plus extra as needed
½ cup freshly grated pepper jack cheese
4 large eggs
⅓ cup cilantro, roughly chopped
1 to 2 green onions, thinly sliced
salsa, for serving
hot sauce, for serving
Directions:
Set a large skillet over medium heat and add in the olive oil. When hot, add in the potatoes and then sprinkle with the cumin, paprika, salt and cayenne. Give it a good stir then cover and let cook for about 5 minutes, stirring halfway through. Add in the vegetable broth, give it another good stir then re-cover and let cook for about 10 more minutes, until the potatoes are tender, stirring occasionally. If the skillet starts to get too dry (i.e. the potatoes are sticking to the bottom, add in a little more vegetable broth, a tablespoon or two at a time – especially right before you add the cheese/eggs).
When the potatoes are tender, sprinkle the pepper jack cheese evenly over the top. Next, make four small wells in the sweet potatoes (leaving a few sweet potatoes at the bottom of each well) and then break the eggs into the wells. Cover the skillet, turn the heat down to medium low / low and let cook until the eggs are set and the yolks are to your desired doneness (for me this was about 6 minutes).
Remove from the heat and sprinkle with the cilantro and green onions. Serve with salsa and hot sauce, if desired.