Crispy Baked Asparagus with Honey Sriracha Dipping Sauce
So this is one of those recipes that I thought I was such a smarty pants for coming up with.  Crunchy, healthy baked asparagus?  I mean c'mon!  Even the husband thought I was pretty awesome when I served it up to him.  He said it reminded him of vegetable tempura.
And then I realized it's been done … about a million times before.  That's what I get for googling it (and reading way too many food blogs).  Sometimes I think it would be better if I continued to live in my naive little box where crispy asparagus was a novel concept … and I was a genius for thinking it up.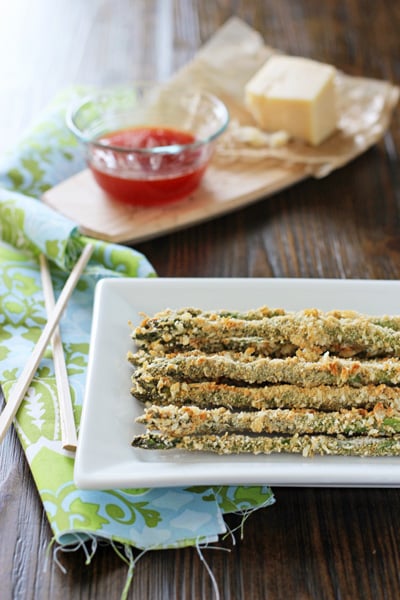 But alas, I've accepted the fact that this may not be very original.  I will tell you that the honey sriracha dipping sauce takes these crunchy vegetables to a fun, fun place.  There's just something about dipping veggies (or chicken or whatever it is) that I adore.  Plus, this sauce is sweet yet spicy … and finger lickin' good.  I certainly won't judge if you decide to use it for more than just this dish.
So if you've been living in your own little world like I have, give this asparagus a try.  It's great for a snack, an appetizer or a side dish to whatever else you're making.
Plus it's Friday and we all know that snack-type foods are more fun on the weekend.   Yes yes yes.
Yield: about 4 servings, as a side
Crispy Baked Asparagus with Honey Sriracha Dipping Sauce
Recipe for crispy baked asparagus with a sweet and spicy honey sriracha dipping sauce. An easy, healthy option for an appetizer or side.
Ingredients:
For the asparagus:
½ cup flour (I use white whole wheat)
½ teaspoon salt
¼ teaspoon pepper
1 large egg
1 tablespoon milk
1 cup panko breadcrumbs
⅓ cup freshly grated parmesan cheese
1 bunch asparagus spears, tough ends removed
For the sauce:
¼ cup honey
1 ½ tablespoons sriracha
juice of half a lime
Directions:
To make the asparagus – preheat the oven to 400 degrees. Line a rimmed baking sheet with foil and then set a cooling rack inside the baking sheet. Spray with nonstick cooking spray and set aside.
Add the flour, salt and pepper to a shallow bowl and mix to combine. Add the egg and milk to another shallow bowl and beat to combine. Add the panko and parmesan cheese to another shallow dish and mix to combine. Dredge each asparagus spear in the flour mixture, then dip into the egg mixture and finally into the panko mixture (using your fingers to press onto the asparagus). Place on the prepared baking sheet. Once all the spears are on the baking sheet, mist lightly with nonstick cooking spray.
Bake for about 15 minutes, until the coating is nice and crispy and the asparagus is tender.
To make the sauce – add the honey, sriracha and lime juice to a small bowl and whisk until combined. Serve with the baked asparagus spears.