BLT Cornbread Panzanella
It's Monday and we're talking salad.  I know, another salad.  Surprise surprise, right?  I was going to try to space the salad train out a bit but I just didn't want to wait any longer to share this BLT cornbread panzanella with you.  Because … this dish.  I do really truly love all the salads I share with you, but this one.  It takes the cake.
It's like a fancied version of a BLT – kinda sorta.  But in salad form.  With crunchy cornbread croutons and sweet sweet balsamic glaze.  And then the usual suspects – salty bacon, arugula (not necessarily typical but that's the whole fanciness thing) and juicy tomatoes.
It's like summer on a plate.  Or in a bowl.  I sometimes just stand there and spoon forkfuls into my face before I even get to the point of putting it on a plate or sharing it with the husband.  And you don't mess with him when it comes to bacon – so this is dangerous territory right here.  We have a rule in this house that whenever I am cooking with bacon it is essential that I make an extra piece for him to eat by itself.  Otherwise I don't hear the end of it.  True story.
I challenge you to try to get a piece of everything in this salad on your fork and then shove it into your mouth as fast as possible before your hungry husband comes into the kitchen from the smell of bacon wafting through the house.  While … while you have a crazed beagle who is circling your kitchen island willing you to drop something on the floor.  Maybe even throwing in a few sad eye looks for good measure (and trust me, this dog has nothing to be sad about.  We're taking spoiled with a capital s).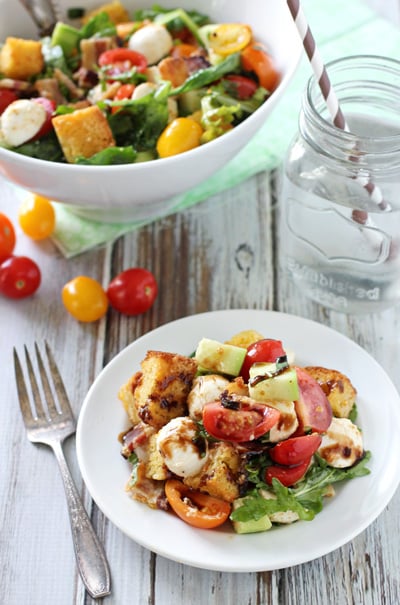 Then again I can't blame her – she takes after her mama.  A little crazy at times and loves good food.  Nothing wrong with that.
BLT Cornbread Panzanella
Recipe for BLT cornbread panzanella. With crunchy cornbread croutons, salty bacon, crisp arugula, juicy tomatoes and a drizzle of balsamic glaze.
Ingredients:
4 cups cubed (1-inch pieces) cornbread*
5 slices thick-cut bacon, cooked until crispy and cut into bite-sized pieces
1 pint cherry tomatoes, halved
1 large cucumber, peeled and chopped
1 cup fresh mozzarella balls, patted dry and sliced in half
2 tablespoons chopped fresh basil
2 cups arugula (or a spinach arugula mix)
1 ½ tablespoons olive oil
balsamic glaze, for drizzling
Directions:
Preheat the oven to 350 degrees.
Lay the cornbread cubes in a single layer on a baking sheet. Bake for about 15 to 20 minutes, stirring once during baking, until golden brown and nice and toasted. Let cool.
In a large bowl, add the bacon, tomatoes, cucumber, mozzarella, basil and arugula. Toss to combine. Add in the cooled cornbread cubes as well as the olive oil. Toss gently to combine.
Scoop onto a dish and drizzle with plenty of balsamic glaze (or to taste!). Serve immediately.
*Use your favorite recipe for the cornbread or something store-bought. Whatever works for you!