Vanilla Honey Iced Tea Lemonade
Light and refreshing, this vanilla honey iced tea lemonade is perfect for warm weather. With a blend of cold-brew iced tea, lemonade and vanilla honey simple syrup.
So let's start the week off with an embarrassing story, shall we?
The first time I heard the term "arnold palmer" used to describe iced tea lemonade was on a trip with my husband back when we were still dating. We were sitting outside at some restaurant and he ordered an arnold palmer.
The first thought that went through my head? "Why on earth are you asking for the golfer???"
Since we hadn't known each other too too long, I didn't say anything and sat there with this burning question in my mind. Until the waiter brought the drink. Ohhhhhhh.
In the land where I grew up – we called them iced tea lemonades.
None of this golfer name business (although you would think that I would have known this since I graduated from Wake Forest – where he is a big time alum and there was a dorm named after him). Nope, still had no clue.
I'm calling this recipe vanilla honey iced tea lemonade out of principle. I'm sticking with my name for them.
So now that the weather is getting all warm and toasty, I like to have something other than water in the house. In addition to my typical giant vat of homemade iced coffee. Necessity.
So I decided it was time to make an "arnold palmer" at home.
Pssshh. I mean iced tea lemonade.
I used a cold brew method to make the iced tea component (so plan ahead), mixed up some lemonade, and then it was time for something fun.
A little vanilla honey action. Spice it up a bit. You can really taste the honey and then there's just a faint hint of the vanilla.
Drink perfection.
Judging by the fact that I've made three giant pitchers of this over the last few weeks, I'd say we really enjoy it.
Additional Drink Recipes You Might Enjoy!
Did you make this recipe? Rate and review it down below! I'd love to hear from you.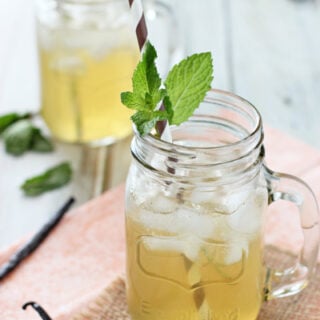 Vanilla Honey Iced Tea Lemonade
Light and refreshing, this vanilla honey iced tea lemonade is perfect for warm weather. With a blend of cold-brew iced tea, lemonade and vanilla honey simple syrup.
Ingredients
For the simple syrup:
¾ cup water
¾ cup honey
1 vanilla bean
1 teaspoon vanilla extract
For the tea:
4 ½ cups cold water
4 tea bags (I use english breakfast)
For the lemonade:
1 cup freshly squeezed lemon juice, chilled*
4 ½ cups cold water
fresh mint, for garnish
Instructions
To make the simple syrup:
Add the water and honey to a small saucepan. Split the vanilla bean lengthwise and scrape out the seeds. Add the seeds and the pod to the saucepan.
Set the pan over medium-high heat and cook, stirring frequently until the honey has completely dissolved into the water. Let the mixture come to a boil, then turn down the heat and let simmer for 5 minutes.
Remove from the heat and stir in the vanilla extract. Let the mixture cool completely then remove the vanilla bean pod (and discard). Store the syrup in the refrigerator until ready to use.
To make the iced tea:
Add the water and tea bags to a container with a lid. Put on the lid, transfer to the refrigerator and let the mixture sit for at least 8 hours (I usually leave it overnight for about 12 to 14 hours to get it as strong as I like).
To assemble:
Discard the tea bags from the cold-brew iced tea and add the tea to a large pitcher. Add in the lemon juice and cold water (for the lemonade).
Start by adding in some of the simple syrup and taste and adjust until you get it to your desired sweetness (I typically use all or almost all of the syrup).
Pour into glasses with some ice, garnish with mint and serve. Store any extra simple syrup in the fridge - it will keep for a long time.
Notes
*It usually takes me about 5 to 7 lemons to get this amount, just depending on how juicy they are.
This iced tea lemonade is adjusted to our tastes. You may want to fiddle with the ratio of iced tea to lemonade, or even the ratio of the lemonade itself (lemon juice to water).
Recipe time does NOT include time for the iced tea to steep.
Nutrition Information:
Yield:

10
Serving Size:

1
Amount Per Serving:
Calories:

83
Total Fat:

0g
Saturated Fat:

0g
Trans Fat:

0g
Unsaturated Fat:

0g
Cholesterol:

0mg
Sodium:

16mg
Carbohydrates:

23g
Fiber:

0g
Sugar:

21g
Protein:

0g
Nutrition data shown is an estimate provided by an online calculator and is for informational purposes only. It should not be considered a substitute for a medical professional's advice.