Vegetable Enchilada Casserole with Salsa Verde
It's been far far too long since we've talked mexican food.  As in almost a month.  Which is just completely unacceptable.
So we're about to remedy this situation.  Meet my new favorite dinner.
It's good.  Really good.  And my impatient self has a really hard time letting it rest for about 15 minutes before digging in.  To the point where several times I've just said screw it and cut a big piece before it had time to set up.  And then proceeded to drop it all over the counter.
Messy?  Yes.  But so delicious I couldn't care one little bit.  And you better believe that I licked every last drop of sauce off that counter.  No shame.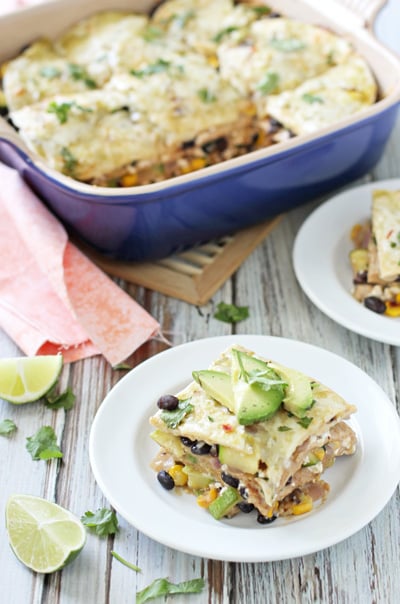 It's like enchiladas without having to go through the trouble of rolling them up.  Lazy man enchiladas.  I like it.  Just layer and bake.
And those layers?  Yeah – those are filled with crunchy veggies, black beans, salsa verde and cheese.  Cheese me please.  Now don't get all weirded out when you see there is cottage cheese in the ingredient list.  It doesn't taste like cottage cheese at all – it just sort of makes it all nice and slightly creamy and plenty cheesy.  Obviously.
For the final touch you'll broil the casserole at the very end so the top layer gets just a tad bit crunchy … kinda sorta.  Oh so good.
And then you'll top it with plenty of avocado right before serving.  The creaminess is the perfect finishing touch.
Have I convinced you to make this casserole yet?  Yes?  Good.
Vegetable Enchilada Casserole with Salsa Verde
Recipe for vegetable enchilada casserole with salsa verde. Have cheesy enchiladas without all the rolling! Layers of tortillas, veggies, beans and cheese.
Ingredients:
For the casserole:
1 tablespoon olive oil
1 small red onion, chopped
2 small zucchini, chopped
½ cup frozen corn (or fresh!)
1 can black beans, drained and rinsed
2 green onions, thinly sliced
¼ cup cilantro, chopped
¾ cup cottage cheese
1 ½ cups salsa verde, divided
1 chipotle pepper in adobo sauce, minced
¾ teaspoon cumin
¼ teaspoon smoked paprika
salt, to taste
8 large flour tortillas*
1 ¼ cups freshly grated pepper jack cheese, divided
For serving:
additional chopped cilantro
diced avocado
Directions:
Preheat the oven to 375 degrees.
Set a medium skillet over medium heat. Add in the olive oil. When hot, add in the onion and cook for 2 to 3 minutes, until it starts to soften. Add in the zucchini and corn. Cook for another 6 to 9 minutes, until all the veggies are nice and tender. Transfer the mixture to a large bowl and add in the black beans, green onions, cilantro, cottage cheese, ¼ cup of the salsa, chipotle, cumin and paprika. Mix until well combined. Taste and add salt if needed (it will depend on your salsa).
Add another ¼ cup of the salsa to a square (mine is 9×9) baking dish. Tilt the pan back and forth until it coats the bottom in a thin layer. Top with 2 of the tortillas (I rip them in half so they fit the pan better), ⅓ of the veggie mixture, ¼ cup salsa and ¼ cup of the pepper jack cheese. Repeat this process two more times (tortillas, veggies, salsa, cheese). End with a final layer of tortillas, salsa and then the remaining ½ cup of cheese.
Cover the dish with aluminum foil and bake for about 20 minutes. Remove the foil, turn on the broiler and then broil for another 5 minutes, until the cheese is golden and bubbly on top. Remove from the oven and let stand for 15 minutes before slicing. Garnish with the extra cilantro and serve each piece with some diced avocado.
*We use large whole wheat tortillas but feel free to use whatever kind of tortilla you would like (you may need to increase the amount if you use a smaller sized tortilla).
Make sure that you like whatever salsa you use in this dish (and the spice level of the salsa). The one we use has a bit of kick, so the casserole itself has some kick too. You can also use a different kind of cheese (instead of the pepper jack) to reduce the spice level and/or reduce the minced chipotle, depending on your taste. We think the amounts listed are just right but that's just us!