Soba Noodles with Roasted Tomatoes, Mushrooms and Eggs
Home sweet home.  After about a week and a half on the road to visit family in two different states I am so so happy to be back in North Carolina.  As nice as it is to see our family and friends, I am 100% a creature of habit.  I like my routines.  And I will totally admit that I get cranky when I'm away from them for too long.
And when you throw complete and utter nuttiness into the mix?  Well let's just say that it's not a pretty sight.  Trying to get all my work done in advance before we left was busy enough.  But then add in the fact that my car broke down (with a full trunk of groceries!!) the week before we headed out for our trip.  Turns out – I needed an entire new transmission.
Now, would one think this would happen to my 3 ½ year old car?  Not so much.  The car that we were also planning on taking on our road trip.  My car and I were not friends that week.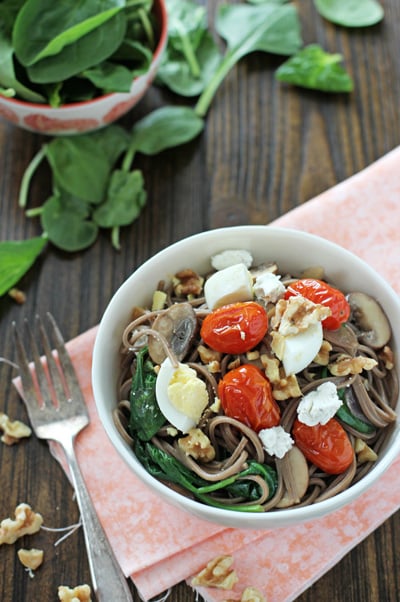 But we're cool now.  She's all fixed up.  And let me just say that I have never been so glad that we purchased a warranty.  If I had to pay for it … yeah, that would have gotten ugly.
Sooooo.  Food.  We ate this soba noodle deliciousness quite a number of times before we left.  Fast, simple, no fuss.  Especially if you have hard-boiled eggs on hand and ready to go.  I make them for snacking and they certainly come in handy for this dish.
I love using soba noodles as a way to switch it up from my normal whole wheat pasta.  And they are great cold – which means this makes for one mean dish of leftovers.  Combine that with roasted, sort of burst tomatoes, creamy goat cheese, eggs and crunchy nuts?
Happiness in a bowl, friends.  Happiness in a bowl.
Soba Noodles with Roasted Tomatoes, Mushrooms and Eggs
Recipe for soba noodles with roasted tomatoes, mushrooms and eggs. Quick, simple and no-fuss. With nuts and creamy goat cheese.
Ingredients:
1 pint cherry tomatoes
2 tablespoons olive oil, divided
½ teaspoon salt
¼ teaspoon red pepper flakes
1 (8 ounce) package soba noodles
1 small red onion, chopped
1 (8 ounce) package baby bella mushrooms, sliced
5 cups baby spinach leaves
½ cup walnuts, roughly chopped
2 ounces goat cheese, crumbled (or herbed goat cheese)
3 hard-boiled eggs, peeled and chopped
Directions:
Preheat the oven to 400 degrees. Add the tomatoes to a rimmed baking sheet or dish and add in 1 tablespoon of the olive oil, the salt and red pepper. Toss to combine. Bake for about 20 to 25 minutes, stirring once halfway through, until some of the tomatoes have burst and released some of their juices. Set aside.
Meanwhile, bring a pot of lightly salted water to a boil. Add in the soba noodles and cook until al dente (according to the package directions). Drain and then rinse well with cold water.
Meanwhile, set a large skillet over medium heat. Add in the remaining 1 tablespoon olive oil. When hot, add in the red onion and cook for about 2 to 3 minutes, until it starts to soften. Add in the mushrooms and cook for about 5 to 7 minutes, until tender. Add in the spinach leaves and cook until wilted, about 1 to 2 minutes. Turn off the heat and add in the tomatoes and soba noodles. Toss until well combined. If the noodles seem a little dry, drizzle in another 1 to 2 teaspoons of olive oil. Taste and season with salt and additional red pepper flakes to taste.
Scoop some of the pasta mixture into a serving bowl. Top with some of the walnuts, goat cheese and hard-boiled eggs. Serve.
We think this pasta also tastes great cold – the leftovers are excellent for lunches!