Watermelon Salad with Sriracha Vinaigrette
I am fully convinced that I am going to turn into a watermelon. Really, it's going to happen.
The last few weeks I've gleefully bought a watermelon each week at the food store and then immediately proceeded to cut it up as soon as I get home. And because I am impatient I start stuffing my face right away before the container can even be put in the fridge to chill for a bit. Even though cold watermelon is better than room temperature watermelon, I can't help myself. It's just so good.
So by the end of the summer it is very likely that I am going to be one giant walking watermelon. Now there's a visual for you.
I decided that I should maybe get at least a little creative with all my watermelon consumption and so this salad was born. The idea came from something I ate at a local restaurant, although once again I don't even remember which restaurant I had it at. All I know is that it was last summer and that it has been sitting on my list of things to make for the blog since then (with a little note that said "MUST MAKE SOON" – clearly I ignore my own notes to myself). Major fail because you need this in your life asap.
I know there are plenty of other watermelon salad recipes out there, but gosh is this one awesome. Cold, sweet watermelon, sprinkled with feta, peanuts and arugula, and then drizzled with a sriracha vinaigrette.
Sweet, salty and just a hint spicy all in one. Pure perfection.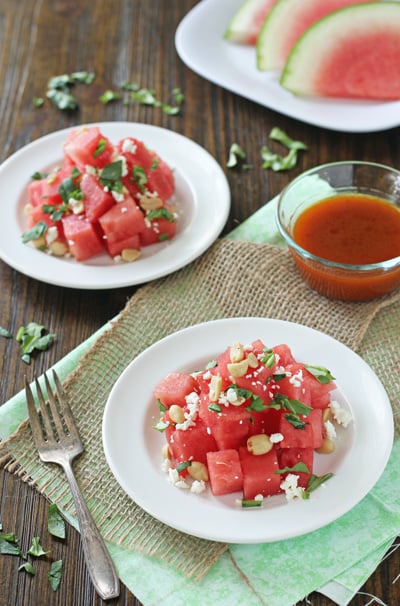 Although who are we kidding, watermelon is perfection all by itself too.
Watermelon Salad with Sriracha Vinaigrette
Recipe for watermelon salad with sriracha vinaigrette. Sweet watermelon, salty feta, peanuts and arugula in a super easy summer salad.
Ingredients:
For the dressing:
2 tablespoons sriracha
1 tablespoon red wine vinegar
1 tablespoon honey
¼ teaspoon salt
freshly ground pepper, to taste
¼ cup olive oil
For the salad:
about 5 cups cubed seedless watermelon
¼ cup crumbled feta
¼ cup unsalted peanuts, roughly chopped
about ⅓ cup packed arugula, chopped
Directions:
To make the dressing – add the sriracha, vinegar, honey, salt and pepper to a small bowl. Whisk to combine. Add in the olive oil and whisk vigorously until smooth. Set aside.
To assemble – divide the watermelon among the four serving plates. Sprinkle each with some of the feta, peanuts and arugula. Drizzle with the desired amount of dressing and serve immediately.
I had dressing leftover – it's great for other salads!