Watermelon, Mozzarella and Prosciutto Skewers
Today's recipe is pure fun. Absolutely tasty of course, but mostly just fun. I mean, how can it not be when there are skewers involved? So grab all the necessary ingredients and make these watermelon, mozzarella and prosciutto skewers part of your summer plans!
Because somehow it's already July 1st. What the what??
I feel like a giant clock is ticking and I need to squeeze in so many more fun things this summer. Pretty much all involve food and summer produce. What can I say, I'm completely predictable.
On that note, I'm also determined to eat as much watermelon this season as humanly possible. If I turn into a giant walking watermelon, all the better, because then it means I've met my goal.
So prepare yourselves. I have plenty more watermelon recipe ideas swarming around in my head.
And these skewers? Well, they really couldn't be simpler. Some fresh mozzarella balls. Some watermelon. Some cucumber. Some prosciutto. All threaded onto a wooden skewer or toothpick. You can make them as small or as big as you like.
Right before serving, we'll sprinkle on a little fresh basil and drizzle on some thick, amazing balsamic glaze. Sweet, salty, awesome.
Don't have skewers? No problem! Just lay out all the components slightly overlapping on a serving platter. You'll still get all the tasty goodness that way too.
Just not as much fun. Oh, who are we kidding. Still totally fun since watermelon is involved.
Have an absolutely wonderful July 4th holiday weekend!
I'll be back next week with my new favorite enchiladas. Possibly, ever. Oh yes, be very excited.
Yield: about 10 servings, as an appetizer
Watermelon, Mozzarella and Prosciutto Skewers
Prep Time: 15 minutes
Cook Time: 0 minutes
Total Time: 15 minutes
Recipe for watermelon, mozzarella and prosciutto skewers. A sweet and salty, super simple appetizer. Perfect for parties!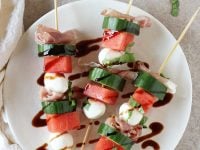 Ingredients:
wooden skewers or toothpicks, for assembling
20 small fresh mozzarella balls, patted dry
20 (about 1-inch square) chunks seedless watermelon
20 (½-inch thick) slices (peeled or unpeeled) cucumber
20 thin slices prosciutto
minced fresh basil, for sprinkling
balsamic glaze, for drizzling
Directions:
On the skewers or toothpicks, thread one mozzarella ball, then one piece of the watermelon, a piece of the cucumber and lastly a slice of prosciutto. Repeat as needed to fill the skewer or toothpick (I usually do two rounds on each skewer).
Place the assembled skewers on a serving tray. Sprinkle with fresh basil, then drizzle generously with the balsamic glaze. Serve immediately.
I like to try to roll up the prosciutto slices before threading them on the skewers! But you can thread them on however you would like!
You can assemble the skewers in advance – just don't sprinkle the basil and drizzle the balsamic glaze until right before serving!