Crispy Eggplant Sliders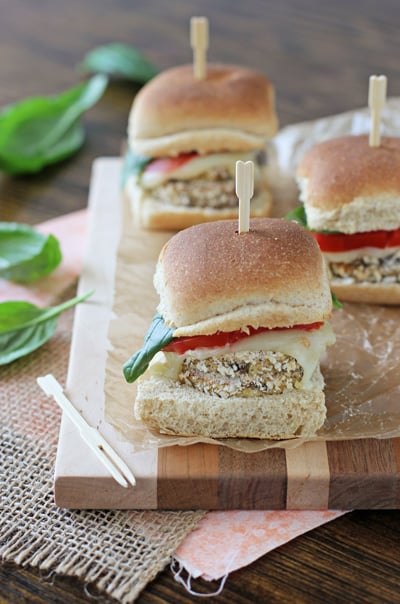 True story. The week after I tell you about how awesome my tomato plant is doing is the week that a hoard of bugs decide to come eat the majority of my tomatoes. Tears. I should have known I would jinx myself by being so confident. But seriously – all you expert gardeners … how do I keep the bugs away!?!?
There are a few tomatoes that I managed to save (and a few that are still growing okay), so I'll take what I can get for now. But I do still plan to pout every time I go outside and look at my poor planter. It's only fair. I also usually mutter a few choice words at the bugs. Because they completely understand what I'm saying right?
And looking at these photos is not making it any easier because I used one of my delicious pre-bug eaten tomatoes for these crispy eggplant sliders. And gosh was it good.
So I thought these fun sliders would be a great vegetarian option for any summer gatherings you have coming up. Or a weeknight meal. They are fairly simple and come together pretty quickly, plus they are full of fresh summer flavors!
Crispy, lightly breaded eggplant rounds? Summer tomatoes? Fresh basil leaves? Check, check and check! And of course some cheese for good measure. Obviously.
They are plenty filling but also still feel light – which is exactly the balance I love this time of the year.
Now if only I can get rid of those bugs so I can use more homegrown tomatoes for these sandwiches. I'm coming for you – you nasty little things!
Correction. I plan to make my husband kill the bugs. They gross me out.
Crispy Eggplant Sliders
Recipe for crispy eggplant sliders. Lightly breaded eggplant rounds, tomato, mozzarella and fresh basil on slider rolls. Perfect for the summer!
Ingredients:
For the eggplant:
1 medium eggplant
1 large egg
¼ cup milk
½ cup flour (I use whole wheat)
1 cup panko breadcrumbs
½ teaspoon salt
¼ teaspoon pepper
½ teaspoon dried basil
½ teaspoon dried parsley
For assembling:
8 slider rolls
8 slices mozzarella
8 slices tomato
8 fresh basil leaves
Directions:
To make the eggplant – preheat the oven to 400 degrees. Line a rimmed baking sheet with foil and then set an oven-safe cooling rack inside the baking sheet. Spray with nonstick cooking spray and set aside.
Cut off the top of the eggplant and then cut lengthwise into ½ inch thick slices. Using a round, about 2 ½ inch biscuit cutter, cut out about 16 rounds from the eggplant slices (depending on the size of your eggplant this may vary slightly). Set aside. In a small bowl, beat together the egg and milk. In a shallow bowl, mix together the flour, panko, salt, pepper, basil and parsley. Dip each eggplant round into the milk mixture then into the panko mixture, using your fingers to press the breadcrumbs onto both sides. Place on the prepared baking sheet. Once all the rounds are on the baking sheet, mist lightly with nonstick cooking spray.
Bake for about 15 minutes, until the coating is nice and crispy and the eggplant is tender. Maintain the oven temperature.
To assemble – stack two of the eggplant rounds on the bottom of each bun. Top with a slice of mozzarella and a slice of tomato. Cover with the top of the bun and then place on a baking sheet lined with parchment paper. Bake for about 5 to 7 minutes, until nice and warm, the cheese has melted and the buns are slightly toasted. Remove from the oven. Remove the top of the bun, place a basil leaf on top, re-cover and serve immediately.
If you don't care about the eggplant being round, you can just cut out squares with a knife instead of using the biscuit cutter.
I cut thicker-sized slices of both the tomato and the mozzarella.
I like to use these honey yeast rolls for the buns – they are my absolute favorite and just so happen to be the perfect size!