Blueberry Lime Coconut Cobbler
Dreamy blueberry lime coconut cobbler! With fresh blueberries, lime zest and a buttery biscuit topping. Serve with vanilla ice cream for a perfect summer dessert!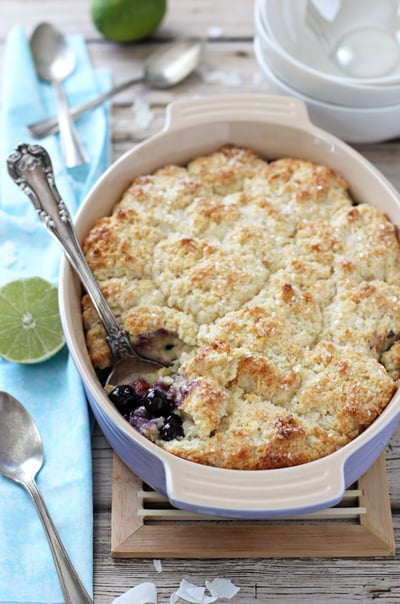 Let me tell you the story of how my pie plate met its sad demise. Actually it's not very much of a story.
I used it twice recently to make this recipe. The third time when I went to take photos? I had it sitting on the edge of my counter, barely knocked into it and boom.
Cracked into a million little pieces all over my floor. Major sad face.
As my grandma would say, that's what I get.
She always used to yell (everybody loves raymond style) at my grandpa for putting his coffee cup on the edge of the kitchen table. And yet he always left it there, you know, out of principle. It was an endless topic of conversation and actually quite entertaining.
But anyway, the moral of this story? Don't put your well-loved pie plate on the edge of counters.
And ignore the small casserole dish I used in these pictures and just go ahead and use a pie plate.
About This Blueberry Lime Coconut Cobbler
And since there's no bringing back my very favorite pie dish, I suppose it's time to move on.
And discuss much more happy things. Like blueberry lime coconut cobbler. A slightly gussied up version of a traditional blueberry cobbler.
The filling is packed with lots and lots of fresh blueberries (which I can't stop buying right now fyi) and plenty of lime zest and a little lime juice.
And then there's the topping. My favorite part. With a touch of ground coconut flakes and coconut extract, you get just a hint of coconut flavor – nothing too much for all you coconut haters out there (seriously, we can't be friends).
You'll also sprinkle the biscuit pieces with a smidge of coarse sugar, for some crunch.
And while it's delicious all by itself straight out of the oven with a spoon, what you really need to do is this:
Lots of vanilla bean ice cream = total necessity and infinitely more amazing.
Additional Fruit Dessert Recipes You Might Enjoy!
Did you make this recipe? Rate and review it down below! I'd love to hear from you.
Blueberry Lime Coconut Cobbler
Yield:
about 6 to 8 servings
Dreamy blueberry lime coconut cobbler! With fresh blueberries, lime zest and a buttery biscuit topping. A perfect summer dessert!
Ingredients
For the filling:
2 pints fresh blueberries
⅓ cup granulated sugar
1 tablespoon all-purpose flour
zest from 1 lime
juice from ½ a lime
pinch of cinnamon
pinch of salt
For the topping:
1 ½ cups all-purpose flour
2 tablespoons finely processed unsweetened coconut flakes*
⅓ cup granulated sugar
2 teaspoons baking powder
¼ teaspoon salt
pinch of cinnamon
6 tablespoons cold unsalted butter, cut into chunks
1 cup heavy cream
½ teaspoon vanilla extract
¾ teaspoon coconut extract
coarse sugar, for sprinkling
Instructions
Preheat the oven to 375ºF.
To make the filling:
Add the berries, sugar, flour, zest, lime juice, cinnamon and salt to a medium bowl. Toss until well combined.
Transfer the mixture to a 9-inch deep dish pie plate and spread evenly.
To make the topping:
Whisk together the flour, coconut flakes, sugar, baking powder, salt and cinnamon in a medium bowl. Using your fingers, two knives or a pastry blender, cut the butter into the flour. Continue until the mixture resembles even-sized crumbs.
In a small bowl, whisk together the cream, vanilla extract and coconut extract. Add the wet ingredients to the bowl with the dry and stir until the dough just comes together. Do not over mix.
Pinch off chunks of the dough (fairly large pieces) and drop over the blueberry mixture. Sprinkle lightly with the coarse sugar.
Set the dish on a baking sheet and bake for about 35 to 40 minutes, until the topping is golden brown.
Let stand for about 10 to 15 minutes. Serve topped with ice cream.
Notes
*Add coconut flakes to a food processor and process until finely ground. Measure out the 2 tablespoons. You can also just buy finely shredded / processed coconut, which I've also done!
Heavily adapted from Real Simple
Nutrition Information:
Yield:

8
Serving Size:

1
Amount Per Serving:
Calories:

383
Total Fat:

21g
Saturated Fat:

13g
Trans Fat:

0g
Unsaturated Fat:

6g
Cholesterol:

57mg
Sodium:

200mg
Carbohydrates:

47g
Fiber:

3g
Sugar:

25g
Protein:

4g
Nutrition data shown is an estimate provided by an online calculator and is for informational purposes only. It should not be considered a substitute for a medical professional's advice.