Coffee Coconut Milk Cookies & Cream Popsicles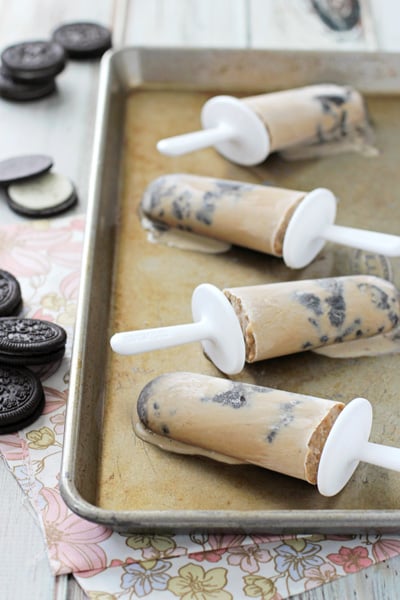 I think at this point you know how I feel about the heat. We are not friends. Not at all. Not even a teensy little bit.
But you know what makes it better? Popsicles. Lots and lots of popsicles. Too hot after running a bunch of errands? Popsicles are the answer. Feeling kinda gross after spending time outside walking the dog? Most definitely time for a popsicle. After dinner treat just because? You better believe it. The popsicles are coming out.
Suffice it to say my popsicle molds have been getting some heavy use these days.
And while I do love fruity flavored ice pops, there is just something about ones that are a little bit more creamy. They win me over every single time. And when there's cookies and cream involved? Umm yeah, there is no contest.
Since my coconut milk obsession is still going strong, it seemed only right to use it in another frozen treat. And so coffee coconut milk cookies & cream popsicles were born. Creamy but not overly decadent, a touch of coffee flavor and filled with plenty of crushed chocolate sandwich cookies.
And since there is no heavy cream involved, I feel much better about my eating popsicles like they are going out of style. Sometimes more than one in a day. I blame the heat for my behavior.
So let's beat the heat together. How about a popsicle party? I'm totally in.
Yield: about 8 to 9 pops, depending on molds
Coffee Coconut Milk Cookies & Cream Popsicles
Recipe for coffee coconut milk cookies & cream popsicles. Creamy popsicles made with coconut milk, brewed coffee and plenty of crushed oreos.
Ingredients:
1 (13.5 ounce) can full-fat coconut milk
¼ cup plus 1 tablespoon coconut sugar
1 cup brewed coffee, cooled slightly
1 ½ teaspoons vanilla extract
10 to 12 chocolate sandwich cookies, crumbled
Directions:
Add the coconut milk and sugar to a small saucepan. Set the pan over medium heat and cook, stirring frequently, until the sugar has dissolved and the coconut milk is smooth. Remove from the heat and stir in the coffee and vanilla extract. Let cool to room temperature.
Stir in the crumbled cookies then pour the mixture into popsicle molds (alternatively you can place some cookies in the bottom of each mold and then pour in the milk mixture to fill). Freeze according to the manufacturer's directions (for me it takes about 5 to 8 hours to freeze completely).
If you don't have coconut sugar, you can definitely use regular granulated sugar instead.