Grilled Corn and Pineapple Salsa
Sweet and savory grilled corn and pineapple salsa! This simple salsa is perfect for snacking, on tacos, or however you like!
Fire up the grill! Grab a huge bag of chips! Maybe even a margarita?! Because it's salsa time! Sweet and savory, irresistible, pineapple corn salsa to be exact.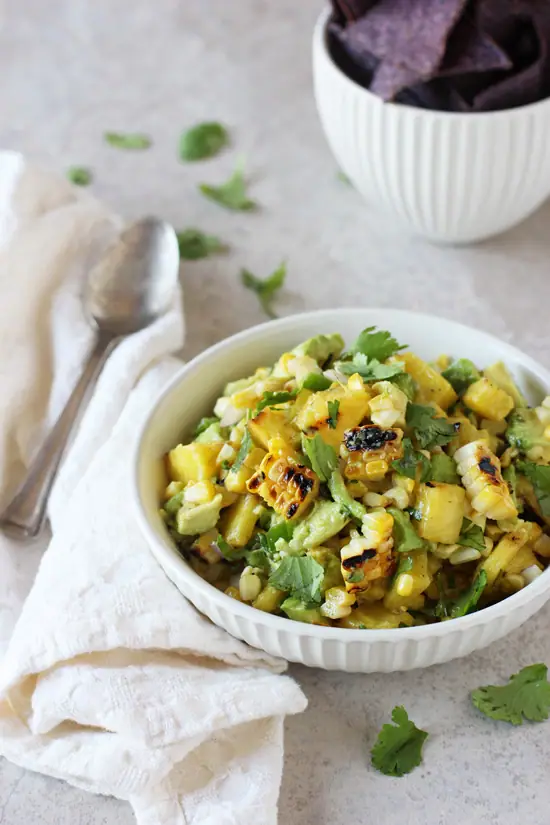 And when I say irresistible, I really do mean it. The first time I made this salsa it was for a little get together. So you know, there were other people around and it forced me to control myself. The second time? All bets were off.
Because chips + salsa = pure happiness.
Especially when you aren't the one standing outside in the blazing heat grilling up the corn and pineapple. I let my husband take care of that.
While I peer out the sliding glass doors onto the deck and time it all with my phone (for the instructions for you, of course!).
And smile and wave from inside the air-conditioning-is-pumping super cool house. As you can see the hot smoke billowing into his face from the grill.
It's a good thing he likes me. At least I pay in delicious salsa?
How To Make Pineapple Corn Salsa
So. The salsa. Let's get down to it.
We have juicy fresh pineapple. A few fresh ears of corn. Fresh fresh fresh. All charred to perfection on the grill.
Once they cool down a bit, we'll chop it all up and into a big bowl it goes with some red onion, jalapeno, cilantro and creamy, dreamy, I totally heart you, avocado.
We toss it all together with a little lime juice, hot sauce and salt. So simple. So utterly perfect.
And so many ways to put it to use. As a topping on a burger? Sure. Over some grilled chicken? Absolutely. With a huge bag of blue corn tortilla chips? Yes yes yes!!
I don't know, can you tell I have a thing for chips and salsa? What gave it away?
Additional Salsa Recipes You Might Enjoy!
Did you make this recipe? Rate and review it down below! I'd love to hear from you.
Grilled Corn and Pineapple Salsa
Yield:
about 6 to 8 servings
Sweet and savory grilled corn and pineapple salsa! This simple salsa is perfect for snacking, on tacos, or however you like!
Ingredients
3 (¾-inch) thick slices fresh pineapple, cored
3 ears fresh corn, shucked and cleaned
olive oil, for brushing
¼ cup minced red onion
1 medium jalapeno, seeded and minced
½ cup loosely packed cilantro, chopped
1 to 2 medium avocados, diced
juice of 1 lime
½ to 1 teaspoon hot sauce
¼ teaspoon salt
tortilla chips, for serving
Instructions
Light up a grill (charcoal or gas) over medium / medium high heat.
Brush both sides of the pineapple slices and each ear of corn with olive oil. Add the pineapple slices to the heated grill and cook, flipping once halfway through, until lightly charred, about 4 to 6 minutes. Remove to a platter or plate. Next, add the corn to the grill and cook until charred all over and cooked, turning them occasionally to get all sides, about 15 to 16 minutes. Remove to the platter as well. Let both the pineapple and corn rest until cool enough to handle.
Dice the pineapple slices and add to a medium bowl. Cut off the kernels from the ears of corn and add to the bowl as well. Next, add in the red onion, jalapeno, cilantro, avocado, lime juice, hot sauce and salt. Toss to combine. Taste and add more salt (or hot sauce!) to your liking.
Serve with plenty of chips.
Notes
Add the avocado to taste. Start with the one avocado and add the second if desired. I love to add the full two, but if you're not a huge avocado person, just do the one!
Salsa can be so personal, so feel free to tinker around with the quantities of the ingredients to get it just the way you want it.
Nutrition Information:
Yield:

8
Serving Size:

1
Amount Per Serving:
Calories:

133
Total Fat:

8g
Saturated Fat:

1g
Trans Fat:

0g
Unsaturated Fat:

6g
Cholesterol:

0mg
Sodium:

79mg
Carbohydrates:

17g
Fiber:

5g
Sugar:

6g
Protein:

2g
Nutrition data shown is an estimate provided by an online calculator and is for informational purposes only. It should not be considered a substitute for a medical professional's advice.