Blueberry Corn Salsa
Blueberries, blueberries and more blueberries! <— That would be me describing the current state of my fridge.
We've been getting SO MANY blueberries (and other berries) in our CSA box this summer that I am constantly trying to find ways to use them all up.
Now, let me go ahead and just say what you are probably thinking. Yes, I absolutely realize that I could just freeze them for another time. But, well, I don't want to. For no apparent reason other than the fact that I just don't (totally logical, yes?).
So! Instead of freezing all them berries, we feast on this blueberry corn salsa!
It's sweet, it's savory, it's got a touch of heat!
Not to mention that it only takes about 15 minutes to pull together AND that it gets better and better as it sits in the fridge.
It's fantastic with a big ol' bowl of your favorite chips. It's also fantastic on tacos! Or pretty much just about any way you decide to put it to good use. Ahem, not that I'm biased or anything.
And! I'm getting it to you right as we come up on another summer weekend. I think I foresee some chips and salsa in your near future, yes???
So, like always, let's get to a few tips & tricks for the recipe.
First things first. Salsa can be very personal, so of course feel free to tinker with the quantities of any of the ingredients to your taste. My preferences are listed down below but you can just use that as your guide on the way to salsa goodness!
I would encourage you to plan ahead and give the salsa a chance to chill in the fridge before using. The flavors develop so nicely during that time. But if you're in a pinch, you can absolutely use right away.
Don't like any heat? Be sure to both seed and remove the membranes from the jalapeno. You can also leave out the hot sauce and then adjust the other seasonings to taste.
And finally, I feel like this may go without saying, but if your produce isn't great, then the salsa won't be great. But if you are using juicy blueberries and in-season fresh corn? It's totally yum-o

.
So, do you dig fruit salsa as much as I do? Then you should check out this grape salsa recipe as well!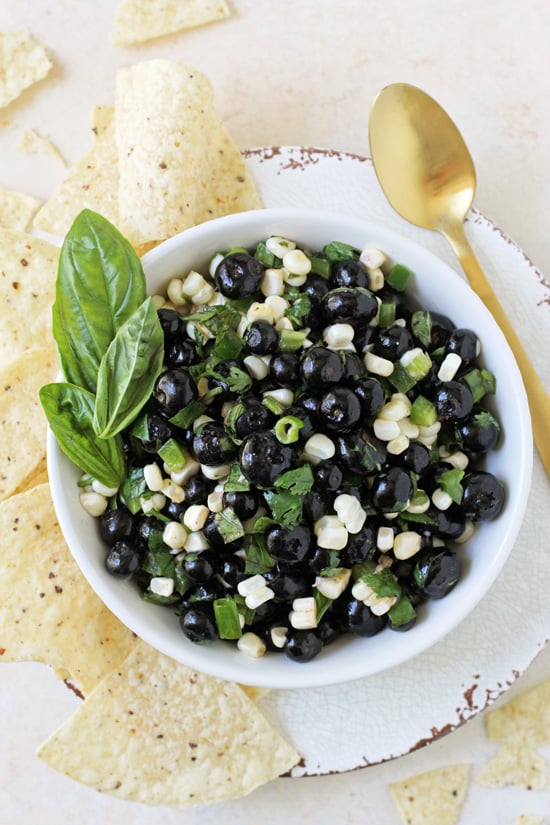 Blueberry Corn Salsa
Prep Time: 15 minutes
Cook Time: 0 minutes
Total Time: 15 minutes
This sweet & savory blueberry corn salsa is a summer staple! Only 15 minutes to make and so many good ways to put it to use!
Ingredients:
2 ½ cups fresh blueberries
1 cup fresh corn kernels
½ cup fresh cilantro leaves, chopped
¼ cup fresh basil leaves, chopped
1 medium jalapeno, seeded and minced
½ cup thinly sliced green onion
juice of ½ a medium lime (or more to taste if it's not juicy!)
1 ½ tablespoons olive oil
½ teaspoon hot sauce, or to taste
¼ teaspoon salt, or to taste
Directions:
Add all of the ingredients to a medium / medium large bowl. Toss until well combined. Taste and adjust any of the flavors as desired.
Cover, then transfer the salsa to the refrigerator to chill for 1 to 2 hours. Serve with plenty of tortilla chips or however you would like!