Honey Cinnamon Apple Cider Sangria
This honey cinnamon apple cider sangria is perfect for fall! With white wine, fresh apple cider, brandy, honey cinnamon simple syrup and plenty of apples!
Today I bring you the best sangria I have ever made.
Whoa now, right? I'm throwing down some serious boldness by saying that. But this is no joke – I am in love. Such love.
And let me tell you … this is saying something coming from me. Because other than wine, sangria is my drink of choice. My absolute favorite (as long as it's good sangria, thank you very much).
And usually, once the fall weather hits, I am allllll about my pomegranate cranberry sangria. It makes an appearance at fall gatherings, thanksgiving, even christmas shindigs.
But. It may officially be replaced as the reigning champion with this honey cinnamon apple cider goodness. Because ohhhh is it good.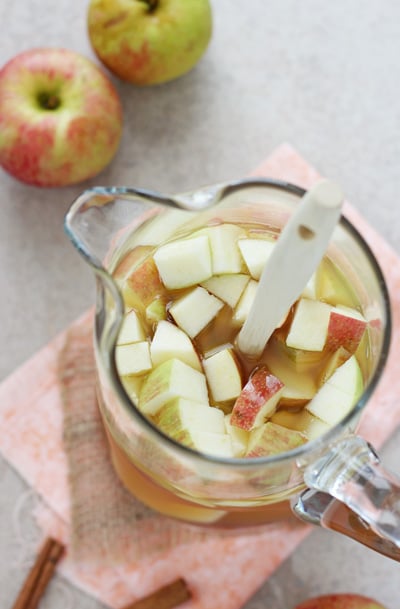 I adore apple season and was the complete maniac who practically dove at the case of fresh apple cider that recently appeared at our local food store.
I've been waiting patiently (not really – I've whined each time it hasn't been there) for weeks.
And then it magically appeared. Oh happy day.
I had apple cider sangria at a restaurant either last fall or the year before … and it's been sitting on my list of recipes to recreate ever since.
Side note – also on my list – strawberry vanilla bean sangria and peach sangria that I had at a different restaurant this summer. I was not kidding when I said I like sangria.
But anywho. Back to the apples.
How To Make Apple Cider Sangria
You'll start with a white wine (I like a drier white here), some fresh apple cider and some brandy.
Then, since I know you already made the honey cinnamon simple syrup (please tell me you did), you'll add in a touch of that to sweeten it up just a bit.
And then lastly, you'll add in some whole cinnamon sticks and of course some chopped up apples (I like gala or honeycrisp!).
You may be tempted to skip the step of making the honey cinnamon syrup – but please don't.
It's like the glue that ties all this awesomeness together. Because as it sits (along with the extra oompf from the cinnamon sticks) – oh man. The cinnamon reallyyyy comes out.
And makes this drink something special. Something special indeed.
Additional Drink Recipes You Might Enjoy!
Did you make this recipe? Rate and review it down below! I'd love to hear from you.
Honey Cinnamon Apple Cider Sangria
This honey cinnamon apple cider sangria is perfect for fall! With white wine, fresh apple cider, brandy, honey cinnamon simple syrup and plenty of apples!
Ingredients
1 (750 ml) bottle white wine
3 cups fresh apple cider
⅓ cup brandy
3 tablespoons honey cinnamon simple syrup
2 cinnamon sticks
2 to 3 medium apples, chopped
Instructions
Add the wine, cider, brandy and simple syrup to a large pitcher. Stir to combine. Taste and adjust anything if need be to your own preferences (more simple syrup, more brandy, more cider, etc.).
Add in the cinnamon sticks and apples and stir again.
Place the pitcher in the refrigerator and allow to chill for several hours.
Serve poured over ice!
Notes
You can definitely drink this as soon as you'd like, but I personally think it gets even better when it has time to sit and meld and get all awesome together. The cinnamon really comes out this way.
For an extra special touch, rim your glasses with cinnamon sugar right before pouring to serve. Amazing!
I like to go with a drier white wine in here to balance out the sweetness from the cider but anything will work!
Nutrition Information:
Yield:

6
Serving Size:

1
Amount Per Serving:
Calories:

150
Total Fat:

0g
Saturated Fat:

0g
Trans Fat:

0g
Unsaturated Fat:

0g
Cholesterol:

0mg
Sodium:

7mg
Carbohydrates:

28g
Fiber:

2g
Sugar:

23g
Protein:

0g
Nutrition data shown is an estimate provided by an online calculator and is for informational purposes only. It should not be considered a substitute for a medical professional's advice.