Rainbow Roasted Vegetable Quinoa Salad
Recipe for rainbow roasted vegetable quinoa salad! With colorful roasted veggies, quinoa, mixed greens, nuts and an avocado ranch dressing! Perfect for lunch or dinner!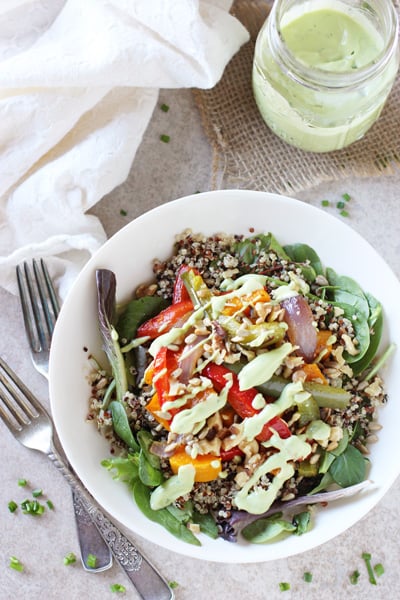 I'm convinced that Netflix is out to kill my productivity. They already had me with the whole, I don't even need to push a button to let it roll right on over into a new episode thing.
But now. Now, they went and added Friends to the mix.
Mind you, I own every. single. episode. on DVD and haven't touched them in years … but now that it's on Netflix? I'm binge watching like mad.
Which has also led to the husband asking if we can get rid of the DVDs, because you know, it's on Netflix now. Ha! It's like he doesn't even know who he's living with. I don't think so buddy!
I mean, what if Netflix disappeared and I wanted to watch them??? Backup plan, man. It's a total necessity. This is Friends we are talking about here.
Anyway, in between all this binge watching, I am managing to cook up loads of nice and healthy holiday detox foods which I am craving like crazy.
Now don't get all technical on me here. By detox I mean plenty of healthy, whole foods. Lots of veggies, whole grains. I'm still eating cheese and all that jazz, just restraining myself.
And I sure as heck don't mean a juice cleanse or anything of that nature. I think I would kill someone if I ever tried one of those … it would be bad. Very very bad.
So. I give you one of my recently dreamed up go-to salads for this holiday detox I keep blabbing on about. As much as I love salad, when it's my main meal, well, it needs to be interesting and consist of lots of stuff.
About This Roasted Vegetable Quinoa Salad
So. We have super pretty, warm roasted veggies that just happen to be kinda sorta in the colors of the rainbow. I may be missing yellow and blue but hey, not bad.
We have tri-colored quinoa (or regular quinoa – use whatever you would like!).
We have sunflower seeds (because I can't stop eating them lately) and some walnuts, all on top of a bed of mixed greens.
And finally, a creamy avocado dressing that kind of tastes like an avocado ranch. It's thick and herby and perfect for flinging across the top of the salad. Not only looks cool but tastes good too.
Healthy and like a flavor explosion in your mouth? Now that's how I do holiday detox.
Additional Hearty Salad Recipes You Might Enjoy!
Did you make this recipe? Rate and review it down below! I'd love to hear from you.
Rainbow Roasted Vegetable Quinoa Salad
Yield:
about 4 to 6 servings
Recipe for rainbow roasted vegetable quinoa salad! With colorful roasted veggies, quinoa, mixed greens, nuts and an avocado ranch dressing! Perfect for lunch or dinner!
Ingredients
For the veggies:
1 medium red onion, sliced
1 medium red bell pepper, sliced
1 medium green bell pepper, sliced
4 cups cubed (¾ inch) butternut squash*
2 tablespoons olive oil
¾ teaspoon salt
¼ teaspoon pepper
For the dressing:
1 medium ripe avocado, roughly sliced
2 tablespoons plain greek yogurt
1 teaspoon apple cider vinegar
2 tablespoons olive oil
½ cup milk
¼ teaspoon salt
1 ½ tablespoons minced chives
1 teaspoon minced fresh dill
For the salad:
about 5 ounces mixed greens
2 ¾ to 3 cups cooked quinoa, cold
¼ cup sunflower seeds (I use roasted & unsalted)
½ cup raw walnuts, chopped
Instructions
To make the veggies:
Preheat the oven to 375ºF.
Add the onion, both peppers and butternut squash to a large rimmed baking sheet. Drizzle with the olive oil and sprinkle with the salt and pepper. Toss to combine and spread in an even layer.
Bake for about 25 to 30 minutes, stirring once halfway through, until tender. Remove from the oven and let cool for 10 minutes.
To make the dressing:
While the veggies are cooling, make the dressing. Add the avocado, greek yogurt, vinegar, olive oil, milk and salt to the bowl of a food processor. Process until smooth. Add in the chives and dill and pulse until combined.
*Depending on your preference, you may want to add more milk to thin out the dressing. It's fairly thick as written so feel free to tinker around to your liking! Just add a little bit at a time so you don't go too far!
To assemble:
Add some of the mixed greens to a bowl. Top with some of the quinoa, the roasted veggies and a sprinkle of the sunflower seeds and walnuts. Drizzle with the desired amount of dressing. Serve immediately.
Notes
*One (about 2 pound) butternut squash will give you this amount.
Sweet potato is also great in place of the butternut squash here! Just cube it up the same way.
Prep time will be quicker if you use pre-cut butternut squash.
I use ¾ cup uncooked quinoa to get this amount of cooked quinoa. I like to make it a day or so in advance so it's ready to go!
Nutrition Information:
Yield:

6
Serving Size:

1
Amount Per Serving:
Calories:

340
Total Fat:

23g
Saturated Fat:

3g
Trans Fat:

0g
Unsaturated Fat:

19g
Cholesterol:

2mg
Sodium:

707mg
Carbohydrates:

31g
Fiber:

10g
Sugar:

6g
Protein:

8g
Nutrition data shown is an estimate provided by an online calculator and is for informational purposes only. It should not be considered a substitute for a medical professional's advice.