Fontina Cheese Dip
A creamy, queso-like recipe for fontina cheese dip. With plenty of flavor from red onion, corn, kale, beer and worcestershire!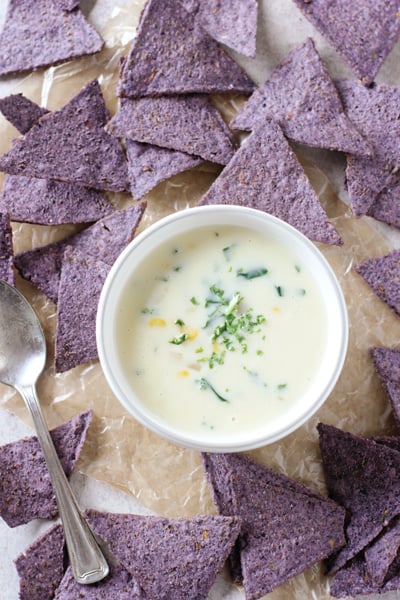 Today we have the reason that I told you to eat lots of beets. To prepare yourself for this outrageousness. And for this, I advise you break out those yoga or stretchy pants.
Because if you are anything like the husband and I … well, you won't be able to stop eating it.
I tried, I really did.
I was all put down the chips and back away from the cheese! But I didn't move.
Instead I sat there dipping chip after chip in the wonder that is creamy dreamy melted fontina. The husband said I was trying to make it healthy by adding kale but really I just liked it in here.
And let's get real, a giant vat of melted cheese isn't even attempting to be healthy. Just purely indulgent and delicious. And totally worth it.
Plus, I looked at this as a reward. For FINALLY taking down our Christmas tree and decorations.
Yup, we just took it all down this past weekend. The husband was out of town. Then I was out of town. And neither one of us was particularly enthused about cleaning it all up.
Gah, the vacuuming!! Those darn needles from the tree! And the glitter, which was everywhere! But it's done. All stashed away in the attic till next year.
So now we eat cheese. Because there is that big football game coming up and this appetizer just screams game day. Melty cheese + chips + maybe an adult beverage? You know you want to.
About This Fontina Cheese Dip
This dip has the consistency of queso, but I felt weird calling it queso because it's not really mexican-like. Other than the consistency of course.
It's more on the thinner side, but will thicken up as it cools down slightly, if that's more your style. Me, I personally couldn't stop eating it straight out of the saucepan. Real life problems.
And let me tell you – I make a mean queso, errr fontina cheese dip. It is packed full of flavor from the red onion, corn, worcestershire and even a little bit of beer.
And then there's the fontina. Which is really such an underused cheese. It melts ever so beautifully and in my book is just downright awesome.
Don't you want to just dive headfirst into that bowl? Cheese … it's a beautiful thing.
Additional Appetizer Recipes You Might Enjoy:
Did you make this recipe? Rate and review it down below! I'd love to hear from you.
Fontina Cheese Dip
A creamy, queso-like recipe for fontina cheese dip. With plenty of flavor from red onion, corn, kale, beer and worcestershire!
Ingredients
2 tablespoons unsalted butter
½ of a red onion, diced
1 cup frozen or fresh corn kernels
1 ½ cups chopped kale
½ cup your favorite beer
1 ½ cups whole milk
¾ teaspoon worcestershire sauce
1 tablespoon cornstarch
1 tablespoon water
16 ounces fontina cheese, shredded
chips, for serving
Instructions
Set a medium saucepan over medium heat. Add in the butter. When melted, add in the onion and cook for about 2 minutes, until it starts to soften. Add in the corn and kale, and cook for about 3 to 4 minutes, until the corn is tender and the kale has softened/wilted down a bit.
Add in the beer. Increase the heat slightly, then cook, stirring occasionally, for about 3 minutes, until almost all of the beer has evaporated. Pour in the milk and worcestershire. In a small bowl, whisk together the cornstarch and water until combined. Pour into the pan and whisk to combine. Let the mixture come to the point where it's simmering around the edges of the pan, then turn down the heat to low.
Working one large handful at a time, add in the cheese. After each addition, whisk until smooth and melted (then add the next handful). Serve with lots of chips.
Notes
It is really important to shred your own cheese for this recipe! Pre-shredded cheese will not melt as nicely!
Also, go for the whole milk pretty please. You really want the fat here.
Nutrition Information:
Yield:

8
Serving Size:

1
Amount Per Serving:
Calories:

312
Total Fat:

22g
Saturated Fat:

14g
Trans Fat:

0g
Unsaturated Fat:

8g
Cholesterol:

78mg
Sodium:

486mg
Carbohydrates:

11g
Fiber:

1g
Sugar:

5g
Protein:

17g
Nutrition data shown is an estimate provided by an online calculator and is for informational purposes only. It should not be considered a substitute for a medical professional's advice.