Spinach Artichoke Hummus
Raise your hand if you have a litttttle problem with hummus. And by problem, what I really mean is that you eat it all. the. time.
Maybe you even blow through containers at a slightly alarming rate? Um, yeah. Welcome to our house.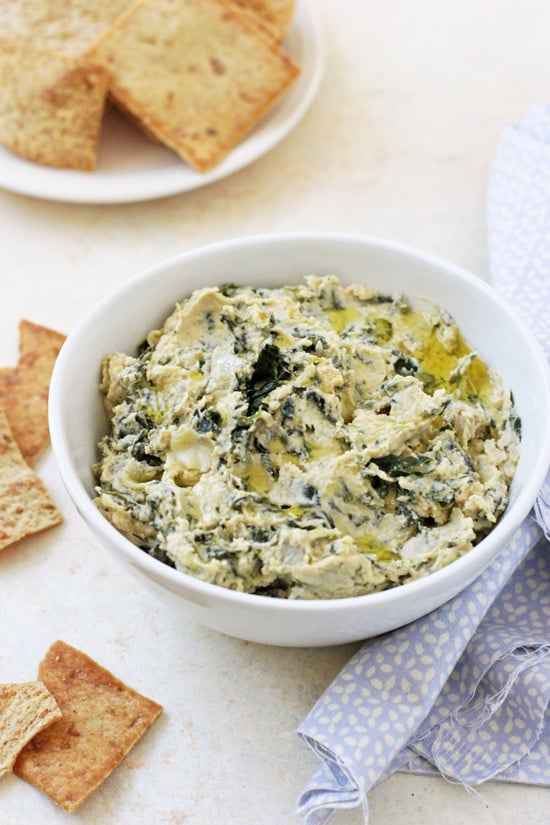 I buy hummus on a regular basis. I make it myself on a regular basis. And whenever the husband is out of town? It often winds up in some form as my dinner.
Obsessed much?
And this spinach artichoke flavor? It's the latest addition to my homemade hummus line-up.
We have a classic hummus base jazzed up with some chopped spinach and artichokes. Easy peasy and it takes no longer than 15 minutes to make.
It totally works as a healthy snack or as a fun game day appetizer. Or really for any type of entertaining because helloooo make-ahead dish for the win! You really just can't go wrong.
Nope, not at all. Especially when there are crunchy pita chips (ooohhh ooohhh, or warm naan!) involved for scooping.
So, let's get to a few tips & tricks for the recipe.
The hummus does thicken up a tad after adding the spinach and artichokes (and after chilling out in the fridge). So, if desired, you could add more olive oil and / or water to the food processor when making the hummus base to adjust the consistency (up to 2 tablespoons additional of each). I like this hummus a bit on the thicker / chunkier side (just because of the flavor), but you can absolutely play around and adjust!
Want to add a little bit of cheesiness to the hummus? Stir in some crumbled feta to taste (along with the spinach and artichokes). Or! Add some nutritional yeast to the food processor when whipping up the hummus base!
As always, feel free to play around and tinker with the spices, the amount of garlic, etc., etc. I love the flavors as written, but adjust to your own taste!
It's pure snack-time happiness. Dunk away my friends, dunk away.
Spinach Artichoke Hummus
Prep Time:15 minutes
Cook Time:0 minutes
Total Time:15 minutes
This healthy spinach artichoke hummus makes for a perfect appetizer or snack! It's packed with flavor and only takes 15 minutes to whip up!
Ingredients:
1 (15-ounce) can chickpeas, drained and rinsed
3 tablespoons olive oil
¼ cup tahini
juice of 1 medium lemon
2 tablespoons water
2 cloves garlic, roughly chopped
½ teaspoon salt
½ teaspoon ground cumin
pinch of cayenne pepper, or to taste
1 (8 ounce) package frozen chopped spinach, thawed & squeezed dry
⅓ cup chopped canned artichoke hearts (drain then chop!)
extra olive oil, for drizzling
Directions:
Add the chickpeas, olive oil, tahini, lemon juice, water, garlic, salt, cumin and cayenne to the bowl of a food processor. Process until smooth, scraping down the sides of the bowl as needed (I process it for about 45 seconds to 1 minute in my food processor to get it smooth, stopping once to scrape down the bowl).
Transfer the hummus to a medium bowl and stir in the spinach (break it up with your fingers first) and artichokes until combined. Taste and season with additional salt (I usually add about just under a ¼ teaspoon more) and / or cayenne as needed. Lightly drizzle some olive oil over the top.
Serve with crackers, pita chips, bread, veggies, whatever you would like!
If possible, try to make the hummus in advance of when you'll need it – I think the flavors really meld and come out as it chills in the fridge!