Jalapeno Cheddar Soft Pretzel Bites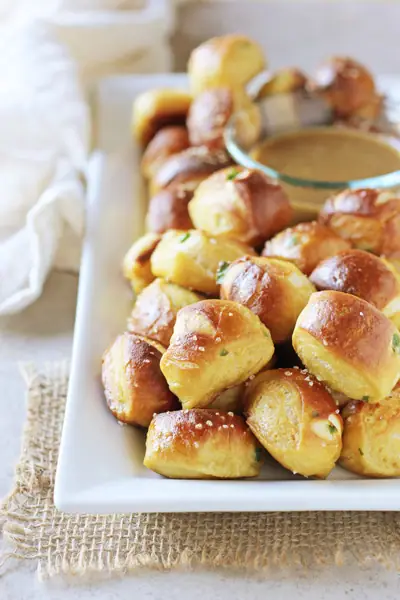 I'm just gonna go ahead and throw it out there. Deflated balls or no deflated balls our household is veryyyy excited that the Patriots are heading to that big game on Sunday.
Nothing like a little controversy to stir up the pot, eh?
And I'm not going to lie, the situation *slightly* amuses me. Maybe it's because it sort of feels like an episode of reality television. ALL THE DRAMA. And like the train wreck that is reality TV, I just can't peel my eyes away. Instead I want to plant myself on my sofa and watch.
Or maybe it's because while I do consider myself a Patriots fan (via marriage obvi) and I like football, I just don't completely care care care. Know what I'm saying? My grandpa used to make himself sick (we're talking legitimately sick, like give yourself a cold sick) when his beloved Yankees were not doing well.
Me? I'll yell at the TV for good measure and then return to stuffing my face with all the appetizers. Problem solved.
But. What does really crack me up is that even my mom has gotten into the whole controversy thing as well. Like, we actually talked about it on the phone. Which blows my mind, because um, hello. I am not that type of person to discuss football with my mom. Like ever.
So all of this is a very roundabout and rambling way of leading us to these pretzel bites. Which we will in fact be eating again for the Super Bowl.
I've gotten really into making pretzel bites lately instead of whole pretzels because the process of shaping whole pretzels infuriates me. They never look the way I want them to and I waste soooo much time shaping, and reshaping, then maybe adjusting again because hi, my name is Ashley and I am a huge perfectionist.
Pretzel bites do not present the same problem. Hence why I love them. You shape the dough out into a rope and then just slice with a pizza cutter into bites. Easy peasy. And the perfectionist in me is kept at bay (other than taking out a ruler to make sure I cut them all the same size … I told you I have a problem).
Now, I already have a recipe for regular whole homemade soft pretzels (please avert your eyes … the photos on that post kill me!), but over time I've come to like this base recipe much much more. It's more almost buttery and well, just better. So you can also use this recipe and shape the dough into whole pretzels if you would like, and either leave in or take out the cheddar and jalapeno!!
Which brings us to the aforementioned cheddar and jalapeno. Which take homemade pretzels (which are already awesome) to an entirely different level. In a very very good way. The shredded cheese and minced jalapeno are kneaded right into the dough, which will smell amazing by the way.
I kept sniffing the bowl as the dough was rising. Sounds crazy right? But I promise, it just smells so good!
Once you pop, you definitely cannot stop. Which is why I will be eating my weight in pretzels in just a few short days…
Yield: about 8 to 12 servings
Jalapeno Cheddar Soft Pretzel Bites
Prep Time: 1 hour 40 minutes
Cook Time: 30 minutes
Total Time: 2 hours 10 minutes
Recipe for homemade jalapeno cheddar soft pretzel bites! With cheddar and minced jalapeno kneaded right into the dough. Perfect for game day!
Ingredients:
For the dough:
1 ½ cups warm water (110 to 115ºF)
1 tablespoon granulated sugar
2 teaspoons kosher salt
2 ¼ teaspoons instant yeast
22 ounces all-purpose flour (about 4 ½ cups)
4 tablespoons unsalted butter, melted
¼ cup minced jalapeno (about 1 medium-large jalapeno, seeded and minced)
4 ounces sharp cheddar cheese, finely shredded (about a little under 2 cups)
For boiling / baking:
10 cups water
⅔ cup baking soda
1 large egg yolk beaten with 1 tablespoon water
kosher salt, for sprinkling
For the dipping sauce (optional):
¼ cup dijon mustard
¼ cup honey
Directions:
To make the dough:
Add the water, sugar, salt and yeast to the bowl of a stand mixer fitted with the dough hook. Mix for a few seconds on low to combine. Add in the flour and butter, and mix on low speed until the dough comes together. Increase the speed to medium low and knead until the dough becomes nice and smooth and clears the sides of the bowl, about 4 to 5 minutes. During the last minute of kneading, add in the minced jalapeno and cheddar cheese (add in the cheddar a little at a time so it doesn't all clump together).
Form the dough into a ball then place in a well-oiled bowl, turn once to coat and cover with plastic wrap. Let rise in a warm place until doubled in bulk, about 50 to 60 minutes.
To boil and bake:
Preheat the oven to 450ºF. Line two baking sheets with parchment paper and spray lightly with nonstick cooking spray.
In a large stockpot, add the 10 cups water and baking soda. Bring the mixture to a boil.
Meanwhile, turn out the dough onto a well-floured surface. Divide the dough into 8 equal pieces. Roll out each portion of the dough into a rope, about 1-inch in diameter (if the dough is really springy and keeps bouncing back, let it rest a few minutes and try again). Using a pizza cutter, cut each rope into 1-inch pieces.
Working in batches (I do about 4 to 6 bites at a time), carefully place several of the bites into the boiling water. Boil for 30 seconds, giving them a gentle stir halfway through. Remove the bites using a slotted skimmer, drain off any excess water and place on the prepared baking sheet. Repeat with all the bites.
Brush all the bites lightly with the egg wash, then sprinkle with the kosher salt.
Bake for about 10-14 minutes, rotating the pans once during baking, until deep golden brown (keep an eye on them as the baking time may vary slightly in different ovens – you don't want to burn them! 14 minutes is perfect in my oven). Transfer to a cooling rack. Cool for at least 5 minutes before serving.
To make the sauce:
Add the mustard and honey to a small bowl and mix until well combined. Serve with the pretzel bites for dipping!
I would highly recommend investing in a kitchen scale (if you don't already have one) – it makes the process easier and will yield much more consistent results.
Updated 4/4/15: If you want to make these ahead of time, you can! Just make the recipe all the way through as directed. After baking, let the bites cool completely. Transfer to a freezer-safe bag or container and freeze! When you are ready to eat, let them thaw out in the fridge, then just pop them back into the oven to rewarm (I usually just heat them at 350ºF until warm to my liking!).
Pretzel base recipe slightly adapted from Alton Brown. Dipping sauce from Cook Nourish Bliss.