Everything Spinach Chickpea Dip
Let's talk game day food. Or really, every day snacking type food.
You can go either way with this everything spinach chickpea dip. Football fun or just rummaging in the fridge after work. I'll let you choose.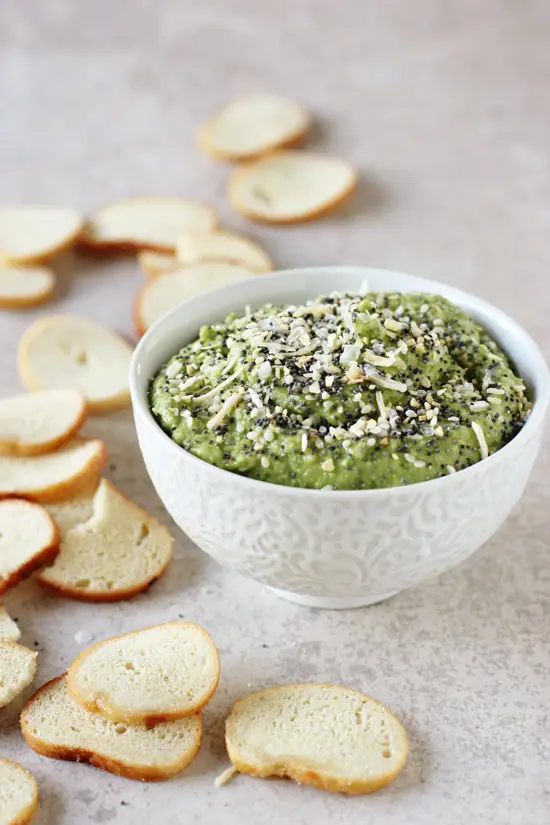 Because it's so full of flavor and cool looking with that everything topping! But also healthy. Perfect for a crowd. Perfect just for yourself.
Okay, I'm done now.
So the idea for this dip started after I bought all the seasonings needed to make homemade everything bagels. Last year. I did make them once! But just haven't gotten around to making them again.
Instead, I just mix up the topping and like to put it on anything and everything. Sprinkled on top of bread dough before it goes in the oven? Why not. Dusted on top of some not-so-hot plain hummus to make it a little more interesting? Sureeee.
So you see why creating a dip around it seemed like the next step.
Which brings us to today.
And a fun, bright green dip that only takes about 10 minutes to whip up.
We start with a sort of spinach pesto base – some fresh spinach, some sunflower seeds, some garlic – which we'll pulse all together in a food processor until finely chopped.
We'll add in some olive oil, some chickpeas and some water, to really get it moving. It gets blended together until nice and smooth.
And then sprinkled with all that everything goodness!
Healthy. Easy. Fun. Especially when served up with some bagel chips.
Which I hadn't bought in years. And now they are all I can think about. Must buy some more soon.
Everything Spinach Chickpea Dip
Prep Time: 10 minutes
Cook Time: 0 minutes
Total Time: 10 minutes
Recipe for everything spinach chickpea dip. Quick & healthy! Filled with fresh spinach, chickpeas and finished with a classic everything topping!
Ingredients:
For the everything topping:
¾ teaspoon poppy seeds
¾ teaspoon sesame seeds
¾ teaspoon dried minced / flaked onion
¾ teaspoon dried minced / flaked garlic
¾ teaspoon flaky sea salt
For the dip:
2 ½ cups lightly packed baby spinach leaves
¼ cup unsalted sunflower seeds
2 small cloves garlic, roughly chopped
⅛ teaspoon fine sea salt (or regular salt)
3 tablespoons olive oil
1 (15 ounce) can chickpeas, drained and rinsed
¼ cup water, plus extra as needed
chips, crackers, bagel chips, veggies, etc., for serving
Directions:
For the topping:
In a small bowl, mix together the poppy seeds, sesame seeds, minced onion, minced garlic and flaky sea salt until well combined. Set aside.
For the dip:
Add the spinach, sunflower seeds, garlic and salt to the bowl of a food processor. Pulse until finely chopped. Add in the olive oil, chickpeas and ¼ cup of the water. Process, scraping down the bowl as needed, until smooth and creamy. Add in additional water (a tablespoon or so at a time – I usually add 1 more tablespoon) to get it to smooth out to your liking. I let mine process for about 1 minute or so to get it really smooth after adding the additional water.
Transfer the dip to a serving bowl. Fold in 2 teaspoons of the everything topping. Sprinkle the remaining everything topping over the top of the dip. Serve with crackers, chips, whatever you like!
A note on serving! If possible, I would suggest serving in a wider bowl than what you see in the pictures. This way, you can sprinkle the second half of the everything topping over a wider surface. If you use something skinnier / smaller like the bowl in the photos, I would suggest incorporating more of the topping into the dip itself and saving less to sprinkle over the top.