Bacon, Brie and Pear Flatbreads
These easy bacon, brie and pear flatbreads are a delicious appetizer or simple dinner! With a crispy naan base, caramelized pears, flavorful bacon and brie, you really can't go wrong.
Note: This recipe is NOT dairy free. It was published before Cook Nourish Bliss transitioned to dairy free recipes and remains popular with long time readers. You can try using substitutions to make it dairy free, however I have not tested this myself and can't say how it will turn out.
Pure and total flatbread love. That's what I'm here to share with you on this lovely morning. Cheesy, bacon-y flatbread love.
This coming from the person who is currently trying to cut down on her cheese consumption. I KNOW. I'm in cheese withdrawal. Okay not really. I may just like being a little dramatic.
But, the husband and I decided that we should cool it a bit with the cheese, you know, cut it back a tad.
Which of course is perfectly timed with the week that I have not one, but two recipes that involve cheese. It's like karmic punishment. Staring at these pictures.
So let me tell you how awesome this recipe is, so all you cheese eating people can go run into your kitchen and make it.
I originally intended for these flatbreads to be a sort of appetizer, but then we ate them so fast the first time I made them that they ended up being dinner.
So. The moral of the story. They can go either way. Appetizer, dinner, whatever you like.
How To Make Pear and Brie Flatbreads
We're using naan as the base here, because it keeps this dish on the simple side.
You'll cook some chopped bacon in a skillet and then use the bacon grease to caramelize the pears. Yes, you read that right … bacon grease caramelized pears.
I'm not really a head-over-heels in love with bacon kind of girl but here, oh man, does it work. So if you are a bacon lover I'm sure you'll be where I am … times ten.
So then, we take those pears and spoon them on top of the naan, along with a good sprinkle of sliced red onion and brie.
Pop them into the oven, where the brie gets all melty and gooey and runs a little bit all over the place – it's wonderfully good.
And then when they come out of the oven, we'll top them with the crunchy, crispy bacon and a nice drizzle of balsamic glaze for that touch of tangy sweetness.
Additional Flatbread Recipes You Might Enjoy:
Did you make this recipe? Rate and review it down below! I'd love to hear from you.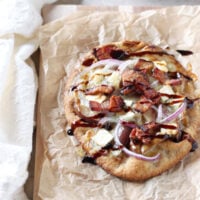 Bacon, Brie and Pear Flatbreads
Yield:
about 8 to 12 servings
These easy bacon, brie and pear flatbreads are a delicious appetizer or simple dinner! With a crispy naan base, caramelized pears, flavorful bacon and brie, you really can't go wrong. 
Ingredients
For the bacon / pears:
4 pieces thick-cut bacon, chopped
2 medium pears, sliced
1 tablespoon brown sugar (light or dark)
pinch of cinnamon
pinch of salt
For assembling:
4 pieces whole wheat naan bread
olive oil, for brushing
about ¾ cup thinly sliced red onion
about 7 to 8 ounces brie, rind removed if desired and cut into cubes
balsamic glaze, for drizzling (optional!)
Instructions
Preheat the oven to 425ºF. Line two baking sheets with parchment paper and set aside.
To make the bacon / pears:
Set a medium skillet (I like nonstick here) over medium-high heat. Add in the bacon pieces and cook until crispy. Remove with a slotted spoon to a paper towel lined plate. Keep about 2 tablespoons of the bacon grease, discarding any extra (if you don't want to use the bacon grease, discard and use an equal amount of butter or olive oil).
Set the skillet with the grease over medium heat. Add in the pears, brown sugar, cinnamon and salt. Cook for about 8 minutes, stirring occasionally, until the pears are tender and sort of caramelized a bit. Remove from the heat.
To assemble:
Set two pieces of the naan on each prepared baking sheet. Brush each piece lightly with some olive oil. Top each piece evenly with the red onion and the cooked pears (using a slotted spoon for the pears). Sprinkle the brie cubes evenly over the top.
Bake for about 10 to 13 minutes, until the crust is golden, rotating the pans once during baking. Remove from the oven and sprinkle with the cooked bacon and drizzle lightly with the balsamic glaze. Slice and serve.
Notes
As with all sorts of pizzas, sandwiches, etc. - feel free to adjust the amounts of the toppings to your own liking.
Nutrition Information:
Yield:

10
Serving Size:

1
Amount Per Serving:
Calories:

224
Total Fat:

9g
Saturated Fat:

5g
Trans Fat:

0g
Unsaturated Fat:

4g
Cholesterol:

24mg
Sodium:

371mg
Carbohydrates:

27g
Fiber:

2g
Sugar:

7g
Protein:

10g
Nutrition data shown is an estimate provided by an online calculator and is for informational purposes only. It should not be considered a substitute for a medical professional's advice.