Baked Eggplant Rollatini with Sweet Potato
These dreamy baked eggplant rollatini with sweet potato are the ultimate special dinner! With tender eggplant, a creamy ricotta sweet potato filling and plenty of cheese, they're fantastic served with a big salad. Freezer friendly and vegetarian.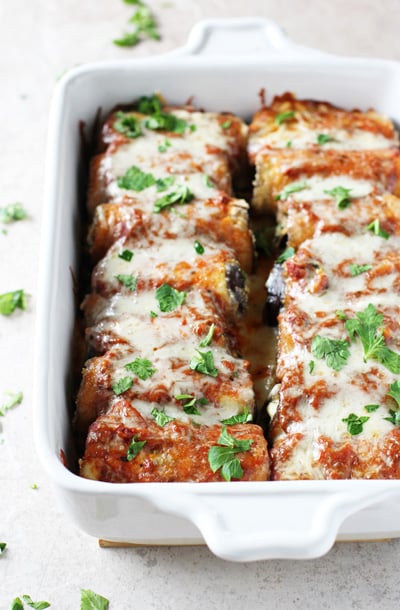 Note: This recipe is NOT dairy free. It was published before Cook Nourish Bliss transitioned to dairy free recipes and remains popular with long time readers. You can try using substitutions to make it dairy free, however I have not tested this myself and can't say how it will turn out.
You are looking at my idea of celebration food. Like, special dinner food. For when you want to make something *real* nice (said in cousin Eddie's voice from that line in Christmas Vacation – you know what I'm talking about).
Or for when you need to test the recipe for the third time and end up having it on a random Sunday night. Food blogger problems.
But seriously, growing up in quite the Italian family, eggplant rollatini made an appearance at lots and lots of celebrations.
High school graduation? Check. Engagement party? Check. Christmas dinner before I really got into cooking and volunteered to make all the food? Check.
Of course it was absolutely always from the same local store / catering place / whatever you want to call it and I always hid several rolls away so that we would have some for leftovers.
This is what you do when you have a large extended family and food rules your world, yes?
About This Dish
Anyway, quite a few months ago I decided I wanted to make eggplant rollatini at home for some sort of special occasion and planned to use Sarah's recipe.
Except when I pulled everything out to make it I realized that one, I did not have enough ricotta and two, my skillet that I would have used to fry the eggplant was in the dishwasher, which was currently running. Le sigh.
I had a small container in the fridge of leftover sweet potato puree, which I used to replace the missing ricotta for the filling.
And we ended up loving this change – you can't really taste taste the sweet potato and it just sort of adds a little more almost creaminess. And well, I just kind of dig that it's also a way to sneak more veggies in here.
And second, I ended up baking the eggplant (instead of pan frying) to get it nice and pliable in order to roll it up. It worked perfectly and I didn't have to stop the dishwasher and make a giant mess in the process.
How To Make Baked Eggplant Rollatini
So to recap. Here's how this dish goes down.
We slice the eggplant nice and thin, bread it, then bake it to get it soft.
We mix up the filling (which has sweet potato (!!)), then, we roll those suckers up with the filling smeared inside.
Finally, we bake again until so very wonderfully, melt-in-your-mouth tender. With plenty of sauce and of course the gooey cheese.
Additional Eggplant Recipes You Might Enjoy:
Did you make this recipe? Rate and review it down below! I'd love to hear from you.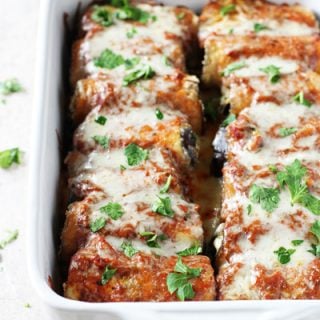 Baked Eggplant Rollatini with Sweet Potato
Yield:
about 14 to 18 rolls
Cook Time:
1 hour
10 minutes
Total Time:
1 hour
40 minutes
These dreamy baked eggplant rollatini with sweet potato are the ultimate special dinner! With tender eggplant, a creamy ricotta sweet potato filling and plenty of cheese, they're fantastic served with a big salad. Freezer friendly and vegetarian. 
Ingredients
For the eggplant:
2 medium eggplant
2 large eggs
¼ cup milk
½ cup white whole wheat flour
1 ½ cups whole wheat breadcrumbs
½ teaspoon salt
¼ teaspoon pepper
For assembling:
1 ¼ cups ricotta cheese
¾ cup sweet potato puree
1 (10 ounce) package frozen chopped spinach, thawed and squeezed dry
2 cloves garlic, minced
½ teaspoon salt
½ teaspoon dried basil
½ teaspoon dried oregano
¼ teaspoon red pepper flakes
2 cups your favorite marinara sauce
1 ½ to 2 cups freshly shredded mozzarella cheese
¼ cup freshly grated parmesan cheese
fresh parsley, for garnish (optional)
Instructions
To prepare the eggplant:
Preheat the oven to 375ºF. Line two large baking sheets with parchment paper and set aside.
Cut off the top of the eggplant and then cut lengthwise into about ¼ inch thick slices (see notes section). In a shallow bowl, beat together the eggs and milk. In another shallow bowl, mix together the flour, breadcrumbs, salt and pepper.
Dip each piece of eggplant into the milk mixture, shake off the excess, then place into the breadcrumb mixture, using your fingers to press the breadcrumbs onto both sides. Place on the prepared baking sheet. Once all the pieces are on the baking sheets, mist the tops lightly with nonstick cooking spray.
Bake for about 12 to 14 minutes, rotating the pans once during baking, until the eggplant is pliable. Set aside to cool slightly. Maintain the oven temperature.
To assemble:
In a medium bowl, mix together the ricotta, sweet potato puree, spinach, garlic, salt, basil, oregano and red pepper until well combined. Taste and season with additional salt / red pepper to your liking.
Spread a thin layer of the marinara sauce in the bottom of a 9x13 inch baking dish (you can also use two smaller baking dishes depending on how many slices you get from your eggplant - there will be a little bit of difference depending on the exact size of your eggplant).
Scoop an equal amount of filling onto each slice of eggplant, then sort of roughly smear it out over the slice. Roll up lengthwise, then place seam side down in the prepared baking dish. Repeat with all the pieces. Evenly pour the remaining sauce over the top of the rolled eggplant, then sprinkle with the mozzarella and parmesan. Cover with aluminum foil.
Bake for 45 minutes. Remove the foil and bake for another 5 to 10 minutes uncovered. Let cool for a few minutes before serving. Garnish with fresh parsley if desired.
Notes
A word on slicing the eggplant - I've found that I prefer to discard the "ends" of the eggplant (i.e when you slice it lengthwise the slices that have more than just the border of skin around the edges). I've found that after baking, any rolls that have too much skin are on the tougher side and not as melt-in-your-mouth-ish. While you could probably also just peel the eggplant, I like the texture of the small border of the skin and like the color it gives them as well. This is also why my yield may be lower than yours if you choose to use those end-type pieces. Also, the yield will vary slightly depending on the slight size differences in a "medium" eggplant.
Nutrition Information:
Yield:

8
Serving Size:

1
Amount Per Serving:
Calories:

422
Total Fat:

13g
Saturated Fat:

6g
Trans Fat:

0g
Unsaturated Fat:

5g
Cholesterol:

80mg
Sodium:

853mg
Carbohydrates:

60g
Fiber:

12g
Sugar:

10g
Protein:

22g
Nutrition data shown is an estimate provided by an online calculator and is for informational purposes only. It should not be considered a substitute for a medical professional's advice.