Creamy Sweet Potato and Swiss Chard Soup
Creamy sweet potato and swiss chard soup! With cashew cream, plenty of vegetables and warming spices! Vegan and gluten free.
Let's talk about the fact that last weekend was the first time I saw one of those lip sync battles from The Tonight Show with Jimmy Fallon.
Because while clearly I am way too old to stay up to actually watch the show when it airs, I apparently live under a huge rock and had never seen or heard about these before.
Thankfully, I have friends who do not live under rocks and we decided to watch a few while hanging out one night (along with the Saved by the Bell skit – amazing).
Guys. I die. Laughing. Like literally crying I was laughing so hard because um hello Will Ferrell lip syncing to Beyonce and that song from Frozen??? I can't even.
And yes. I just wasted another 13 minutes watching it for probably the fourth time and yes, I still find it highly entertaining.
Clearly this all has nothing to do with soup but I thought it would be more interesting to chat about than the weather. Which I was going to lead with. You're welcome.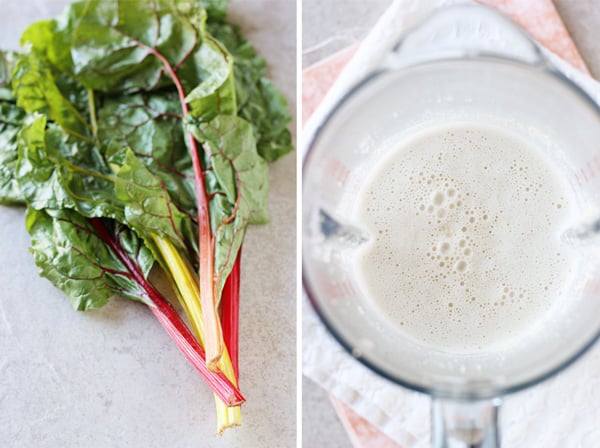 About This Sweet Potato Swiss Chard Soup
So the weather. I mean soup. Delicious vegetable soup. That is light yet comforting and warming and creamy … without any cream. Or milk! Just cashews! Madness right??
Here's the deal. Over the last few months I've been playing around with cashew cream in my kitchen.
At first it was just curiosity and then it actually became helpful since I've been trying to cut back a tad on the dairy for various reasons that I won't yammer on about.
Anyway, the first time I heard about cashew cream I was a little skeptical, but after finally trying it at home I was very pleasantly surprised.
In this case, it gives a sort of creaminess to the soup without adding any dairy. And I just kinda like that it's made out of nuts!
The slight creaminess pairs so well with the sweet potato, a few warming spices, dark red kidney beans and of course the swiss chard, which is one of my favorite leafy greens to add to soups.
Considering it is supposed to get really cold again here this weekend, I definitely foresee more soup in my future.
Additional Soup Recipes You Might Enjoy!
Did you make this recipe? Rate and review it down below! I'd love to hear from you.
Creamy Sweet Potato and Swiss Chard Soup
Yield:
about 5 to 6 servings
Creamy sweet potato and swiss chard soup! With cashew cream, plenty of vegetables and warming spices! Vegan and gluten free.
Ingredients
For the cashew cream:
1 cup raw whole cashews
1 cup low sodium vegetable broth
For the soup:
1 tablespoon olive oil
1 medium onion, chopped
2 large carrots, peeled and chopped
2 cloves garlic, minced
5 cups low sodium vegetable broth
2 medium sweet potatoes, cut into ½ inch chunks
1 (15 ounce) can dark red kidney beans, drained and rinsed
2 teaspoons cumin
1 teaspoon smoked paprika
pinch of cinnamon
1 teaspoon salt
1 bunch swiss chard, stems removed and leaves chopped
Instructions
For the cashew cream:
Add the cashews to a small bowl. Add in enough water to cover the cashews. Let soak for several hours (at least 2 hours but I like to soak for 6 to 8).
Drain the cashews, then rinse and drain again. Add to a blender, along with the 1 cup broth. Process until completely smooth. Set aside.
For the soup:
Add the olive oil to a large stockpot set over medium heat. When hot, add in the onion and carrots. Cook for about 5 minutes, until tender. Add in the garlic and cook for 30 seconds, until fragrant.
Add in the broth, potatoes, beans, cumin, paprika, cinnamon and salt. Bring to a boil, then reduce the heat and let simmer for about 12 to 15 minutes, until the potatoes are tender.
Add in the swiss chard and the cashew cream, turn down the heat to medium low and cook for 5 additional minutes. Taste and season with additional salt if needed. Serve!
Notes
Prep time does not include the time to soak the cashews!! Make sure you plan ahead!
Totally optional, but if I happen to have fresh chopped parsley on hand, I like to use it to garnish the soup - for that little pop of freshness.
Nutrition Information:
Yield:

6
Serving Size:

1
Amount Per Serving:
Calories:

254
Total Fat:

12g
Saturated Fat:

2g
Trans Fat:

0g
Unsaturated Fat:

9g
Cholesterol:

0mg
Sodium:

582mg
Carbohydrates:

31g
Fiber:

6g
Sugar:

7g
Protein:

9g
Nutrition data shown is an estimate provided by an online calculator and is for informational purposes only. It should not be considered a substitute for a medical professional's advice.