Homemade Chocolate Syrup (For Chocolate Milk)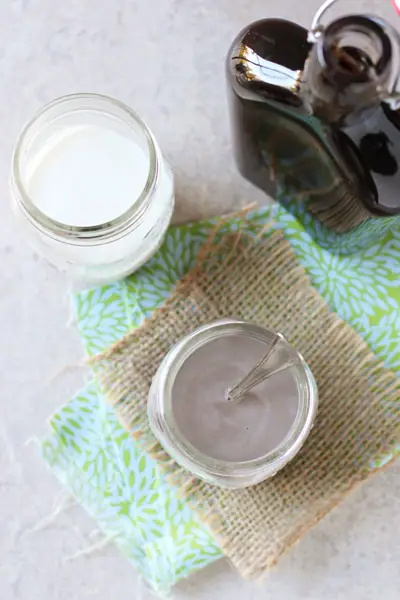 Today we are going to chat about homemade chocolate syrup that you can use for chocolate milk (and is sweetened only with maple syrup!). I'm excited to tell you all about it. But first, let's have a little vigil for my poor computer.
I have a bad feeling that my desktop and I have spent our last days together. Insert sad face. My beloved mac has been acting all funky lately and yesterday finally did a weird little zig zag shaking screen craziness (clearly I have no idea how to describe computer technical stuff) and then went dead. At which point I started yelling at it. Because that will totally help revive it, yes?
I have an appointment to get it looked at today but the husband tells me not to get my hopes up. It's fairly old for a computer and well, maybe it was time. The computer gods were calling it home. I have everything backed up after insisting about a year or two ago that we get that in place (thank goodness!). Saving my butt right now. But still, I'm sad. I also don't want to deal with the hassle of transferring all my data to a different computer. That's pure laziness right there. Blah. Happy weekend to me!
But no seriously. Happy almost weekend! We love the weekends around here.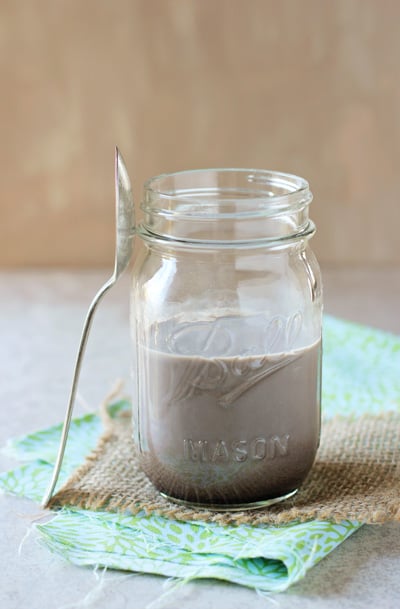 Especially if they include chocolate milk! I am definitely one of those people who realllllyyyyy likes to have something sweet at night after dinner. And a glass of chocolate milk totally does it for me. Makes me stop thinking about the plate of cookies I want to consume instead.
I've been playing around with homemade chocolate syrups for quite a bit of time now (the four containers we currently have in our fridge most definitely prove it). I wanted to create a version that used a natural sweetener, like pure maple syrup. And after a whole lotta testing, I finally have the version to share with you.
It's perfectly chocolate-y and stirs into whatever kind of milk you like. I usually go for either almond milk or regular whole milk. But pick your poison.
I mention this below in the actual recipe, but I LOVE to use a mix of regular natural cocoa powder and darker, dutch-processed cocoa powder. I do about half and half. It results in a sort of dark chocolate milk. Amazing, guys. Amazing.
I think this syrup would also be perfect for a homemade mocha. Why I didn't think of that until now, I have no idea. Palm to face. We all know what I'm making this weekend.
Yield: about 1 to 1 ¼ cups syrup
Homemade Chocolate Syrup (For Chocolate Milk)
Prep Time: 3 minutes
Cook Time: 7 minutes
Total Time: 10 minutes
Recipe for 10 minute homemade chocolate syrup. Sweetened only with pure maple syrup. Perfect for milk or even mochas!
Ingredients:
¾ cup pure maple syrup
¾ cup water
¾ cup unsweetened cocoa powder*
pinch of salt
1 teaspoon vanilla extract
your choice of milk, for serving
Directions:
Add the maple syrup, water, cocoa powder and salt to a small saucepan. Set the pan over medium heat and cook, whisking almost constantly, until the mixture comes together (and the lumps smooth out). Allow the mixture to come to a gentle simmer, whisking once or twice as it comes to the simmer. Turn down the heat just a tad and continue to cook for about 3 minutes, whisking frequently, until the mixture has just barely thickened up a bit – it will still be pretty thin (do not walk away while it's simmering!!). Remove from the heat and stir in the vanilla.
Let cool completely, then store the syrup in the refrigerator. The mixture will thicken much more as it cools.
To serve, add a few tablespoons (or to taste) of the chocolate syrup to a glass of milk and stir until well combined.
*You can use regular cocoa powder here or even a blend of cocoas (I like to do half regular cocoa powder and half dutch-process cocoa powder). Using a mixture of the two results in a sort of dark chocolate syrup for the milk – so so good.
The longer you let this syrup cook (after it reaches the point where it is simmering), the thicker the syrup will be at the end after it cools. While it still tastes great if you go longer, I'd highly recommend using the 3 minutes listed in the recipe since it is much easier to pour / stir into the milk this way.
A note on storage – it is easier to store this in a jar or container where you can kind of spoon it out. If you store it in a jar like you see in the pictures, it can take some time to get it out (kind of like when you use those stubborn glass ketchup bottles)! I've learned this the hard way!