Brown Butter Tomato and Corn Angel Hair Pasta
Angel hair pasta = the best. Whenever I eat it, I always wonder why on earth I waste my time with regular spaghetti. Okay fine, I love any and all carbs but angel hair is just so thin and awesome and fun!
Especially when we combine it with fresh summer produce and the wonder that is brown butter. Which means I should correct my above statement to say brown butter tomato and corn angel hair pasta = the bestest!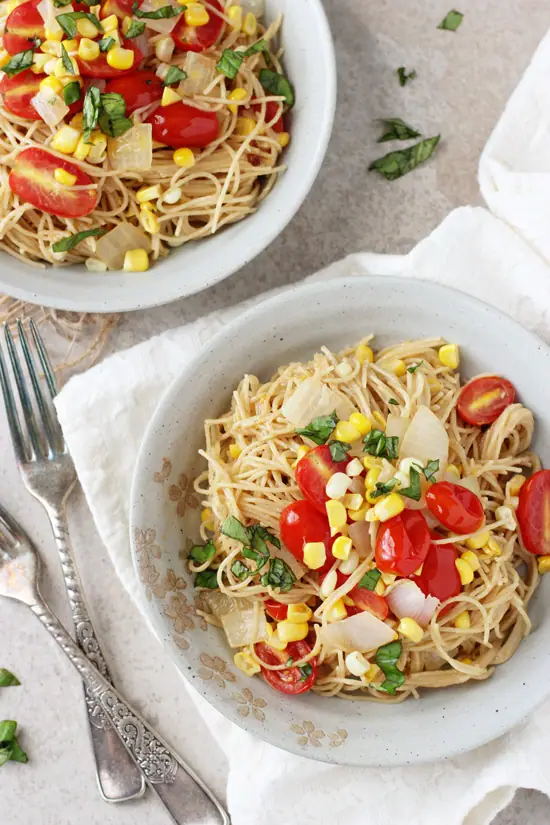 Clearly my grammar is on point this morning.
But seriously. Angel hair pasta always reminds me of growing up. I've told you before but my sister and I were extremely picky eaters (to the point where I'm surprised my mom didn't throw things at us in frustration). I vividly remember my parents taking us to a nicer restaurant around the holidays one year and we both refused to eat ANYTHING on the menu.
So the chef whipped us up some plain pasta with butter. Literally, angel hair with butter. There might have been some parmesan involved but that was it. We were all don't you dare put veggies on our pasta. There may have also been some evil eyes from my mom.
So today's recipe is like the grown up version of that dish. With veggies because I obviously kind of totally dig them now.
And instead of plain butter, we have this beautiful, nutty, browned magical stuff right here:
Another bonus? You can have this dish on your table in about 30 minutes.
We brown some butter. We cook some angel hair. We quickly soften up some onion and warm up some fresh corn and cherry tomatoes.
It all gets tossed together with a touch of lemon zest, garlic, parmesan and fresh basil.
Light, easy and not at all over the top or fussy or complicated.
Simplicity at its finest. ♥ ♥ ♥
Brown Butter Tomato and Corn Angel Hair Pasta
Prep Time: 10 minutes
Cook Time: 20 minutes
Total Time: 30 minutes
Recipe for light and summery brown butter tomato and corn angel hair pasta. With fresh corn, tomatoes, parmesan and lemon zest!
Ingredients:
For the brown butter:
6 tablespoons unsalted butter, cut into chunks
For the pasta:
12 ounces uncooked whole wheat angel hair pasta (or capellini)
1 ½ tablespoons olive oil
1 medium onion, chopped
3 large cloves garlic, minced
2 large ears corn, kernels removed
1 pint cherry tomatoes, halved
¼ teaspoon salt
zest of 1 lemon
½ cup freshly grated parmesan cheese
chopped fresh basil, for garnish
Directions:
For the brown butter:
Add the butter chunks to a small skillet set over medium heat. Let the butter melt and then continue to cook, whisking frequently, until it begins to turn a caramel color, which will take several minutes. You should see brown bits on the bottom of the pan. Once you see those bits, turn off the heat and continue to whisk constantly for about 30 seconds, until the butter is golden brown. Be careful not to burn the butter – those bits can turn black quickly! And do not walk away during this process!
For the pasta:
Bring a large pot of lightly salted water to a boil. Add in the pasta and cook until al dente, according to the package directions. Drain, reserving some of the cooking liquid for later, and set aside.
Meanwhile, set a large skillet over medium heat. Add in the olive oil. When hot, add in the onion and cook until tender, about 4 to 5 minutes. Add in the garlic and cook for 30 seconds, until fragrant. Add in the corn, tomatoes and salt. Cook for about 2 to 3 minutes, until warmed through. Turn off the heat.
Add the cooked pasta to the skillet, along with the lemon zest, parmesan cheese and the browned butter. Toss to combine. Add in a little of the reserved cooking liquid to sort of loosen it all up / get it to a consistency of your liking. Taste and season with additional salt if needed, then top with the fresh basil and serve!
Pssst. Looking for more easy dinner ideas? How about an awesome grilled meal to help keep your house cool? Be sure to check out the recipe I created for Oh My Veggies!
Get it here! —> Grilled Halloumi and Summer Veggie Foil Packets