Eggplant Parmesan Pasta Skillet
One-pot eggplant parmesan pasta skillet! All the flavors of the classic dish in a simple, everyday recipe! Packed with eggplant, whole wheat pasta and fresh basil!
The following statements may sound a little nutty, but I'm going to go ahead and say them anyway. I absolutely, one hundred percent consider eggplant special occasion food. And because of this, I have a super hard time wrapping my brain around using it for everyday meals.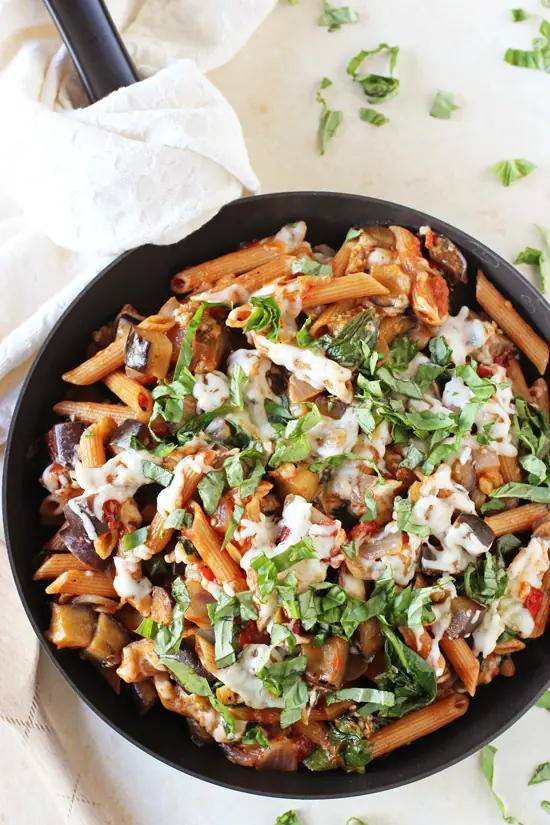 Which I realize is completely silly, especially considering the fact that I adore eggplant.
But, it's not my fault! I blame my family. Eggplant was always around for major holidays and other special events (in various Italian-style dishes!). And then it would disappear all other times of the year! Hence my association.
You would think that since I've been cooking for myself for many, many years now that this connection would have disappeared. But nope. Still going strong. Like this baked eggplant rollatini with sweet potato? Yup, I so made that for Christmas this year. Food memories are strong, huh?!
But, I'm trying to break free of this mindset and we are going everyday with today's eggplant parmesan pasta skillet! Everything cooks in one big skillet (even the pasta), resulting in minimal clean up. <— The best!
Although, I will admit that it felt sort of weird to eat this during the workweek. Eggplant problems!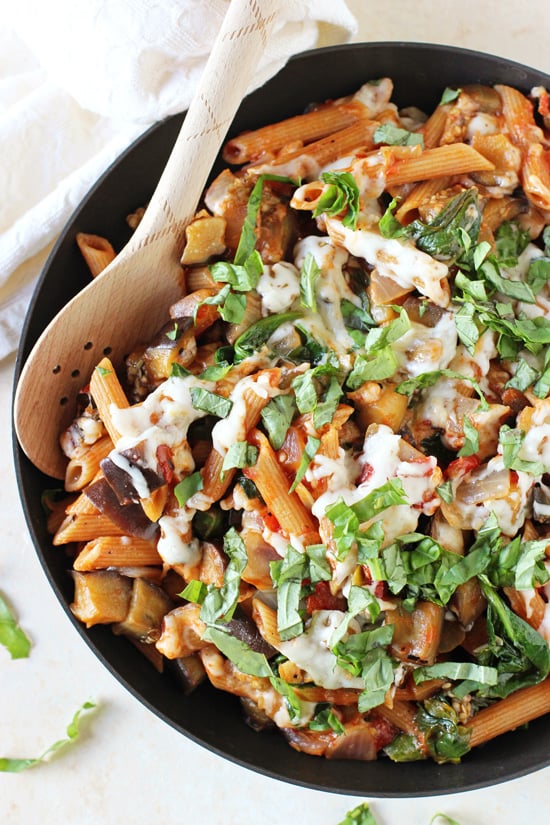 Tips & Tricks For This Eggplant Parmesan Pasta
Try to weigh your eggplant at the store to get around the required 2 pounds. But, just in case, it's about 2 medium-ish (on the slightly smaller side) eggplants.
As for the cook time for the eggplant – if you like your eggplant really tender (like my husband, he likes everything borderline mushy), you may need to cook it a bit longer than what's listed down below. Cook it to your liking!
You also may or may not need to add more salt to the dish, depending on your taste. I like to wait until the very end, since it will also depend on how salty your cheese is. I usually end up adding a tad bit more salt.
Also, let's be clear. This skillet is for eggplant lovers only! It is most certainly packed with this pretty purple veggie!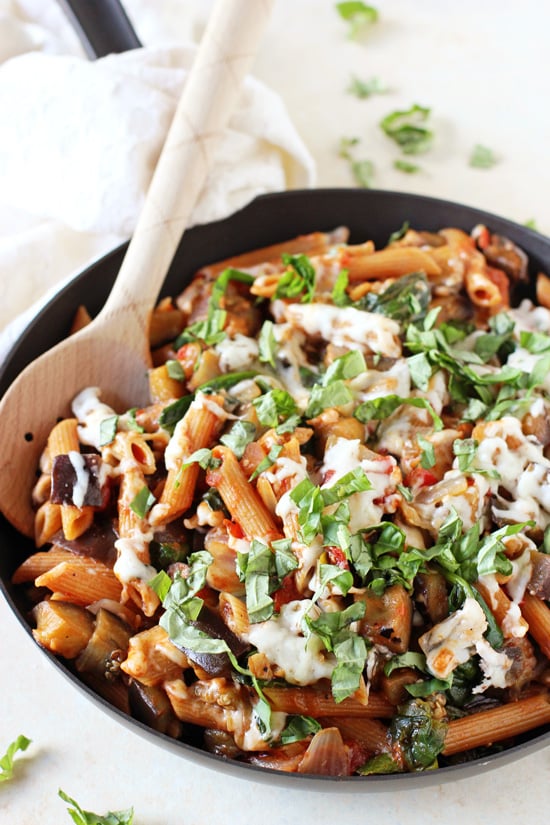 Tools I Love & Use To Make This Recipe (may contain affiliate links):
Calphalon Nonstick 13-inch Deep Skillet – This is the skillet I use (and love) for this recipe. It's nice and deep and everything fits comfortably (and won't overflow when you stir!).
Additional Eggplant Recipes You Might Enjoy!
Did you make this recipe? Rate and review it down below! I'd love to hear from you.
Eggplant Parmesan Pasta Skillet
One-pot eggplant parmesan pasta skillet! All the flavors of the classic dish in a simple, everyday recipe! Packed with eggplant, whole wheat pasta and fresh basil!
Ingredients
2 ½ tablespoons olive oil
1 medium onion, chopped
3 large cloves garlic, minced
2 to 2 ¼ pounds eggplant, cut into ½ inch cubes
½ teaspoon salt
¼ to ½ teaspoon red pepper flakes
1 (5 ounce) bag fresh baby spinach leaves
1 (14.5 ounce) can fire-roasted diced tomatoes
1 (8 ounce) can tomato sauce
1 ½ cups low sodium vegetable broth
8 ounces uncooked whole wheat penne pasta
1 ¼ cups shredded mozzarella cheese
¼ cup shredded parmesan cheese
plenty of chopped fresh basil, for garnish
Instructions
Add the olive oil to a large (deeper style) nonstick skillet set over medium heat. When hot, add in the onion and cook for about 2 minutes, until it starts to soften. Add in the garlic and cook for 30 seconds, until fragrant. Add in the eggplant, salt and red pepper flakes. Cook, stirring occasionally, until tender, about 7 to 8 minutes. Add in the spinach and cook until wilted. Remove all the veggies to a medium bowl and set aside.
To the now empty skillet, add the diced tomatoes, tomato sauce, broth and pasta. Mix to combine. Bring the liquid just to a boil, then cover, reduce the heat and simmer fairly vigorously for about 11 to 13 minutes, stirring occasionally (and more frequently toward the end of the cooking time), until the pasta is al dente and almost all of the liquid is absorbed.
Reduce the heat to low. Add the eggplant mixture back into the skillet and mix to combine. Sprinkle the top with the mozzarella and parmesan cheese. Recover and continue to cook for about 3 to 5 minutes, until the cheese is melted. Turn off the heat. Let the pasta stand for about 5 minutes, then garnish with the fresh basil. Season with additional salt / red pepper flakes as needed.
Notes
You can use another smaller whole wheat pasta shape here - just make sure that it has an 11 to 13 minute cook time (according to package directions).
Nutrition Information:
Yield:

6
Serving Size:

1
Amount Per Serving:
Calories:

313
Total Fat:

12g
Saturated Fat:

4g
Trans Fat:

0g
Unsaturated Fat:

7g
Cholesterol:

14mg
Sodium:

843mg
Carbohydrates:

44g
Fiber:

9g
Sugar:

11g
Protein:

13g
Nutrition data shown is an estimate provided by an online calculator and is for informational purposes only. It should not be considered a substitute for a medical professional's advice.