Vegan Thai Green Curry
Easy and crazy flavorful vegan thai green curry with broccoli and asparagus! This 35-minute recipe is filled with coconut milk, fresh ginger and even chickpeas!
You knew it was only a matter of time before I shared another thai curry recipe, right??? Well, at least those of you who have been following along since the summer!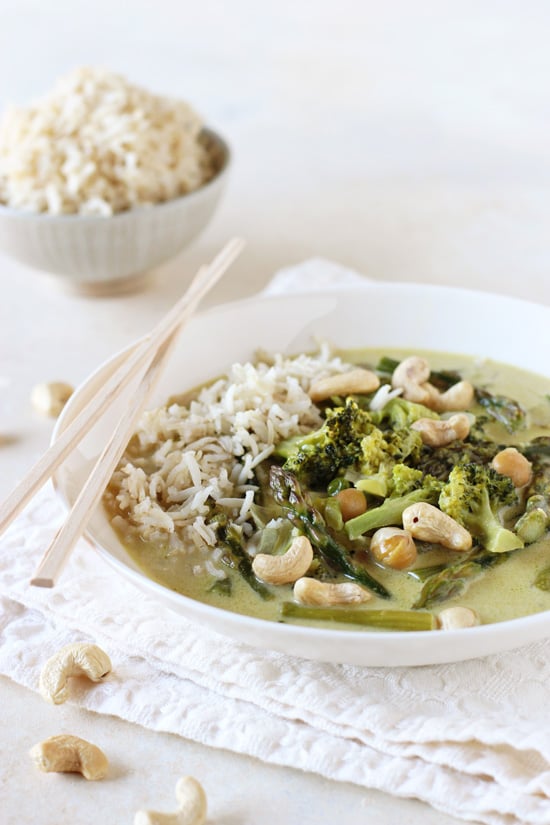 But in case you haven't, let's review for a sec, shall we? First, there was the thai red curry with peppers and cashews. A reigning favorite at our house. Next, we had the thai red curry baked veggie meatballs … which were just another way for me to sneak the same sauce from that first recipe past my husband in a slightly different form. He doesn't share the same obsessive, OMG I can eat this all the time personality that I have.
Which brings us to today. I may or may not have been sitting on the idea for this version since late fall. But since I couldn't get my grubby little hands on good asparagus until the last few weeks, I was forced to wait. But it's here!! Thai green curry with broccoli and asparagus!
A perfectly acceptable way for me to get my thai curry fix, mixed in with all the goodness of spring! Plus, it's green … so it's totally different to the husband. I know, I'm so tricky. Ahem, not so much.
But anyway. Let's get down to business and talk about this 35-minute, easy and oh so flavorful curry! It's filled with broccoli, asparagus, chickpeas and creamy dreamy coconut milk … heaven in a bowl I tell you. Heaven in a bowl.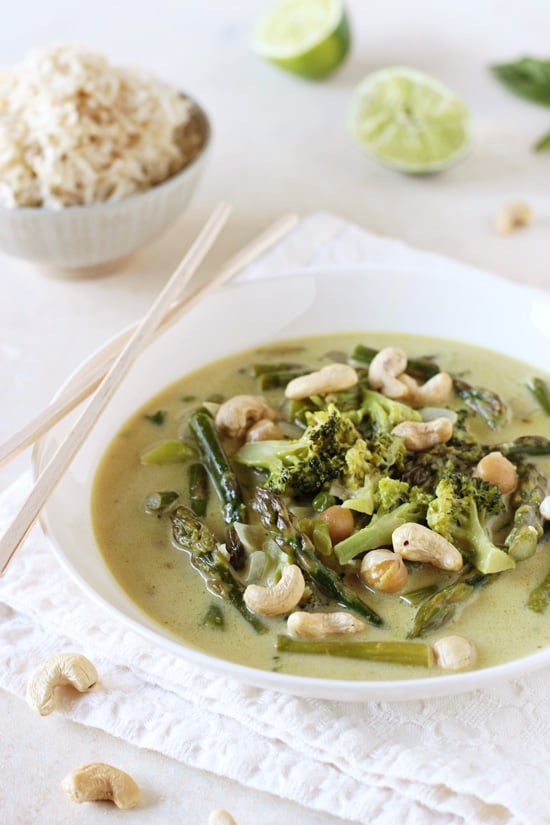 Now, while you can certainly use red curry paste in this recipe, the green just goes soooo well visually with all the green veggies. And we eat with our eyes first, yes?
So. Today's curry goes down pretty much exactly the same as the others. We soften up some veggies in a skillet, before adding in allll the good stuff. Like the curry paste, fresh ginger, coconut milk, some soy sauce! Everything then simmers away for just about 10 minutes – it gets all nice and groovy together, and the veggies get tender and delicious.
At the very end, we add in a good squeeze of lime juice for the perfect finishing touch! And serve with plenty of cashews and fresh basil please!
If you've never made curry at home before, I would encourage you to go for it and give it a shot! It's a total go-to for me during the workweek. Fast, tasty and like most things, healthier when you make it yourself. You'll be addicted, I promise!!
Now how long do you think I can wait before sharing another version? Guesses, guesses??
Products I Love & Use To Make This Recipe (contains affiliate links):
Thai Kitchen Green Curry Paste – This is the paste that I buy at my grocery store. If you use this same brand (I can't speak to any others!), the curry is pretty mild in terms of spiciness. If you do want more heat, you can definitely add some red pepper flakes!
Additional Vegan Curry Recipes You Might Enjoy!
Did you make this recipe? Rate and review it down below! I'd love to hear from you.
Vegan Thai Green Curry
Yield:
about 4 to 6 servings
Easy and crazy flavorful vegan thai green curry with broccoli and asparagus! This 35-minute recipe is filled with coconut milk, fresh ginger and chickpeas!
Ingredients
2 tablespoons olive oil
1 medium onion, chopped
2 cloves garlic, minced
1 pound asparagus, ends trimmed and cut into 2 to 3 inch chunks
2 cups bite-sized broccoli florets
½ teaspoon fine sea salt
3 tablespoons thai green curry paste
2 ½ cups canned full-fat coconut milk*
½ cup low-sodium vegetable broth
1 (1-inch) piece ginger, grated
2 teaspoons low-sodium soy sauce (or tamari)
1 tablespoon coconut sugar (or brown sugar)
1 (15-ounce) can chickpeas, drained and rinsed
½ cup frozen peas
juice of 1 lime
cooked brown rice, for serving
raw cashews or peanuts, for serving
chopped fresh basil, for serving
Instructions
Set a large skillet over medium heat. Add in the olive oil. When hot, add in the onion and cook for about 2 minutes, until it starts to soften. Stir in the garlic and cook for 30 seconds, until fragrant. Add in the asparagus, broccoli and salt. Cook for about 2 minutes, until the veggies start to soften. Stir in the curry paste until combined. Add the coconut milk, broth, ginger, soy sauce, sugar, chickpeas and peas to the skillet and mix to combine.
Increase the heat and bring the mixture to a simmer. Reduce the heat and let simmer gently for about 10 minutes, stirring occasionally, until the veggies are tender to your liking. Remove from the heat and stir in the lime juice.
Serve with brown rice and topped with a good sprinkle of nuts and the fresh basil.
Notes
*For the canned coconut milk, you'll need to use about 1 ½ cans to get this amount. I like to add both cans to a small saucepan and heat on the stove over medium heat until just combined and no longer separated (it doesn't need to be warm or hot!). I then measure out what I need and save the rest for smoothies!
If asparagus is not in season, green beans or even bell pepper would make a great substitute!
Nutrition Information:
Yield:

6
Serving Size:

1
Amount Per Serving:
Calories:

267
Total Fat:

14g
Saturated Fat:

8g
Trans Fat:

0g
Unsaturated Fat:

5g
Cholesterol:

0mg
Sodium:

748mg
Carbohydrates:

30g
Fiber:

8g
Sugar:

8g
Protein:

9g
Nutrition data shown is an estimate provided by an online calculator and is for informational purposes only. It should not be considered a substitute for a medical professional's advice.