Rainbow Vegetable Curry Noodle Bowls
Let's press the pause button for a hot minute on all the summer specific recipes. And instead let's chat about an awesome dinner that can be made all year round!
These slurp-able and oh-so-flavorful rainbow vegetable curry noodle bowls!
Now, if you've been a long time reader it probably comes as no surprise that I'm sharing yet another thai curry based recipe. Because they are my FAVORITE.
Exhibit A – thai red curry with peppers and cashews
Exhibit B – thai red curry baked vegetable meatballs
Exhibit C – thai green curry with broccoli and asparagus
Exhibit D – slow cooker thai sweet potato soup
And yes, I totally just pointed ALL of them out because, yes, I think you should make ALL of them. You know, at some point. Spread out the curry love.
ANYWAY. Today's recipe is yet another take on what is clearly one of my all-time favorite dishes to make.
And this latest version is packed to the brim with colorful veggies, full of slurp-able noodles and of course, has a creamy, dreamy and flavorful coconut milk broth.
Added bonus? We get to have fun with plenty of toppings. Some basil, some chopped nuts, some shredded carrots … for a little herby spice, crunch and freshness! Dinner is served my friends, dinner is served.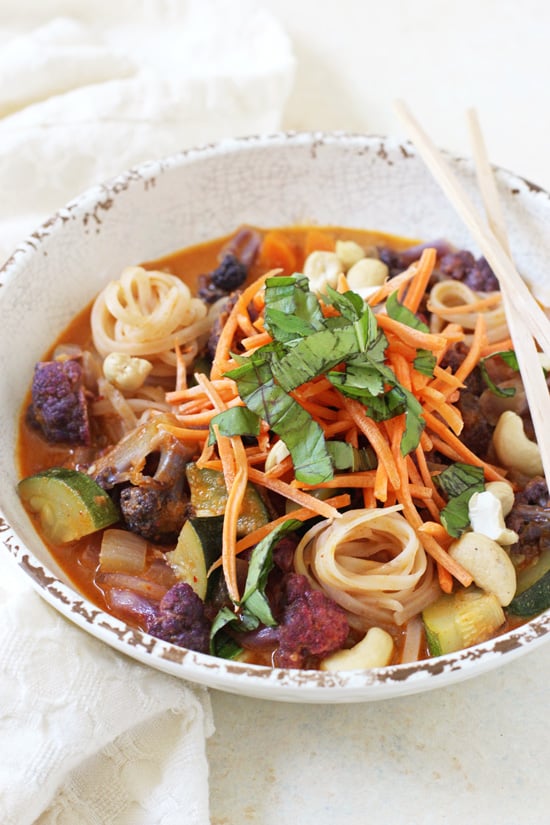 So, like always, let's get to some tips & tricks for the recipe.
I would encourage you to stick with the listed light coconut milk for this recipe (instead of full-fat). The combo of the light coconut milk and some veggie broth helps make the base of this dish feel, well, more brothy (and not overly thick).
Once you get the dish simmering, adjust the heat as needed to keep it at a gentle simmer. I usually have to turn the heat down over time.
The noodles! You can absolutely use more or less noodles as desired. You could even use a different kind of noodle! Whatever floats your boat.
While we're on the noodles, cook them while you cook the curry (if you use the brown rice noodles, it's usually pretty quick).
And finally, some customizations! Don't dig the suggested toppings? Use whatever your heart desires. Want to bulk the dish up even more? Top with a protein of choice!
And now, I'm sending you on your way to go forth and spread the curry love!
Products I Love & Use To Make This Recipe (contains affiliate links):
Thai Kitchen Red Curry Paste – This is my go-to paste when making all my red curry recipes (it's also just what I can find at my local stores!). If you use this same brand (I can't speak to any others), the curry is quite mild in terms of the heat level. If you do want more spice, you can add some red pepper flakes for additional kick!
Rainbow Vegetable Curry Noodle Bowls
Prep Time: 15 minutes
Cook Time: 25 minutes
Total Time: 40 minutes
Creamy, dreamy rainbow vegetable curry noodle bowls! Filled with colorful veggies, slurp–able noodles and a flavorful thai red curry broth!
Ingredients:
For the base:
2 tablespoons olive oil
1 medium red onion, chopped
2 cloves garlic, minced
2 medium carrots, peeled and chopped
1 medium zucchini, chopped
2 ¾ cups bite-sized purple cauliflower florets (or regular! or broccoli!)
½ teaspoon fine sea salt
3 tablespoons thai red curry paste
2 ½ cups canned light coconut milk*
½ cup low-sodium vegetable broth
2 tablespoons creamy peanut butter
1 (1-inch) piece ginger, grated
2 teaspoons low-sodium soy sauce (or tamari)
1 tablespoon coconut sugar (or brown sugar)
juice of ½ to 1 medium lime, to taste
For serving:
about 6 ounces brown rice noodles, prepared according to package directions
chopped fresh basil
chopped cashews or peanuts
shredded carrots
Directions:
For the base:
Add the olive oil to a large deeper-style skillet set over medium heat. When hot, add in the red onion and cook for about 2 minutes, until it starts to soften. Stir in the garlic and cook for 30 seconds, until fragrant. Add in the carrots, zucchini, cauliflower and salt. Cook for about 2 minutes, until the veggies start to soften. Stir in the curry paste until combined. Add the coconut milk, broth, peanut butter, ginger, soy sauce and sugar to the skillet and stir to combine.
Increase the heat and bring the mixture just to a simmer. Reduce the heat and let simmer gently for about 10 minutes, stirring occasionally, until the veggies are tender to your liking. Remove from the heat and stir in the lime juice.
To serve:
Add some of the cooked brown rice noodles to a bowl, then spoon in some of the curry base. Top with basil, chopped nuts and some shredded carrots!
*For the canned coconut milk, you'll need to use about 1 ½ cans to get this amount. Shake them well before using and then keep the extra in the fridge (I like to use it for smoothies)!