Thai Red Curry with Peppers and Cashews
This is one of those times that I feel like I've been sitting on a recipe for too long. Because you absolutely need this thai red curry with peppers and cashews in your life. Like immediately.
I've had this dish ready to go to share with you for awhile now. I was working ahead because I knew this month was going to be absolutely insane with travel and family visits and other various summertime craziness.
And yet it was killinggggg me. The major type-A planner inside was all, stop! Don't mess with your calendar. But then I felt guilty for not sharing immediately. The drama!!
But anywho, I'm bringing it today. And oh is it a good one.
This is my attempt to recreate this absolutely wonderful thai red curry that I ordered all the time from a restaurant that we used to live by. And then we went and moved to North Carolina and I had to part with my beloved take-out curry.
Clearly the solution was to make it at home instead.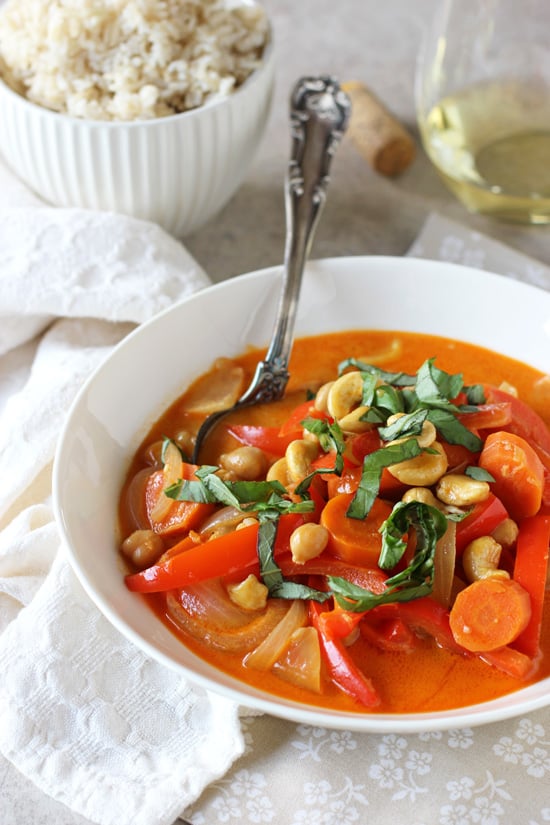 Now, the version I remember had chicken, but to be honest, I just haven't been feeling chicken lately. Like at all. I don't even remember the last time I bought it. So instead we're going with some chickpeas for protein and a great mix of fresh veggies, like onion, carrots and red bell peppers.
The veggies will simmer away with some red curry paste, some creamy coconut milk, and a few other additions like broth and a touch of soy sauce to really bring out all the flavors.
At the very end, we'll mix in some cashews, squeeze in some fresh lime juice and top it all off with fresh basil. The result? A flavorful dish that I've made more often than I'd care to admit.
Oh, and one word to the wise. Make sure you use canned coconut milk here. I attempted to make this one time with the boxed variety since I had some on hand, and take it from me, don't do it. It's not the same and sort of watery and just not cool. Lesson learned.
Is it completely weird that I would so eat this for breakfast right now?
Products I Love & Use To Make This Recipe (may contain affiliate links):
Thai Kitchen Red Curry Paste – This is my go-to curry paste when making this recipe. If you use this same brand (I can't speak to any others!), the curry is quite mild (flavorful but mild!). If you do want more heat, you can definitely add some red pepper flakes!
Thai Red Curry with Peppers and Cashews
Prep Time: 15 minutes
Cook Time: 30 minutes
Total Time: 45 minutes
Recipe for vegetarian thai red curry with peppers and cashews. A creamy weeknight curry made with chickpeas, bell peppers and coconut milk!
Ingredients:
2 tablespoons olive oil
1 medium onion, sliced
2 cloves garlic, minced
1 (1-inch) piece ginger, grated
2 large carrots, peeled and sliced
2 medium red bell peppers, sliced
½ teaspoon salt
3 tablespoons thai red curry paste
2 ½ cups canned full-fat coconut milk*
½ cup low-sodium vegetable broth
2 teaspoons low-sodium soy sauce (or gluten-free tamari)
1 tablespoon coconut sugar (or brown sugar)
1 (15-ounce) can chickpeas, drained and rinsed
¾ cup raw cashews
juice of 1 lime
cooked brown rice, for serving
chopped fresh basil, for garnish
Directions:
Set a large skillet over medium heat. Add in the olive oil. When hot, add in the onion and cook for about 2 minutes, until it starts to soften. Stir in the garlic and ginger and cook for 30 seconds, until fragrant. Add in the carrots, peppers and salt. Cook for about 2 minutes, until the veggies start to soften. Stir in the curry paste until combined. Add the coconut milk, broth, soy sauce, sugar and chickpeas to the skillet and mix to combine.
Increase the heat and bring the mixture to a simmer. Reduce the heat and let simmer gently for about 15 minutes, stirring occasionally. Remove from the heat and stir in the cashews and lime juice.
Serve with brown rice and topped with fresh basil.
*For the coconut milk, you'll need to use about 1 ½ cans to get this amount. I like to add the contents of two cans to a small saucepan and heat on the stove over medium heat until just combined and no longer separated (it doesn't need to be warm or hot!). I then measure out what I need for this recipe and save the rest for smoothies!
Pssst. Looking for more dinner ideas with chickpeas? Check out the tabbouleh recipe I created for Oh My Veggies!
Get it here! —> Chickpea Feta Tabbouleh