Caprese Pesto Potato Salad
Fresh and fun, this caprese pesto potato salad is perfect for summer BBQs and picnics! Filled with yukon potatoes, kale pesto and no mayo in sight!
It's time. Time to discuss at least one recipe that is perfect for July 4th!
I feel like I say this around every single major holiday, but how on earth is it almost July?? This year seems to be just completely flying by and I don't like it one. little. bit.
Although, if we are being fair, I will admit that I am already over summer heat (<— I do not handle it well, like at all) and am fully ready for fall weather. BUT. At the same time, I don't want summer to go by too quickly either, you know?
Anyway, summer is in full swing and I realized that I have yet to share a recipe for caprese something or other. For shame! So, we are killing two birds with one stone today! Caprese + July 4th. We are covering it all!
With caprese pesto potato salad! Perfect for picnics, perfect for BBQs, perfect to make just for yourself to enjoy at home.
But the real reason I am smitten with this potato salad? Because we're using my new love – yukon gold potatoes. I don't know what rock I was living under for most of my life, but I really only started using these yellow beauties in my kitchen within the last two years. Creamy, yet crispy when roasted, they are utter perfection.
So when we combine them with classic caprese components and a delightful pesto sauce? Well, this, this, is how I do potato salad!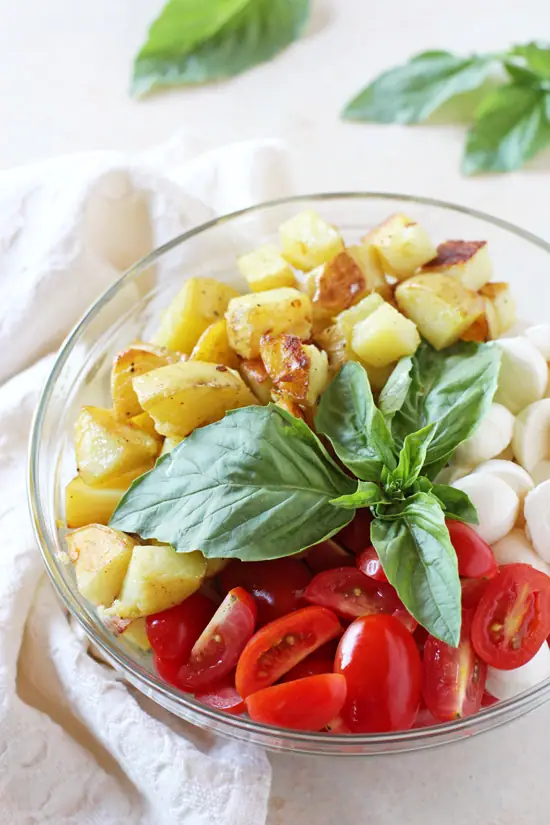 Tips & Tricks For This Italian Potato Salad
I find that yukon potatoes tend to stick a bit more than other potatoes when baking. You want all the chunks to be lightly coated in oil before popping them in the oven. So, if you need to drizzle on a little more than the 2 ½ tablespoons of olive oil listed to get the pieces all coated, do it!
You could also absolutely just boil the potatoes instead of roasting them in the oven. However, I really love the extra flavor the roasting adds! Plus, if you do end up eating the salad right away, you get a touch of crispness from the potatoes – makes me happy!
If your cherry tomatoes are on the huge side, go ahead and quarter them instead of just halving. This way they are more evenly distributed throughout the salad.
I realize this last point is a little silly, but the vibrant green color from the pesto fades after about 24 hours. The potato salad will still taste great after that point, but the color isn't as "oh my gosh" pretty. And since I'm a sucker for pretty food, I felt like I should mention this for anyone else out there who might be like me!
And yes, I realize I am a little pesto obsessed. But that magical green sauce? It's just the best. The best.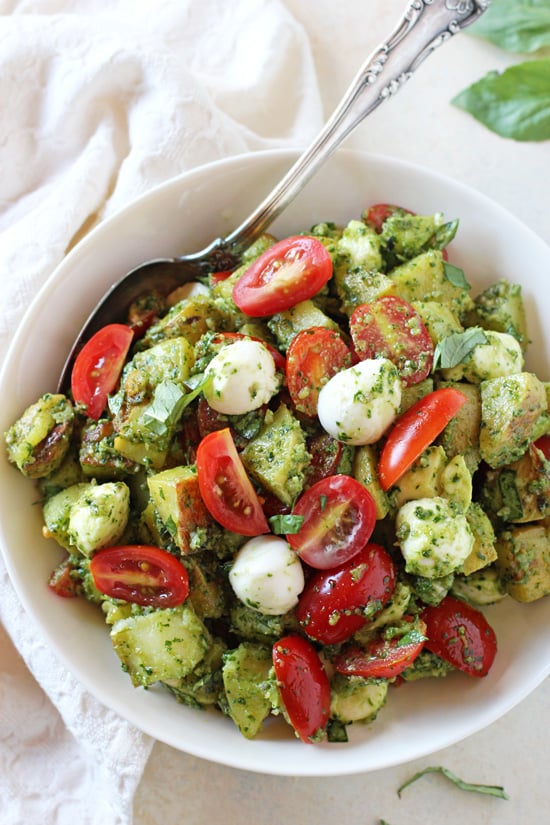 Additional Caprese Recipes You Might Enjoy!
Did you make this recipe? Rate and review it down below! I'd love to hear from you.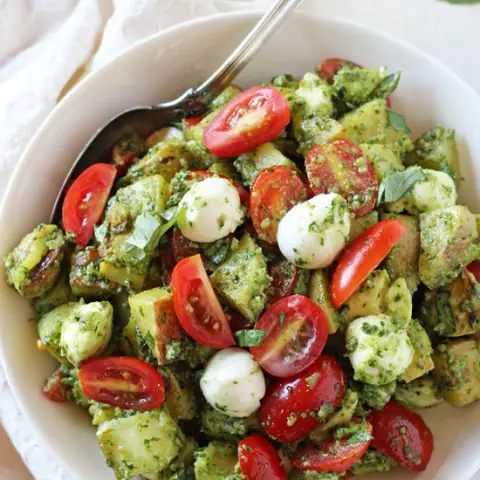 Caprese Pesto Potato Salad
Yield:
about 6 to 8 servings
Fresh and fun, this caprese pesto potato salad is perfect for summer BBQs and picnics! Filled with yukon potatoes, kale pesto and no mayo in sight!
Ingredients
For the potatoes:
2 ½ pounds yukon potatoes, cut into ¾ inch chunks
2 ½ tablespoons olive oil
½ teaspoon fine sea salt
¼ teaspoon pepper
For the pesto:
2 cups lightly packed baby kale
½ cup lightly packed baby spinach
¼ cup sunflower seeds
1 clove garlic, roughly chopped
¼ teaspoon fine sea salt, or to taste
pinch of pepper
⅓ cup olive oil
For the salad:
1 pint cherry tomatoes, halved
1 (8 ounce) package mozzarella balls, patted dry and halved
½ cup packed fresh basil leaves, chopped
Instructions
For the potatoes:
Preheat the oven to 400ºF.
Add the potatoes to a large rimmed baking sheet. Drizzle with the olive oil and sprinkle with the salt and pepper. Toss to combine and spread in an even layer. Bake for about 30 minutes, stirring once halfway through, until tender and starting to brown. Let cool for about 10 to 15 minutes.
For the pesto:
Add the kale, spinach, sunflower seeds, garlic, salt and pepper to the bowl of a food processor. Pulse until finely chopped. With the food processor running, slowly pour in the olive oil. Process until smooth. If you need to thin out the pesto, add in additional olive oil a little at a time.
For the salad:
Add the cooled potatoes, cherry tomatoes, mozzarella and basil to a large bowl. Pour in the pesto and toss gently to combine. Taste and season with salt / pepper as needed (I usually add at least one good pinch of salt - but this will depend on how much salt you added to your pesto!). Serve immediately or chill in the refrigerator until ready to enjoy.
Nutrition Information:
Yield:

8
Serving Size:

1
Amount Per Serving:
Calories:

298
Total Fat:

16g
Saturated Fat:

3g
Trans Fat:

0g
Unsaturated Fat:

13g
Cholesterol:

3mg
Sodium:

486mg
Carbohydrates:

34g
Fiber:

5g
Sugar:

3g
Protein:

6g
Nutrition data shown is an estimate provided by an online calculator and is for informational purposes only. It should not be considered a substitute for a medical professional's advice.