Cucumber Quinoa Salad with Cherries
Raise your hand if you somehow make a giant mess each and every time you enjoy sweet summer cherries. I can't be alone in this, right??
Don't even get me started on when I use them in a recipe … the kitchen looks like a war zone with bright red stains everywhere. Then again, I tend to make a mess no matter what I'm doing in the kitchen, so there's that. Probably why Emma the beagle loves to hang out under my feet.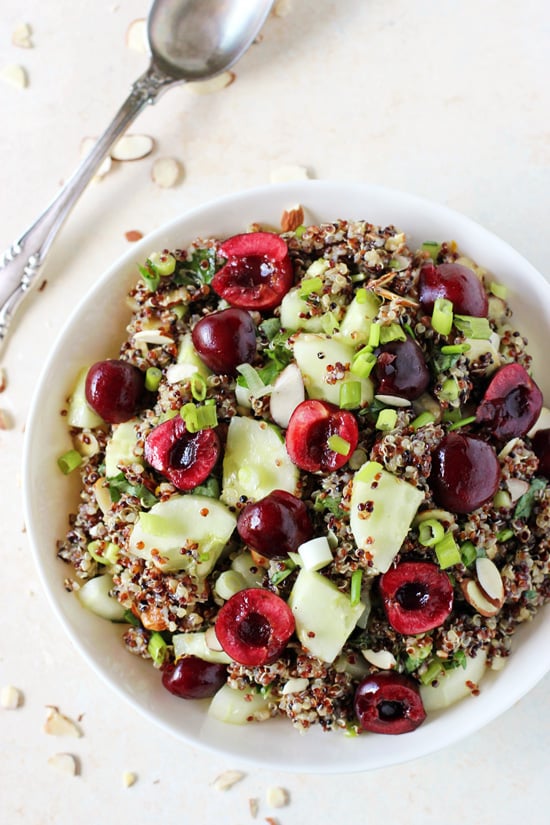 But anyway! Summer cherries! They are the best, yes? And while most of the cherries I buy tend to get hoarded for snacking, I figured it would be a crying shame not to feature them in at least one recipe this season. Which brings us to today. And this cucumber quinoa salad with cherries!
Sweet. Savory. And a most excellent side dish for any summer meal, potluck or gathering!
It's fresh and hearty and satisfying. And I would highly encourage you to serve this along with burgers of any kind. Veggie, beef, chicken! I know firsthand that it goes well with allll three.
I would also encourage you to save some of the salad for leftovers … because it makes for a fantastic lunch. Just saying.
The actual recipe is super simple. We chop up some fresh veggies and the fruit, cook up some quinoa and whisk together a quick dressing. It all gets mixed together, and ta-da! The dish is done.
But, let's still cover two quick tidbits!
I personally love this dish warm. However! It's still pretty darn awesome cold. But, if you can enjoy it warm, doooo it!
If you use regular dark cherries, they do bleed a tad into the other components of the salad. It's not horrible, but it does happen a bit. So if you're really particular about that sort of thing, you can go for the "white" rainier cherries instead!
The colors, the flavors! It's like summer packaged up in a pretty little bowl!
Tools I Love & Use To Make This Recipe (may contain affiliate links):
OXO Good Grips Cherry Pitter – I finally broke down and bought a cherry pitter last summer. Guys, it's a game changer. And totally worth the minimal price tag!
Yield: about 6 servings, as a side
Cucumber Quinoa Salad with Cherries
Prep Time: 15 minutes
Cook Time: 20 minutes
Total Time: 35 minutes
Filled with sweet cherries, crunchy cucumber and fresh basil, this cucumber quinoa salad makes a perfect summer dish! Ready in 35 minutes or less!
Ingredients:
For the salad:
1 cup uncooked quinoa, rinsed
2 cups low sodium vegetable broth
1 medium-large cucumber, peeled and chopped
½ cup thinly sliced green onion
1 cup pitted and halved fresh cherries
⅓ cup sliced almonds
⅓ cup chopped fresh basil
For the dressing:
¼ cup olive oil
1 ½ tablespoons apple cider vinegar
1 tablespoon pure maple syrup
1 teaspoon orange zest
1 small clove garlic, minced
¼ teaspoon salt
pinch of pepper
Directions:
For the salad:
Add the quinoa and broth to a medium saucepan. Bring the mixture to a boil. Give it a stir, cover, then reduce the heat to medium-low / low and let simmer for about 15 minutes, until the broth is absorbed. Turn off the heat and let the pan sit covered for 5 minutes, then fluff the quinoa with a fork. Transfer the quinoa to a large bowl, then allow it to cool for about 10 to 15 minutes.
Once cooled, add the cucumber, green onions, cherries, almonds and basil to the bowl. Toss to combine.
For the dressing:
Whisk together all the ingredients for the dressing in a small bowl. Pour into the bowl with the quinoa and toss to combine. Taste and season with additional salt / pepper as needed (I usually add about ¼ teaspoon additional salt). Serve!
Looking for more summer potluck ideas? Be sure to check out the recipe I created for Oh My Veggies!
Get it here! —> Bell Pepper and Corn Pasta Salad