Crunchy Broccoli Quinoa Salad
A colorful, healthy and oh so crunchy broccoli quinoa salad! With a creamy dressing and juicy golden raisins, this make-ahead dish is sure to please!
It's the middle of February and I feel like we need some bright and happy colorful goodness!
In the form of this oh-so-delicious crunchy quinoa salad.
It's flavorful, it's plenty crunchy and it's just so darn pretty. I mean, those colors! They SO have me thinking about spring.
Well, and the fact that it was close to 80 degrees here in central North Carolina this past weekend. Say what?? I thought it was winter??
But anyway, bizarre weather aside, we need to chat about this salad.
Because it's been on MAJOR repeat at our house over the last several weeks.
We have protein rich quinoa! Crisp tender broccoli! Super crunchy red cabbage and walnuts! Those sweet little jewels otherwise known as golden raisins!
And it all gets tied together with a dreamy, slightly creamy dressing. ♡ ♡ ♡
Ahhh, so much happiness in one little bowl. We can call it a main dish or call it a side dish, it works every which way! <— Including cold straight from the fridge when you need a little scooby snack to get through the workday.
Tips & Tricks For This Broccoli Quinoa Salad
Make sure to cut your broccoli into nice and bite-sized florets (i.e. not super large honking chunks!). We want that goodness distributed alllll throughout the salad!
I'd encourage you not to overcook the broccoli in the skillet – we want it to be crisp tender! Otherwise you'll get less of that crunchy goodness in the final dish.
The dressing. Oh how I love this dressing. It has just a perfect hint of creaminess from some tahini. <— If you're new to tahini, this is a wonderful introduction. The flavor is balanced out nicely by all the other dressing components.
Let's talk leftovers! This is a fantastic make-ahead dish, as it stores well fully assembled. One thing to keep in mind – the flavor of the dressing does mellow a bit over time when tossed with the rest of the salad. So, another option is to keep the dressing separate and then mix with everything else right before serving. But, it's great either way!
Crunch. Crunch. Crunch. Now, this is how we should always salad.
Additional Quinoa Salad Recipes You Might Enjoy!
Did you make this recipe? Rate and review it down below! I'd love to hear from you.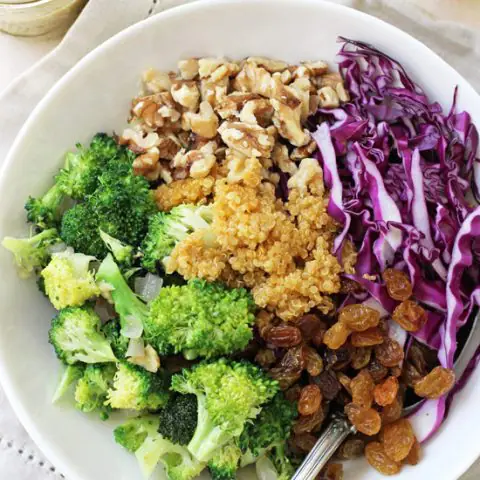 Crunchy Broccoli Quinoa Salad
Yield:
about 6 servings, as a side
A colorful, healthy and oh so crunchy broccoli quinoa salad! With a creamy dressing and juicy golden raisins, this make-ahead dish is sure to please!
Ingredients
For the salad:
1 cup uncooked quinoa, rinsed
2 cups low-sodium vegetable broth
2 tablespoons olive oil
1 medium shallot, minced
2 cloves garlic, minced
5 cups bite-sized broccoli florets
¼ teaspoon salt
1 cup thinly sliced red cabbage
½ cup golden raisins (or regular!)
½ cup raw walnuts, chopped
For the dressing:
¼ cup olive oil
2 tablespoons tahini
1 tablespoon pure maple syrup
1 tablespoon lemon juice
¼ teaspoon salt
pinch of pepper
Instructions
For the salad:
Add the quinoa and broth to a medium saucepan. Bring the mixture to a boil, then cover, reduce the heat and let simmer for about 15 minutes, until the broth is absorbed. Turn off the heat and let sit covered for 5 minutes, then fluff the quinoa with a fork. Transfer the quinoa to a large bowl and let cool for about 10 minutes.
Meanwhile, add the olive oil to a large non-stick skillet set over medium heat. When hot, add in the shallot and garlic. Cook for about 2 minutes, until softened. Add in the broccoli florets and salt and cook for another 3 to 4 minutes, until crisp tender to your liking. Remove from the heat.
To the bowl with the cooled quinoa, add the broccoli mixture, the red cabbage, raisins and walnuts. Toss to combine.
For the dressing:
In a small bowl, whisk together all the ingredients for the dressing. Pour into the bowl with the quinoa and toss to combine. Taste and season with salt / pepper, if needed.
Nutrition Information:
Yield:

6
Serving Size:

1
Amount Per Serving:
Calories:

431
Total Fat:

25g
Saturated Fat:

3g
Trans Fat:

0g
Unsaturated Fat:

21g
Cholesterol:

0mg
Sodium:

294mg
Carbohydrates:

47g
Fiber:

9g
Sugar:

14g
Protein:

11g
Nutrition data shown is an estimate provided by an online calculator and is for informational purposes only. It should not be considered a substitute for a medical professional's advice.