Southwest Egg Scramble
This 20-minute, healthy southwest egg scramble is a simple breakfast or dinner! Filled with bell pepper, fresh corn and plenty of spices!
Let's ease back into the swing of things, yes? With these mexican scrambled eggs!
Well, really, it's me who is easing back into the swing of things and this dish is about all my brain can handle at the moment. It's super simple. Super fast. Tasty tasty!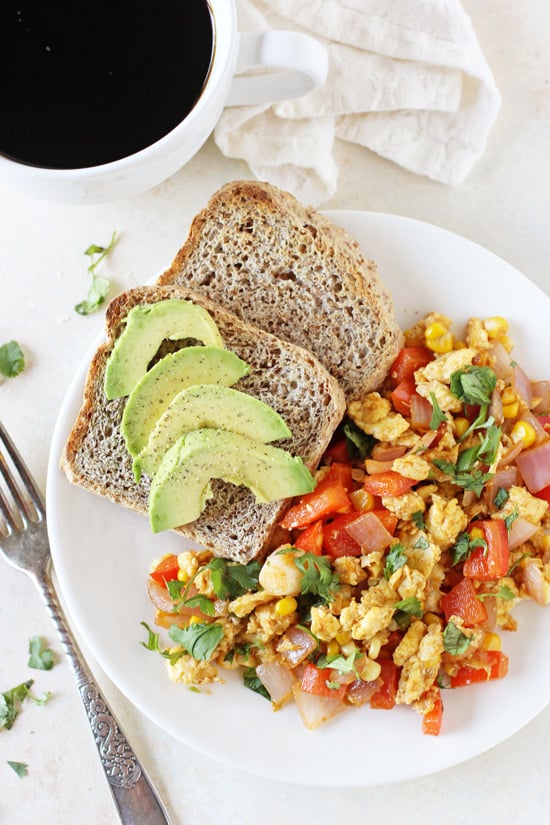 So to bring you up to speed, I spent all of last week at an intensive training for the course I'm doing at a local university. And holy cow, am I spent. I couldn't even tell you the last time I was so mentally and physically exhausted (in a very good way, but still, so tired!!).
My weekend was also jam-packed with all sorts of adult things that needed to get done, so I'm still a tad bit behind on sleep. So, um, bear with me this week?!
But, I will say, that I'm also feeling refreshed. I honestly don't think I've ever had the chance to learn in such an incredible environment. The staff, my other classmates, just everything about it.
Without talking your ear off (which we all know I have a tendency to do), let's just say that the nature of the training required so much vulnerability, authenticity, kindness and non-judgment from everyone there. It was seriously so unlike any other conference, training, etc. etc. I've ever been to. A huge breath of fresh air!
ANYWAY!! Let's get back to the business at hand! Food! I actually had another recipe that I was planning on sharing today (coming later this week!), but this scramble just fits my mood much better this morning. Easy and unfussy!
We saute up some fresh veggies. Scramble some eggs. Mix in some spices. And then, we're done! It works for breakfast. It works for dinner. AND it's got that mexican / southwest vibe. <— I mean, does it get any better??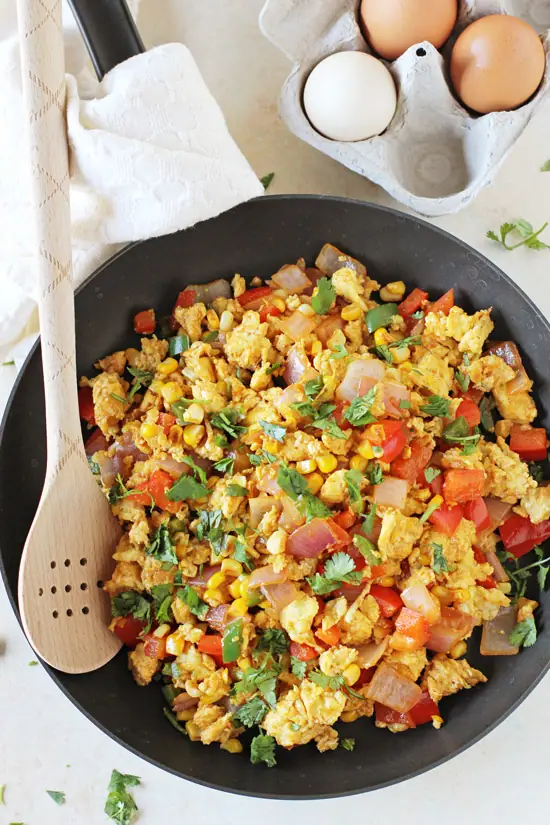 Tips & Tricks For These Mexican Scrambled Eggs
Now, the final dish definitely has some kick as written. If you're not a fan of spicy foods, omit the cayenne (or reduce!) and be sure to also remove the membranes from the jalapeno!
If fresh corn is not in season, you can absolutely use frozen corn kernels instead. I'd estimate that you'd want to use about a heaping ½ cup.
I personally love that this scramble has a pretty even ratio of veggies to eggs. Not really a tip, just a statement!
If you don't serve the scramble with avocado toast, you may get less servings. I will also admit that the husband and I can eat this entire scramble between the two of us if we're really hungry. Soooo take that as you will!
And seriously. Please don't skip the avocado toast. That toast and this scramble? A perfect pairing. Oh yes indeed.
Additional Egg Recipes You Might Enjoy!
Did you make this recipe? Rate and review it down below! I'd love to hear from you.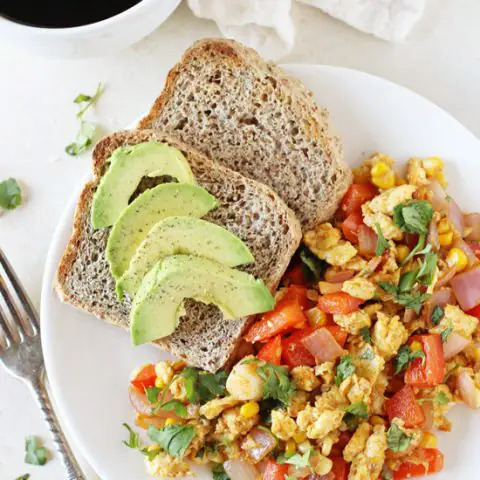 Southwest Egg Scramble
This 20-minute, healthy southwest egg scramble is a simple breakfast or dinner! Filled with bell pepper, fresh corn and plenty of spices!
Ingredients
For the scramble:
6 large eggs
1 ½ tablespoons olive oil
½ of a small red onion, chopped
1 small red bell pepper, chopped
1 medium jalapeno, seeded and minced
1 medium ear corn, kernels removed
½ teaspoon cumin
½ teaspoon smoked paprika
½ teaspoon salt
¼ teaspoon cayenne pepper, or to taste
chopped cilantro, for garnish
For serving (optional):
toasted bread topped with sliced avocado
hot sauce
Instructions
In a medium bowl, beat together the eggs with a fork. Set aside.
Set a large nonstick skillet over medium heat. Add in the olive oil. When hot, add in the onion and cook for about 2 minutes, until it starts to soften. Add in the pepper, jalapeno, corn, cumin, paprika, salt and cayenne. Cook for about 3 to 5 minutes, until the pepper is crisp tender. Remove the veggies to a bowl. Turn the heat down just slightly, then pour the eggs into the empty skillet. Cook, stirring occasionally, until the eggs are scrambled to your liking. Remove from the heat, then stir the veggies back into the skillet. Sprinkle with the chopped cilantro.
Serve immediately as desired!
Notes
So here's the deal. I've made this scramble two ways. 1: Removing the veggies to a bowl and cooking the eggs on their own in the skillet AND 2: Leaving the veggies in and scrambling the eggs with them still there. I personally think the eggs come out better when you remove the veggies before scrambling. But it works just fine leaving them in! So do whichever you like!
Nutrition Information:
Yield:

4
Serving Size:

1
Amount Per Serving:
Calories:

191
Total Fat:

13g
Saturated Fat:

3g
Trans Fat:

0g
Unsaturated Fat:

9g
Cholesterol:

279mg
Sodium:

373mg
Carbohydrates:

9g
Fiber:

1g
Sugar:

3g
Protein:

11g
Nutrition data shown is an estimate provided by an online calculator and is for informational purposes only. It should not be considered a substitute for a medical professional's advice.