Summer Veggie Egg Scramble
Well good morning my friends! I hope you have a steaming mug of coffee ready because today we discuss this quick and easy summer veggie egg scramble.
Which means it's a most egg-cellent morning indeed! <— Like what I did there? Yeah, I know. So ridiculously corny. And umm, not original in the slightest.
Which I completely blame on the heat. I swear it has turned my brain into complete and utter mush. To make matters even worse, we've had a fair amount of summer storms over the last few weeks.
And they just completely put me in the mood for movie time / good book time / sitting on the couch watching the rain time. Yes yes and yes. I mean, these are the lazy days of summer, right??? Don't answer that.
But anyway. Let's get back to the eggs at hand!
This dish is essentially a summer spin on my southwest egg scramble. And was really created out of a need to use up some of our CSA produce.
Now, I'll be the first to admit that I absolutely love fresh summer corn. But guys. I seriously have corn coming out of my eyeballs with the insane amounts that we've been getting in our weekly CSA deliveries. It's madness I tell you!
Also madness? The amount of times that I've made this sweet potato corn chowder to use up said corn. Because it calls for FIVE ears of corn. Chowder to the rescue!
And while this egg scramble only calls for one, I will absolutely still take it. Because there's also some zucchini and cherry tomatoes involved. And fresh basil! Garlic! Avocado!
It's ridiculously easy to pull together, packed with summer veggie goodness and oh-so-flavorful. And is downright perfection when served with some really good bread. ♡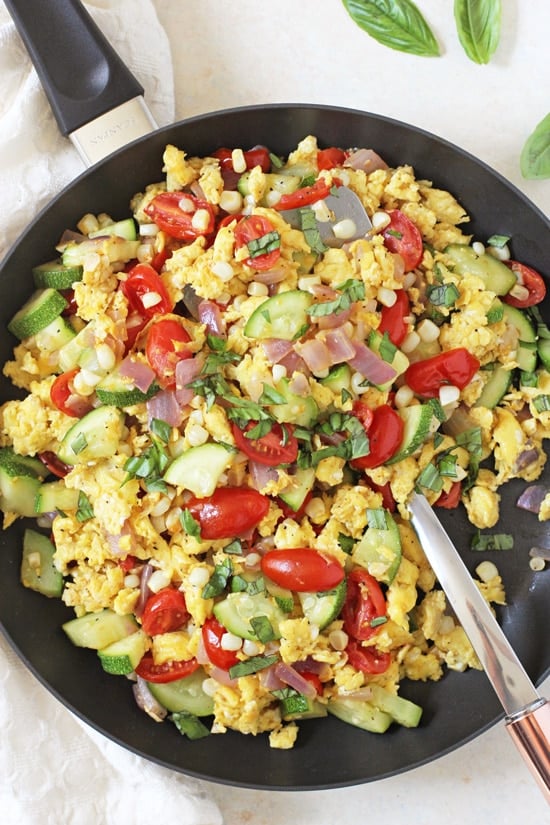 Tips & Tricks For This Summer Veggie Egg Scramble
You can absolutely switch up the veggies based on what you have on hand. My only suggestion? Try to stick with veggies that will cook in the same timeframe. For example, bell pepper or summer squash would work very well here!
This scramble has what I think is a great ratio of veggies to eggs. In that there are PLENTY of veggies involved! But you could certainly adjust this to your taste.
Let's chat leftovers. While eggs are definitely best fresh, this actually keeps pretty well. Store any extras in an airtight container in the fridge. Now, the important part. DO NOT heat the leftovers back up for very long! Like at all. We're talking 20 seconds or so. If you heat them up for much longer, they get sort of rubbery. Which we do not want. Capeesh? Cool.
Breakfast (or dinner?) greatness awaits! So let's do this! With another cup of coffee please and thank you.
Additional Egg Recipes You Might Enjoy!
Did you make this recipe? Rate and review it down below! I'd love to hear from you.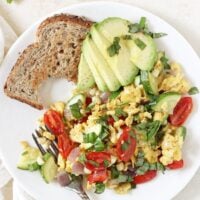 Summer Veggie Egg Scramble
Yield:
about 3 to 4 servings
Simple, healthy and filling, this summer veggie egg scramble is perfect for breakfast or dinner! And it comes together in 25 minutes!
Ingredients
For the scramble:
6 large eggs
2 tablespoons olive oil
½ of a small red onion, chopped
2 cloves garlic, minced
1 medium zucchini, chopped
1 medium ear corn, kernels removed
1 cup halved cherry tomatoes (quartered if large)
½ teaspoon fine sea salt
¼ teaspoon pepper, or to taste
For serving:
chopped fresh basil
sliced or diced avocado
hot sauce (optional for some heat!)
Instructions
In a medium bowl, beat together the eggs with a fork. Set aside.
Add the olive oil to a large nonstick skillet set over medium heat. When hot, add in the onion and cook for about 2 minutes, until it starts to soften. Add in the garlic and cook for 30 seconds, until fragrant. Add in the zucchini, corn, tomatoes, salt and pepper. Cook for about 5 to 7 minutes, until the zucchini is tender to your liking. Remove the veggies to a bowl.
Turn the heat down just slightly, then pour the eggs into the empty skillet. Cook, stirring occasionally, until the eggs are scrambled to your liking. Remove from the heat, then stir the veggies back into the skillet. Sprinkle with the chopped basil. Serve immediately topped with avocado and some hot sauce (if using).
Nutrition Information:
Yield:

4
Serving Size:

1
Amount Per Serving:
Calories:

212
Total Fat:

15g
Saturated Fat:

3g
Trans Fat:

0g
Unsaturated Fat:

10g
Cholesterol:

279mg
Sodium:

375mg
Carbohydrates:

10g
Fiber:

2g
Sugar:

4g
Protein:

11g
Nutrition data shown is an estimate provided by an online calculator and is for informational purposes only. It should not be considered a substitute for a medical professional's advice.