Slow Cooker Creamy Veggie & Wild Rice Soup
Merry merry!! We are just days (!!) away from Christmas and my holiday spirit is through the roof. It mayyyy be just a little out of hand.
To the point where my husband might lose his mind if I insist we watch just one more Christmas movie before the big day. <— No but seriously, we totally have time for more!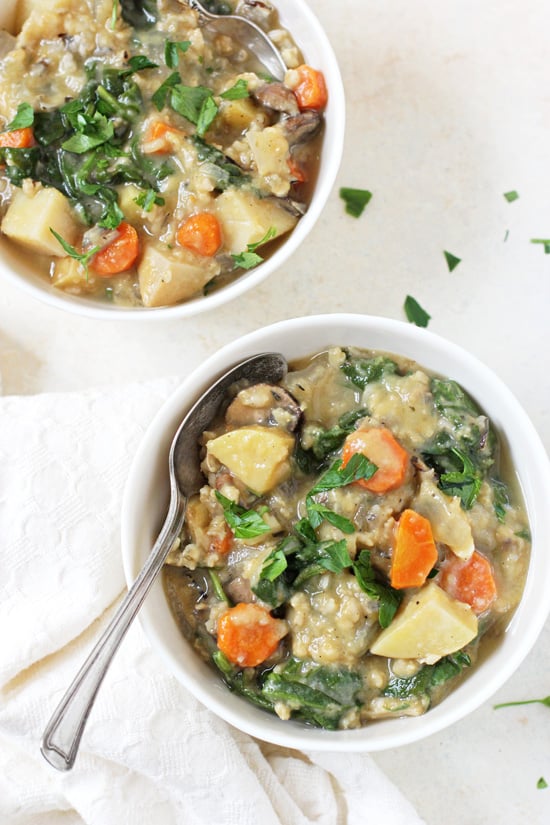 ANYWAY. Today's recipe has absolutely nothing to do with the holidays. Other than the fact that when you enjoy a big ol' bowl you feel like you are all cozy and wrapped up in a blanket and ready to enjoy everything this magical winter season has to offer.
So there's that. My point being that this soup is total winter comfort food. But also totally healthy! Now that's my kind of dish!
Andddd there's the added bonus that it only takes about 20 minutes of your time to whip up. Dump everything in the crockpot and walk away. Winner winner soup-y dinner!
It's loaded with all sorts of goodness – plenty of classic veggies (think carrots and celery!), dreamy yukon potatoes and wild rice. It gets naturally sort of creamy from the rice itself, but then we pump that up with a bit of almond milk at the very end.
It's thick, it's stew-like and very much a "man meal," per my husband. Especially when served with some bread or pita chips for dunking. Swoon, swoon!!
Tips & Tricks For This Slow Cooker Creamy Veggie & Wild Rice Soup
This soup takes the full 8 hours in my crockpot in order for all the veggies to get perfectly tender. This may vary a bit for you, but just keep that in mind!
You can absolutely use whatever milk you'd like in place of the almond milk.
As you'll see down below, fresh spinach leaves are added at the very end of the recipe. Do your best to mix them into the soup, but don't worry if it's not perfect. The spinach will wilt down during the 10 minutes of "rest time" and then you'll be able to mix them in completely.
If I happen to have some on hand, I like to top the soup with a touch of chopped parsley for a pop of freshness. But this is totally not necessary. Just if you happen to have some in your fridge!
And that's a wrap! Time for me to get back to those holidays movies. With a cup of hot chocolate in a Christmas mug, please and thank you.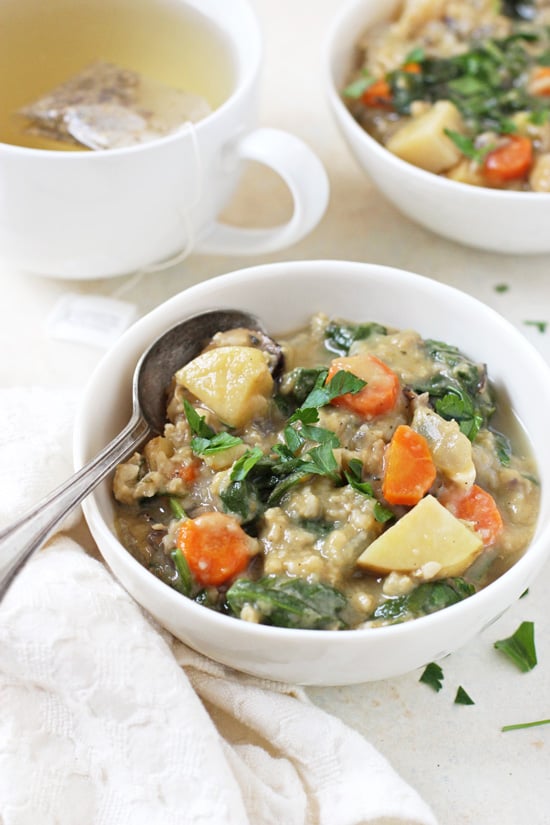 Additional Cozy Slow Cooker Recipes You Might Enjoy!
Did you make this recipe? Rate and review it down below! I'd love to hear from you.
Slow Cooker Creamy Veggie & Wild Rice Soup
Yield: about 5 to 6 servings

Prep Time: 20 minutes

Cook Time: 8 hours

Total Time: 8 hours 20 minutes

Hearty and comforting, this slow cooker creamy veggie & wild rice soup is like a hug in a bowl! And it's healthy too!
Ingredients
1 medium onion, diced
2 medium carrots, peeled and chopped
2 medium ribs celery, chopped
1 (8 ounce) package baby bella mushrooms, sliced
1 pound yukon potatoes, cut into ½ inch chunks
¾ cup uncooked wild rice blend
6 cups low-sodium vegetable broth
4 cloves garlic, minced
1 teaspoon salt
½ teaspoon pepper
½ teaspoon dried thyme
½ teaspoon dried oregano
1 (5 ounce) bag fresh baby spinach leaves
1 cup unsweetened plain almond milk
Instructions
Add the onion, carrots, celery, mushrooms, potatoes, rice, broth, garlic, salt, pepper, thyme and oregano to a crockpot and mix to combine. Cover and cook on low for about 7 to 8 hours, until the veggies are tender and the rice is nice and soft.
Turn off the crockpot. Add in the spinach and almond milk and mix to combine. Place the cover back on the slow cooker and let sit for 10 minutes. Give it another stir, then taste and add additional salt / pepper as needed (I typically add another about ½ teaspoon salt).
Nutrition Information:
Yield: 6 Serving Size: 1

Amount Per Serving:

Calories: 148 Total Fat: 1g Saturated Fat: 0g Trans Fat: 0g Unsaturated Fat: 1g Cholesterol: 0mg Sodium: 554mg Carbohydrates: 32g Fiber: 4g Sugar: 5g Protein: 5g

Nutrition data shown is an estimate provided by an online calculator and is for informational purposes only. It should not be considered a substitute for a medical professional's advice.

I take it back! We're not done yet! Emily over at Rainbow Delicious put together a meal plan of five of my healthy crockpot recipes!
You can grab the plan & grocery list here! —> Healthy Vegetarian Crockpot Recipes Meal Plan