Greek Chickpea Quesadillas with Homemade Tzatziki
Let's talk an easy dinner recipe, shall we? In the form of these healthy, gorgeous and oh-so-scrumptious greek chickpea quesadillas!
We're talking whole-wheat tortillas packed with a flavorful (and colorful!) filling. We have some veggies (hello spinach, onion and roasted red peppers!), we have some chickpeas (hello protein!) and of course some cheese to hold it all together. The filling gets stuffed into those aforementioned tortillas, and we quickly cook them up in a skillet to crispy, golden brown perfection.
And then, then we dunk those crisp-ified (<— is that a word?) quesadillas in a super simple, creamy homemade tzatziki sauce. Because quesadillas are most certainly made for dunking.
All the textures, all the flavors! These are 100% guaranteed to make any weeknight dinner just a little bit happier. Or at least I sure think so.
Oh, and did I mention that they can be prepped in advance to really speed it on up during the week? It's a winner, winner quesadilla dinner.
Tips & Tricks For These Greek Quesadillas
First up, make-ahead options. Option 1! Make the tzatziki and the filling in advance, and store in separate containers in the fridge. Then just assemble the quesadillas and cook in the skillet the night of.
Option 2! Make the tzatziki and store in the fridge. Make the filling, then let cool to room temp. Assemble the quesadillas as directed, then wrap each individually in plastic wrap and transfer to the fridge. Cook em' off in the skillet when ready to enjoy! (They keep fully assembled like this for about 2 days.)
You may get a slightly different yield, just depending on how full you stuff your quesadillas. I like mine nice and packed! No wimpy quesadillas for me.
Now, you may be tempted to skip the tzatziki sauce. But please don't! It's so cooling and creamy and just pairs ever so well with the quesadillas. Okay? Okay.
It's dinnertime perfection. Although, let's be honest, when is a flavorful, cheesy filling packaged up in a crispy tortilla NOT dinnertime perfection???
Looking for more quesadilla ideas? Be sure to check out these roasted vegetable quesadillas and / or these sweet potato, black bean and kale quesadillas!
Did you make this recipe? Rate and review it down below! I'd love to hear from you.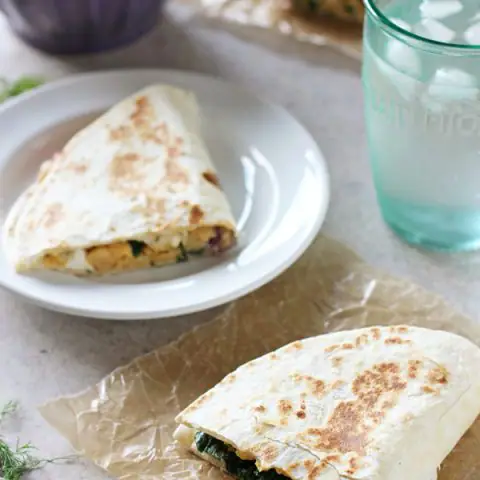 Greek Chickpea Quesadillas with Homemade Tzatziki
Yield:
7 to 9 quesadillas
These greek chickpea quesadillas are a healthy and easy meal! Cheesy, crispy and filled with plenty of veggies! With homemade tzatziki for dunking!
Ingredients
For the tzatziki:
1 medium cucumber, peeled and seeded
1 ½ cups plain greek yogurt
1 clove garlic, minced
1 teaspoon red wine vinegar
juice of ½ a lemon
2 teaspoons chopped fresh dill
salt, to taste
For the quesadillas:
1 tablespoon olive oil
1 small red onion, chopped
4 cups chopped fresh baby spinach leaves
1 (15 ounce) can chickpeas, drained and rinsed
½ cup chopped roasted red peppers
¾ cup crumbled feta
¼ teaspoon salt
pinch of red pepper flakes
¼ teaspoon dried oregano
7 to 9 large whole-wheat flour tortillas
1 to 1 ½ cups freshly shredded mozzarella cheese
Instructions
For the tzatziki:
Shred the cucumber, then wrap with a towel and squeeze out as much moisture as you can. Add to a medium bowl. Add in the yogurt, garlic, vinegar, lemon juice, dill and salt (I usually add about a ¼ teaspoon). Mix to combine, then place in the refrigerator while you make the quesadillas.
For the quesadillas:
Set a medium skillet over medium heat. Add in the olive oil. When hot, add in the onion and cook for about 3 to 5 minutes, until tender. Add in the spinach and cook until wilted. Remove from the heat.
Add the chickpeas to a medium bowl. Use a fork to mash them slightly, leaving some texture. Add in the onion / spinach mixture, the roasted red peppers, feta, salt, red pepper flakes and oregano. Mix to combine. Taste and add additional salt / red pepper flakes as desired.
Place a tortilla on a work surface. Spoon some of the filling on half of the tortilla, leaving a small border around the edge. Top with some of the mozzarella. Fold the empty half of the tortilla over the filling to form a semicircle. Repeat with the remaining tortillas.
Set a nonstick skillet over medium heat. When hot, place an assembled quesadilla in the pan and cook, flipping once halfway through, until both sides are browned and the cheese is melted. Repeat this process with the remaining quesadillas.
Cut into triangles and serve with the tzatziki sauce.
Nutrition Information:
Yield:

6
Serving Size:

1
Amount Per Serving:
Calories:

504
Total Fat:

19g
Saturated Fat:

9g
Trans Fat:

0g
Unsaturated Fat:

8g
Cholesterol:

34mg
Sodium:

1149mg
Carbohydrates:

59g
Fiber:

13g
Sugar:

14g
Protein:

28g
Nutrition data shown is an estimate provided by an online calculator and is for informational purposes only. It should not be considered a substitute for a medical professional's advice.