Grilled Greek Salad Pita Sandwiches
These simple grilled greek salad pita sandwiches make for a fantastic easy dinner! With a greek salad filling, grilled red onions and a creamy sauce for drizzling, they're fun, fresh and delicious. Dairy free and vegan.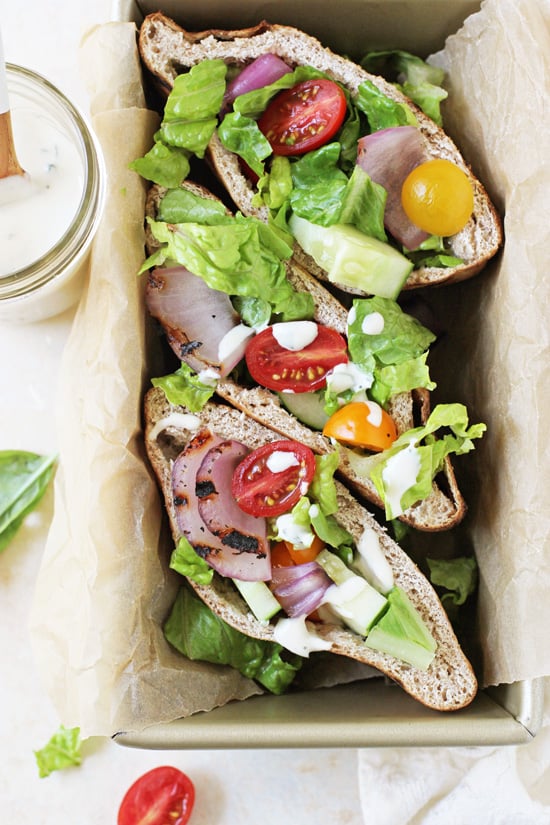 It's pita-wich time!
Perfect for summer, super simple and I mean, we're talking greek salad. Which is pretty much always guaranteed to be a huge win.
Now, I will admit that I've never been a big sandwich person, but these bad boys? They're something that I can absolutely get down with.
So, let's discuss, shall we?
We have soft, fluffy and lightly toasted pita bread rounds.
We pry those suckers open and layer in some creamy hummus.
Then, we stuff them full of a simple greek salad-y mixture made with romaine lettuce, juicy tomatoes, crisp cucumbers and some FANTASTIC grilled red onion.
And finally! We drizzle on a dreamy lemon basil sauce. Because I am convinced that sauce made for drizzling is just about the best thing ever.
Tips & Tricks For These Greek Salad Pita Sandwiches
I kinda sorta despise olives. I have tried to like them so many times, but nope, my taste buds will have none of it. But! If you do enjoy them, you could absolutely add some to the filling.
Along those lines, you could also add some crumbled feta to the filling to make it even more like a traditional greek salad if you don't need to keep these dairy free / vegan.
Not feeling the lemon tahini sauce? I think any kind of creamy yogurt sauce / dressing or even some homemade tzatziki would be great here as well.
As with all sandwiches, the yield may vary. I listed how many servings I get out of these, but this could be different based on how full you stuff the pitas. If you don't stuff yours nice and full, you may need some additional pita bread.
And finally. While the salad part of this recipe is definitely best fresh, it does keep in the fridge for a few days. I mix the grilled red onion chunks in with the salad portion and just store all in one container (I keep in a bowl covered with plastic wrap). I also only grill as many pitas as we'll need for dinner (and then just eat the leftover pitas plain and not grilled). And be sure to keep the tahini sauce in its own container.
Additional Greek Recipes You Might Enjoy
Did you make this recipe? Rate and review it down below! I'd love to hear from you.
Grilled Greek Salad Pita Sandwiches
Yield:
about 4 to 6 servings
These simple grilled greek salad pita sandwiches make for a fantastic easy dinner! With a greek salad filling, grilled red onions and a creamy sauce for drizzling, they're fun, fresh and delicious. Dairy free and vegan.
Ingredients
For the grill:
1 large red onion, sliced into ¾-inch thick rounds
olive oil, for brushing
salt and pepper, for sprinkling
4 large whole wheat pitas, cut in half*
For the filling:
1 cup halved cherry tomatoes
1 cup chopped cucumber
2 cups sliced romaine lettuce
2 teaspoons olive oil
1 teaspoon red wine vinegar
pinch of salt
pinch of dried oregano
For the sauce / serving:
¼ cup tahini
2 tablespoons water, plus extra as needed
½ teaspoon lemon zest
1 tablespoon lemon juice
2 tablespoons minced fresh basil
1 (8 ounce) container plain hummus
Instructions
For the grill:
Set a grill pan over medium high heat and allow it to heat up for several minutes. It is hot enough when a drop of water sizzles on the pan. While the pan is heating, brush the sliced red onion all over with olive oil, then sprinkle with salt and pepper.
Place the red onion slices on the heated pan and cook until tender and charred, flipping once halfway through - this will take about 6 to 7 minutes per side. Remove to a cutting board and cut into chunks.
Next, place the pita bread on the pan and grill for about 1 to 2 minutes per side, until toasted and lightly charred.
For the filling:
Add all the ingredients for the filling to a medium bowl and toss to combine. Taste and adjust any seasonings as desired.
For the sauce / serving:
In a small bowl, whisk together the tahini, water, lemon zest and lemon juice until smooth. If needed, add in additional water a little at a time and whisk again until the sauce reaches a consistency that you can drizzle (I usually add about 1 to 2 extra tablespoons - this will vary based on how thick or thin your tahini is). Add in the basil and whisk again to combine.
To serve - smear some of the hummus on the inside of a pita. Spoon in some of the filling and the grilled red onion. Drizzle with some of the sauce and serve immediately!
Notes
*If you're dairy free / vegan - be sure to check the ingredients on your pita bread!
Nutrition Information:
Yield:

6
Serving Size:

1
Amount Per Serving:
Calories:

241
Total Fat:

11g
Saturated Fat:

1g
Trans Fat:

0g
Unsaturated Fat:

9g
Cholesterol:

0mg
Sodium:

342mg
Carbohydrates:

32g
Fiber:

5g
Sugar:

3g
Protein:

8g
Nutrition data shown is an estimate provided by an online calculator and is for informational purposes only. It should not be considered a substitute for a medical professional's advice.