Blueberry Almond Butter Chia Pudding
Let's get back to basics today, shall we? In the form of this berry-licious blueberry almond butter chia pudding!
I've been making chia pudding on the regular for several years now, butttt only recently realized that I've never shared my go-to recipe (or, um, any recipe). Forgive me???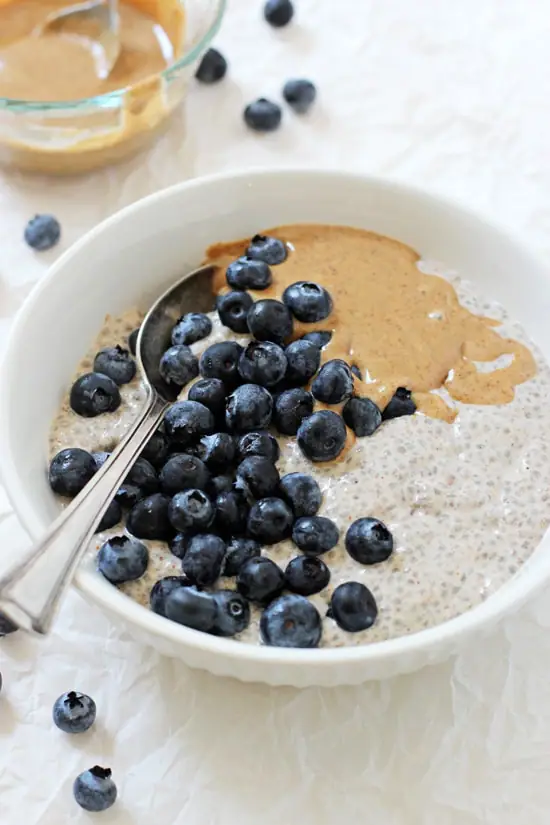 Because I do think you're gonna love this one.
Now, I am a huge fan of classic chia pudding – i.e. your choice of milk, chia seeds and sweetener.
BUT! When you blend some dreamy nut butter right into the mix? It kicks it up a notch, adds some extra staying power and is just downright delicious.
ESPECIALLY if you then top it with plenty of fresh juicy blueberries + even more drippy creamy almond butter. It's pure magic I tell you. Pure magic.
Enjoy it for snack time, enjoy it for breakfast time! Maybe even as a wholesome dessert? <— Yup, totally done that.
It's healthy. Completely portable. Super easy. And just a few minutes of your time required. Chia pudding, you da best!
Tips & Tricks For This Blueberry Almond Butter Chia Pudding
After all the ingredients for the pudding are blended together, we let the mixture rest for about 10 minutes and then whisk whisk whisk again before refrigerating overnight. This REALLY helps to evenly distribute the seeds and nut butter throughout the pudding and smooth out any clumps, so don't skip this step!
Prep time for the recipe includes the 10 minute rest. Active time is only about 5 minutes!
In the morning, if you find you need to thin out your chia pudding, add in more almond milk a splash or so at a time until it reaches your desired consistency. Alternatively, if your pudding is too thin, you can add in more chia seeds, 1 tablespoon at a time, and let it sit in the fridge for about 30 minutes to thicken up.
Chia pudding keeps well for about 4 to 5 days stored in a covered container or individual jars in the fridge.
And finally! This recipe works best with almond butter that has a drippy consistency (this allows it to blend well into the pudding). If you can't get your hands on a drippy almond butter, I would just leave it out from the pudding base. Whisk all the remaining base ingredients together in a medium bowl and proceed with the recipe. In the morning, top with extra almond butter (to make up for it missing from the base) or serve with whatever toppings you would like! Still deeee-licious!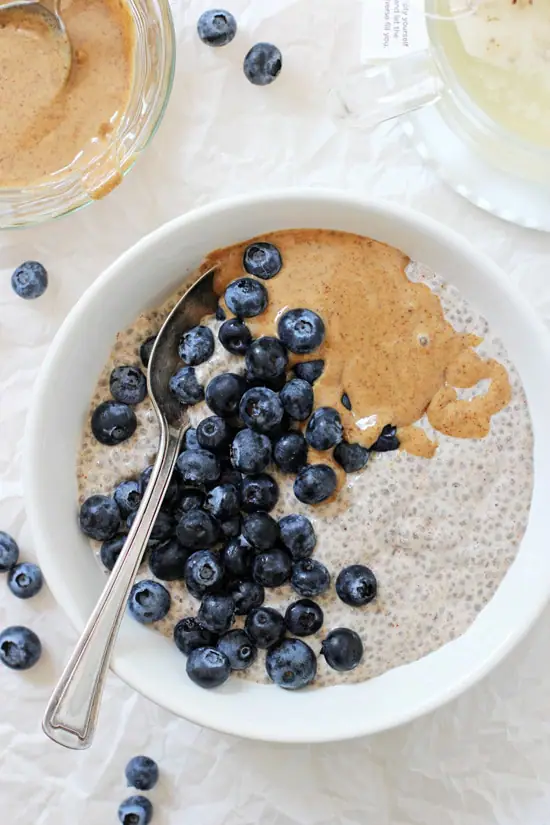 Additional Portable Breakfast Recipes You Might Enjoy!
Did you make this recipe? Rate and review it down below! I'd love to hear from you.
Blueberry Almond Butter Chia Pudding
Super easy and healthy blueberry almond butter chia pudding! With dreamy vanilla and almond butter blended right into the base, this pudding can't be beat! Vegan & gluten free!
Ingredients
For the base:
2 cups unsweetened plain almond milk
¼ cup drippy creamy almond butter
1 ½ to 2 tablespoons pure maple syrup, or to taste
¼ teaspoon ground cinnamon
1 teaspoon vanilla extract
½ cup chia seeds
For serving:
about ¼ cup drippy creamy almond butter
about 1 ¼ to 1 ⅓ cups fresh blueberries
Instructions
For the base:
Add the almond milk, almond butter, maple syrup, cinnamon and vanilla to a blender. Process until smooth and well combined (about 30 seconds). Pour the mixture into a medium bowl, then whisk in the chia seeds. Let the mixture rest for about 8 to 10 minutes, then whisk again until all the clumps have smoothed out (this might take a bit!). Cover and refrigerate overnight.
For serving:
In the morning, give the chia pudding a good stir. Taste and adjust the maple syrup as needed. Divide between four small containers or bowls, then serve each topped with about 1 tablespoon almond butter and about a heaping ¼ cup to ⅓ cup fresh blueberries!
Nutrition Information:
Yield:

4
Serving Size:

1
Amount Per Serving:
Calories:

360
Total Fat:

25g
Saturated Fat:

2g
Trans Fat:

0g
Unsaturated Fat:

23g
Cholesterol:

0mg
Sodium:

13mg
Carbohydrates:

28g
Fiber:

13g
Sugar:

12g
Protein:

11g
Nutrition data shown is an estimate provided by an online calculator and is for informational purposes only. It should not be considered a substitute for a medical professional's advice.