Vegan Sweet Potato Pancakes
Your cozy fall and winter mornings are about to get even better with the addition of these vegan sweet potato pancakes!
Fluffy, melt-in-your mouth tender and made with wholesome ingredients, they are officially my favorite pancakes ever. Yes, ever.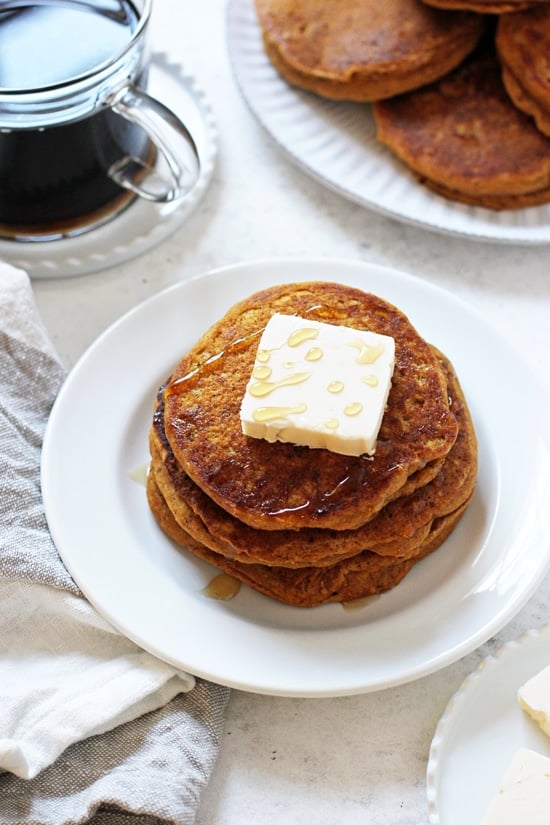 Which is not a statement that I take lightly. Especially considering that these chocolate buckwheat pancakes have been my go-to recipe for over three years. So the fact that they've been usurped as the reigning favorite? It's a BIG deal. Errr, well, at least at my house.
But. Back to today's sweet potato pancakes. They are perfectly, lightly sweet, filled with dreamy warm flavors like cinnamon, nutmeg, and vanilla, and are just different enough, while also feeling completely classic at the same time.
It's a dream breakfast scenario if I do say so myself.
And don't you worry, you absolutely do not need to be vegan or egg-free to enjoy these babies. Because they are so delightful that I sometimes find myself snacking on them plain (ahem, this especially tends to happen while I'm waiting for the full batch to cook up in the skillet – patience is not one of my strong suits when it comes to food).
No shame. Pancakes for life.
How To Make Healthy Sweet Potato Pancakes
So, let's talk about how to make these pancakes, which couldn't be easier to whip up!
First, we start by mixing together some ground flaxseed and water to make a flax egg. While the mixture sits for a few minutes to gel and thicken slightly, we'll whisk together some white whole wheat flour, plenty of warm spices, salt, baking powder and baking soda.
In another bowl, we'll combine sweet potato puree, almond milk, olive oil, vanilla, maple syrup and the prepared flax egg. It gets folded together with the dry ingredients and then cooked off in a skillet to golden, tender perfection.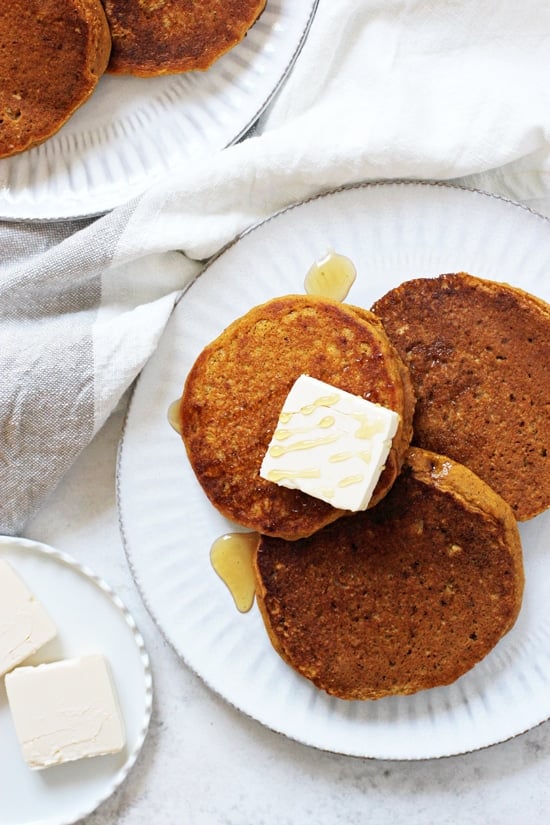 Tips & Tricks For These Vegan Sweet Potato Pancakes
First up, I would encourage you to stick with the listed white whole wheat flour, as this is the only way that I've tested these pancakes. Therefore, I can't say for sure what else might work. With that said, I would assume all-purpose flour would be fine here, but again have not tried this myself.

To make life easy, I pretty much always use canned sweet potato puree for these pancakes. You can typically find it near the canned pumpkin puree or canned veggies at most mainstream grocery stores.

Alright, let's talk cooking up the pancakes. I start with the heat on medium and then turn it down to medium-low / low after the skillet has been heated for some time (i.e. after a few batches). This will help prevent the pancakes from burning.

And finally, serving ideas! You can go oh so many ways – maple syrup, vegan butter, chopped nuts, vegan yogurt, coconut whipped cream, drippy nut butter! The sky's the limit my friends.
How To Store
Let the pancakes cool to room temperature, then store in an airtight container in the refrigerator. The pancakes will keep like this for about four days.

When ready to enjoy, reheat briefly in the microwave. For reference, I usually reheat two pancakes at a time and it takes about 40 to 45 seconds to warm them up.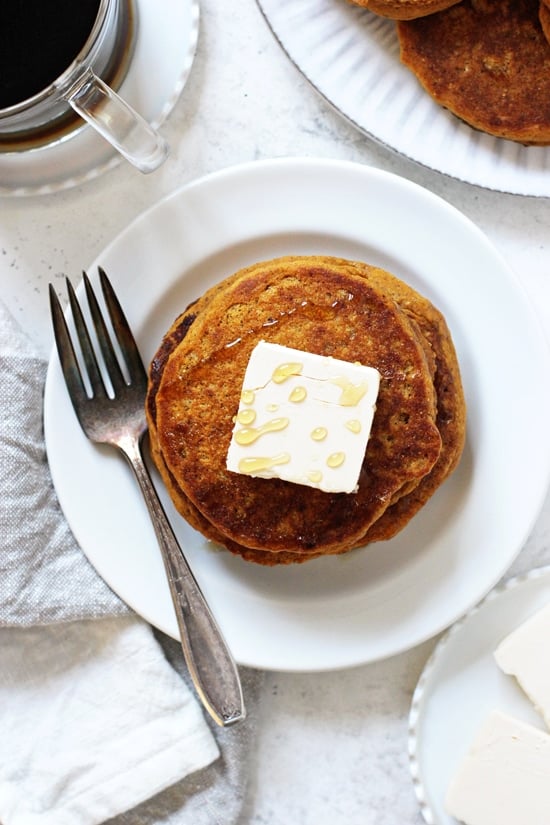 Additional Vegan Breakfast Recipes You Might Enjoy!
Did you make this recipe? Rate and review it down below! I'd love to hear from you.
Vegan Sweet Potato Pancakes
Tender, fluffy, melt-in-your mouth vegan sweet potato pancakes! These easy and healthy pancakes are filled with sweet potato puree, almond milk, cinnamon and olive oil! And they reheat beautifully, making them perfect for busy mornings!
Ingredients
1 tablespoon ground flaxseed
3 tablespoons water
1 ¾ cups white whole wheat flour
2 ½ teaspoons baking powder
½ teaspoon baking soda
½ teaspoon fine sea salt
1 teaspoon ground cinnamon
½ teaspoon ground nutmeg
¼ teaspoon ground ginger
¼ teaspoon ground cloves
¾ cup sweet potato puree, homemade or store-bought
1 ⅓ cups unsweetened almond milk
¼ cup olive oil
1 teaspoon vanilla extract
¼ cup pure maple syrup
Instructions
In a small bowl, mix together the flaxseed and water. Let the mixture stand for 5 minutes to thicken.
In a large bowl, whisk together the flour, baking powder, baking soda, salt, cinnamon, nutmeg, ginger and cloves. In a medium bowl, whisk together the sweet potato puree, milk, oil, vanilla, maple syrup and the flax mixture. Add the wet ingredients to the bowl with the dry ingredients and mix until just combined.
Let the batter rest for about 5 minutes while you set a large nonstick skillet or a griddle over medium / medium-low heat. Once heated, mist with olive oil or another nonstick spray (or grease as desired). Give the batter a quick stir, then scoop about ¼ cup for each pancake into the skillet (as many as you can comfortably fit). Cook for about 3 minutes, until the edges look set. Flip the pancakes and continue to cook for about 2 to 3 additional minutes, until golden brown and cooked through.* Serve as desired!
Notes
*These pancakes take a little longer to cook than regular / traditional pancakes. So be sure to leave them on the griddle for a bit longer than you typically would (i.e. use the time frames listed in the recipe). They'll be nice and golden from the extra time and this will ensure that they are cooked all the way through! Turn down the heat as needed so that they don't burn (see the tips & tricks section in the post above for more details).
Nutrition Information:
Yield:

13
Serving Size:

1
Amount Per Serving:
Calories:

132
Total Fat:

5g
Saturated Fat:

1g
Trans Fat:

0g
Unsaturated Fat:

4g
Cholesterol:

0mg
Sodium:

231mg
Carbohydrates:

20g
Fiber:

3g
Sugar:

5g
Protein:

3g
Nutrition data shown is an estimate provided by an online calculator and is for informational purposes only. It should not be considered a substitute for a medical professional's advice.