Apple Cinnamon Chip Muffins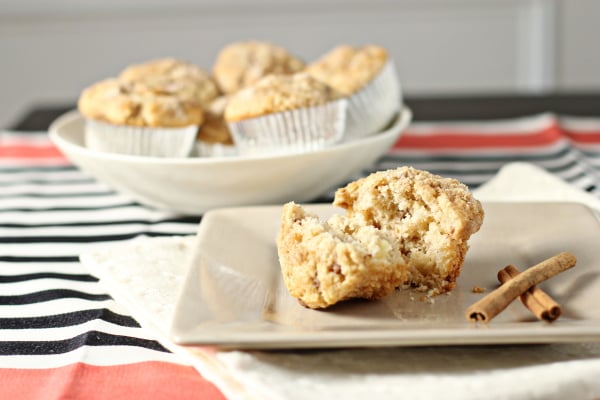 Sunday was the first time this month that it actually felt like fall.  The weather was absolutely perfect.  We took our dog for a walk in the morning and there was an ever-so-slight chill in the air.  I have been waiting patiently to start baking with all those flavors reminiscent of the fall season, but just couldn't do it while the weather was so horribly hot and humid.  Needless to say, I headed right into the kitchen after our walk to bake up these muffins.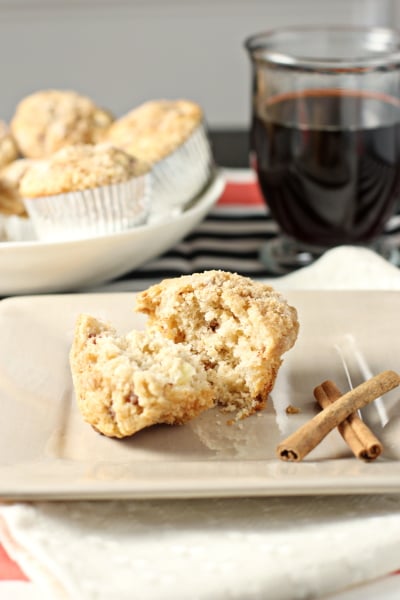 And these did not leave me disappointed.  They are full of all those amazing fall flavors I've been dreaming about during the heat of the summer.  These are moist and packed with cinnamon apple deliciousness.  We enjoyed this breakfast treat outside with a cup of coffee, which made for a great morning.  The only problem?  Now that I have started baking again with cinnamon and apple, I really don't think I'll be able to stop.  The list of recipes that I want to try is ridiculous.
Oh fall, how I've missed you.
Apple Cinnamon Chip Muffins
Recipe for apple cinnamon chip muffins. Tender muffins filled with apples and plenty of cinnamon. Finished with a streusel topping!
Ingredients:
For the muffins:
2 cups all-purpose flour
½ cup granulated sugar
1 tablespoon baking powder
½ teaspoon cinnamon
¼ teaspoon salt
¼ cup packed light brown sugar
8 tablespoons (1 stick) unsalted butter, melted and cooled
2 large eggs
¾ cup whole milk
½ teaspoon vanilla extract
1 large apple, peeled and finely chopped (about 1 cup)
¾ cup cinnamon chips
For the streusel:
¼ cup all-purpose flour
¼ cup packed light brown sugar
¼ teaspoon cinnamon
2 ½ tablespoons unsalted butter, cold and cut into small pieces
Directions:
Preheat the oven to 375 degrees. Line a muffin tin with baking cups or grease with butter or non-stick cooking spray. Set aside.
To make the muffins – In a large bowl, add the flour, granulated sugar, baking powder, cinnamon and salt. Whisk to combine. Add in the brown sugar and whisk, making sure there are no large chunks. In a small bowl, add the butter, eggs, milk and vanilla extract. Whisk until well combined. Pour the liquid ingredients into the dry ingredients. Mix until just combined – do not over mix. Gently fold in the apples and cinnamon chips. Evenly distribute the batter in the prepared muffin tins.
To make the streusel – In a small bowl, add the flour, brown sugar and cinnamon. Whisk to combine. Add the butter chunks to the bowl. Using your fingers or a pastry blender, cut the butter into the mixture. Continue until the mixture resembles even-sized crumbs. Sprinkle some of the streusel over each muffin and gently press the crumbs into the batter.
Bake for about 20 minutes, until the muffins are golden brown and a toothpick inserted into the middle comes out clean. Let the muffins cool for a few minutes before removing from the pan.