Roasted Sweet Potato Salad
This roasted sweet potato salad was originally posted in September 2012. The post has been updated as of November 29, 2017 with new photos, text and improved recipe instructions!
They're baaaack!
I mean, heaven forbid I go too long without sharing a recipe featuring my favorite orange veggie – the mighty and tidy sweet potato!!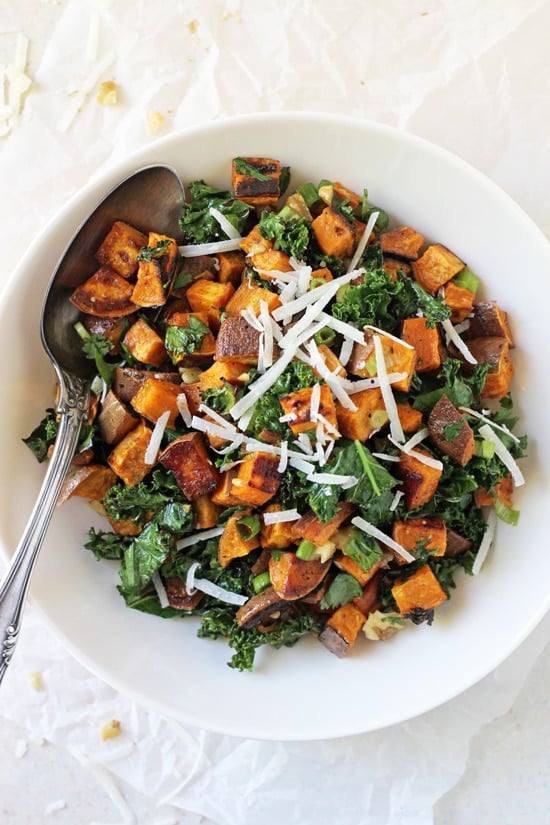 Yes, I just called sweet potatoes tidy. Because, um, I spent way too long trying to think up words that rhyme with mighty and that's about all I came up with. <— Good use of my time, eh?
ANYWAY. Today we are dusting off this roasted sweet potato salad from the dark depths of the archives. Because…
1. Sweet potatoes.
And 2. It makes for a most excellent make-ahead dish. AND is delicious served either warm or at room temp. Thereby making it a perfect candidate for any holiday feast, party, gathering or shindig!
Or, you know, just to make for a cozy dinner at home.
So, let's discuss this salad, shall we? It features a base of, wait for it, roasted sweet potatoes. Which get delightfully tender and caramelized all up in the oven! Then, we mix those taters up with a few simple ingredients to pump up the flavor – some green onion, cilantro, parmesan! Gang's all here.
We add in some sauteed kale for a bit of extra green, some walnuts for a bit of crunch and then toss it all together with an easy maple lime dressing.
It's savory, it's salty, a touch sweet, a tad citrusy! Tying the whole dish together beauuutifully.
So, let's move along to a few tips & tricks for the recipe:
Let's talk how to prep this dish to cut down on the overall recipe time. Get the potatoes going in the oven first and THEN prep everything else. You'll have plenty of time while they're cooking to chop all the other ingredients (and toast the walnuts, cook the kale, etc. etc.).
If you are planning on serving this salad as a main dish, I would suggest bulking it up by topping with a protein of choice!
I've made this salad with both the listed raw walnuts and also raw pecans. Both are delicious – pick your poison.
I mentioned this up above, but this makes for a fantastic make-ahead dish. Prepare the entire recipe as directed, then store in an airtight container in the fridge. Let it come back to room temp (or warm up!) before serving.
Easy, wholesome, simple, real food. It just doesn't get much better my friends!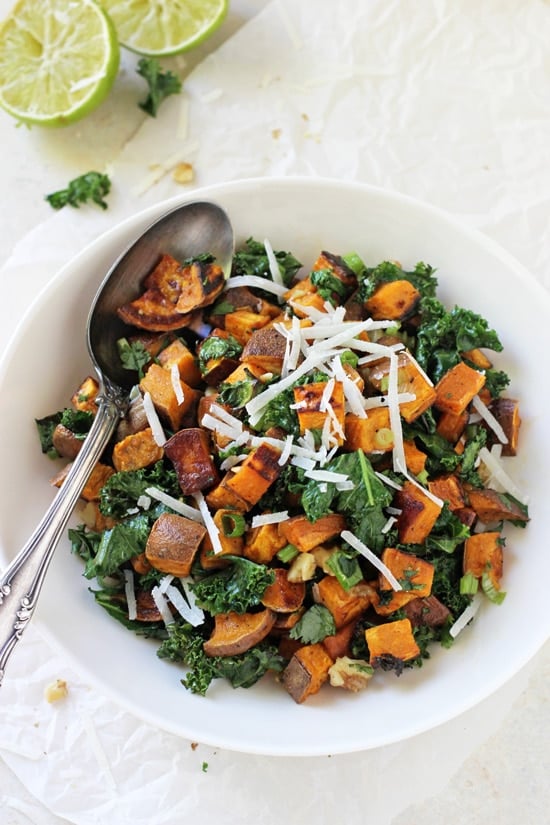 Yield: about 6 servings, as a side
Roasted Sweet Potato Salad
Prep Time: 25 minutes
Cook Time: 45 minutes
Total Time: 1 hour 10 minutes
This roasted sweet potato salad is simple to make and packed with flavor! With toasted walnuts, kale, and a maple lime dressing!
Ingredients:
3 pounds sweet potatoes, cut into ¾ to 1-inch chunks
4 tablespoons olive oil, divided
½ teaspoon fine sea salt
¼ teaspoon pepper
½ cup raw walnuts, chopped
3 cups de-stemmed and roughly chopped kale
2 tablespoons freshly squeezed lime juice
2 tablespoons pure maple syrup
¾ cup thinly sliced green onion
¼ cup chopped fresh cilantro
¾ cup grated parmesan cheese
Directions:
Preheat the oven to 400ºF.
Add the sweet potatoes to two large rimmed baking sheets. Drizzle evenly with 3 tablespoons of the olive oil, then sprinkle with the salt and pepper. Toss to combine then spread in an even layer. Bake for about 45 to 50 minutes, stirring once halfway through and rotating the pans, until the potatoes are tender.
Meanwhile, add the walnuts to a medium skillet set over medium heat. Cook, stirring occasionally, for about 3 to 4 minutes, until fragrant and toasted. Transfer the walnuts to a large bowl and set aside. Carefully wipe out the skillet.
Set the skillet back over medium heat and add in ½ tablespoon of the olive oil. When hot, add in the kale and cook for about 3 to 4 minutes, stirring frequently, until wilted and softened. Remove from the heat and set aside.
In a small bowl, whisk together the lime juice, maple syrup and remaining ½ tablespoon olive oil.
When the potatoes have finished cooking, add to the large bowl, along with the kale, green onions, cilantro and parmesan. Pour in the lime mixture and toss to coat. Taste and season with additional salt / pepper if needed. Serve warm or at room temperature!
While the parmesan cheese is delicious here, you can absolutely leave it off to keep the dish dairy free. When I do this, I like to add a bit more salt (since you're losing some from the parm!). Just taste and add to your liking!