Apple Pie Spiced Pecans
Apparently I have a thing for spiced nuts.  There were the cocoa espresso roasted nuts.  The spiced rosemary and thyme nuts.  The sugared pecans.  And now I have one more for you.  Apple pie spiced pecans.
And they taste like fall.
Which is a very very good thing.  Although they are pretty addicting.  Just try stopping from popping a few in your mouth every time you walk past the bowl.  No, just me?
These pecans have a wonderfully crunchy coating that is packed full of warm fall spices.  They are sweet but not too sweet – striking a nice balance.
I think these would be a great easy, make-ahead appetizer for Thanksgiving.  And they'll probably make an appearance again at our table that day.  They are also a mighty fine snack for everyday occasions.  Such as having with a cup of tea or packing in your lunch.
Or for just eating right out of the bowl.  That seems to happen most often at our house.
Apple Pie Spiced Pecans
Recipe for apple pie spiced pecans. An easy snack or appetizer with a crunchy coating full of fall spices. Sweet but not too sweet.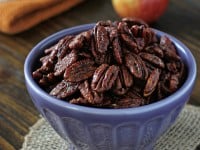 Ingredients:
3 cups pecan halves
3 cups apple cider
⅓ cup packed light brown sugar
¼ teaspoon salt
1 teaspoon ground cinnamon
½ teaspoon ground nutmeg
¼ teaspoon ground allspice
dash of ground ginger
dash of ground cardamom
Directions:
Preheat the oven to 250 degrees. Spray a large rimmed baking sheet with nonstick cooking spray and set aside.
Add the pecan halves to a medium bowl. Pour in the apple cider. Let stand for 15 minutes, then drain and return the pecans to the bowl. In a small bowl, whisk together the brown sugar, salt, cinnamon, nutmeg, allspice, ginger and cardamom (making sure to break up any clumps of brown sugar). Add the sugar mixture to the bowl with the pecans and mix to combine (making sure that all of the sugar mixture is stuck to the pecans).
Spread the pecans evenly on the prepared baking sheet. Bake for 1 hour, stirring every 15 minutes. The nuts should be dry and the coating should not come off on your fingers.