Eggnog Mini Loaves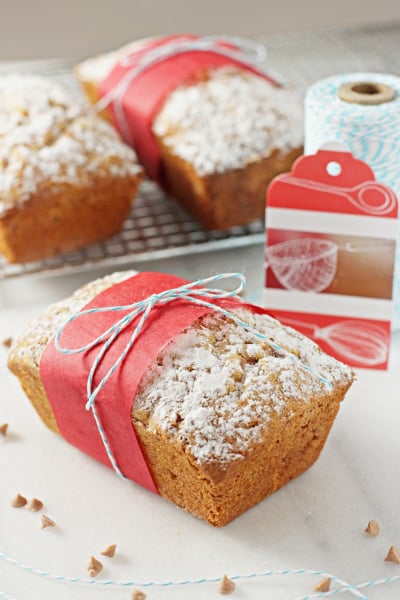 More eggnog, I know.  But I promise these loaves are worth sharing!  When I bought a carton of eggnog this holiday season, I was determined to put it all to good use.  I made cranberry eggnog coffee cake and eggnog waffles.  But I still had about one cup left after those recipes, so I set out to make these eggnog mini loaves.  Too bad the recipe I tried was a complete flop and I wound up tossing the aftermath right in the garbage.  I also ended up with a mess of an oven.  It wasn't pretty.
You would think I would have just quit while I was ahead and moved on, but the perfectionist in me couldn't do it.  So I bought another carton of eggnog just so I could try to make these work.  I'm happy to say that after some adjustments (and a new recipe), these came out great.  These mini loaves have just the right amount of eggnog flavor, with bursts of extra cinnamon goodness from the cinnamon chips.  A light dusting of confectioners' sugar adds just a touch more sweetness to round out one great snacking cake.  These were best while still slightly warm from the oven (or microwaving them for a few seconds also did the trick).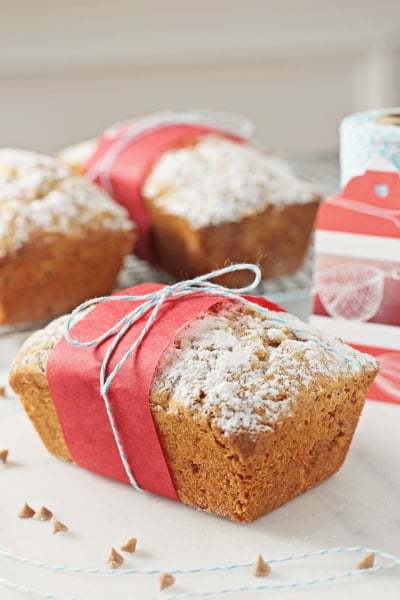 Seeing as how these are mini loaves, I also think that they would make a great homemade gift.  They looked pretty darn cute all packaged up with some ribbon and a tag.
So the only problem?  I now have the majority of a container of eggnog in my refrigerator.  I have a feeling I'll be making some more eggnog waffles to store in my freezer for another time.
Eggnog Mini Loaves
Recipe for eggnog mini loaves. Moist loaves filled with just enough eggnog flavor and studded with cinnamon chips. Perfect for gift giving.
Ingredients:
2 ¼ cups all-purpose flour
2 teaspoons baking powder
½ teaspoon salt
¼ teaspoon nutmeg
¼ teaspoon cinnamon
8 tablespoons (1 stick) unsalted butter, room temperature
½ cup granulated sugar
½ cup packed light brown sugar
2 large eggs
1 ½ teaspoons vanilla extract
½ teaspoon almond extract
1 tablespoon vegetable oil
1 cup eggnog
½ cup cinnamon chips
confectioners' sugar, for dusting
Directions:
Preheat the oven to 350 degrees. Using non-stick cooking spray or butter, grease 4 3×5 inch mini loaf pans and set aside.
In a small bowl, whisk together the flour, baking powder, salt, nutmeg and cinnamon. Set aside.
In the bowl of a stand mixer fitted with the paddle attachment, add the butter, granulated sugar and brown sugar. Beat on medium speed until creamy, about 3 minutes. Add in the eggs, vanilla extract and almond extract and beat until combined. Next, add in the vegetable oil and eggnog and beat until combined. With the mixer on low speed, slowly add in the flour mixture and beat until just combined. Remove the bowl from the mixer and gently fold in the cinnamon chips.
Divide the batter among the four prepared loaf pans. Use a spatula to spread evenly in each pan. Bake for 35 to 40 minutes, until a toothpick inserted into the middle of the loaves comes out clean. Cool for about 10 minutes, then remove the loaves from the pans and transfer to a wire rack to cool completely. Dust with confectioners' sugar before serving.