Eggnog Biscuits
So… Christmas is two days away.  Um what?  Can we talk about how I haven't wrapped any presents for my side of the family yet?  Which is not a good thing especially seeing as how I have a large family and we're not talking about just a few little gifts.  There are quite a number.  I should really get on this.
But not before we chat about another option for a special Christmas morning breakfast.  Food comes first.  Maybe this is why I am so behind on wrapping all those presents…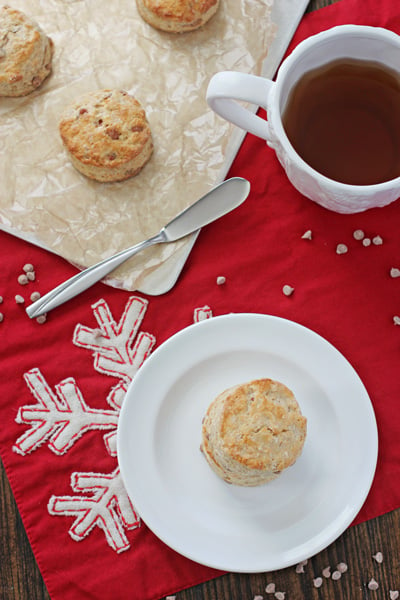 But anyway, we've already covered warm, gooey orange cinnamon rolls and now we're going to cover a fun spin on biscuits.  Because eggnog biscuits are better than plain biscuits on Christmas morning, right?
I sure wouldn't mind having a few of these with a big cup of coffee before settling down to open presents.  That sounds like a very good plan actually.
Now these little babies are nice and flaky … and filled with just the right amount of eggnog flavor.  Nothing too overpowering but definitely there.  You don't even really need any butter or jam.  Just pop them right in your mouth.  Mmmm biscuit bliss.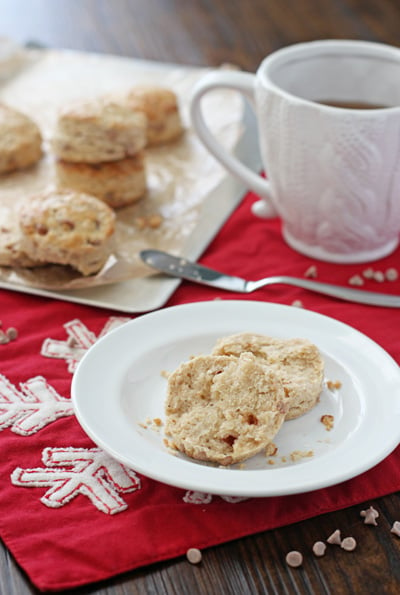 So back to the presents.  Has anyone else not wrapped their presents?  Can we have a present wrapping party?  I'll bring the biscuits!  Or maybe some wine.  That may be a better idea.
Yield: about 12 to 14 biscuits
Eggnog Biscuits
Recipe for eggnog biscuits. Tender, flaky biscuits filled with just the right amount of eggnog flavor. A perfect holiday morning breakfast.
Ingredients:
1 cup all-purpose flour
1 cup white whole wheat flour
1 tablespoon baking powder
2 tablespoons granulated sugar
¾ teaspoon salt
¼ teaspoon ground cinnamon
¼ teaspoon ground nutmeg
6 tablespoons cold unsalted butter, cut into several pieces
¾ cup eggnog
⅓ cup cinnamon chips
about 2 tablespoons eggnog, for brushing
coarse sugar, for sprinkling
Directions:
Preheat the oven to 400 degrees. Line a baking sheet with parchment paper and set aside.
In a large bowl, whisk together both kinds of flour, the baking powder, sugar, salt, cinnamon and nutmeg. Using a pastry blender, cut the butter into the flour. Continue until it resembles even sized crumbs. Add in the eggnog and mix until the dough just comes together.
Dump the dough onto a well floured surface. Knead with well floured hands and then pat into a rectangle that is about 6 by 10 inches in size (about 1 inch thick). Sprinkle the cinnamon chips over the dough and then lightly press them into the dough using your hands.
Fold the dough as if you were folding a letter (so fold one third over the center third and then the remaining third folds over the top). Use a spatula to lift the dough and then flour the work surface again. Pat the dough into another 6 by 10 inch rectangle and then repeat the folding process. Then repeat this entire process one more time (lift dough, flour surface, pat into rectangle and fold). Dust the work surface one more time with flour and then pat the dough into a final 6 by 10 inch rectangle.
Flour a 2 to 3 inch biscuit cutter and then cut out the biscuits from the dough. Space them about 2 inches apart on the prepared baking sheet. Pat together the scraps into a 1 inch thick rectangle and cut out additional biscuits until the dough is used up.
Brush the tops of the biscuits with the additional eggnog and then sprinkle with the coarse sugar. Bake for about 15 to 20 minutes, until lightly golden brown. Serve warm.
Yield will vary slightly based on the exact size of your biscuit cutter.